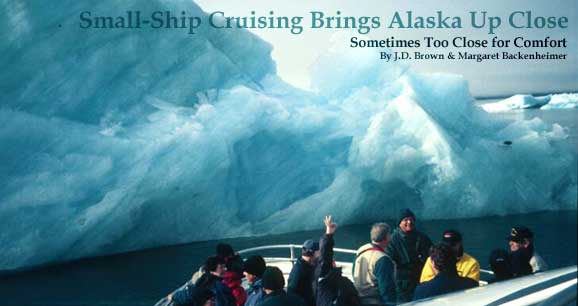 B
y day, the tiny ports along Alaska's Inside Passage brim with mega-cruise ships that seem bent on turning America's last frontier into a Caribbean with icebergs. They line the old fishing docks in port after port like floating skyscrapers. But by late afternoon, these sea hotels, festooned with their own swimming pools, are gone, the dockside shops and cafes are battened down, and the town itself seems to lie back, stretch out, and show itself for what it is, warts and all, to the few visitors left behind. These leftovers among sightseers are primarily those who have chosen to see Alaska aboard small-cruising ships, especially those day-cruisers that put up their passengers in local hotels rather than in cabins at sea.
The Inside Passage of the Alaska Panhandle and coastal British Columbia is a heavily traveled route for oceangoing ships that sail between the mainland and coastal islands along a series of passages. By using these protected waterways, the vessel can not only avoid some of the rough weather in the open sea, but also visit isolated coastal communities along the route.
The Alaskan part of the Inside Passage extends about 500 miles (800 km) from north to south and 100 miles (160 km) from east to west. There are about 1,000 islands in this area and countless coves and bays. The shoreline is more than 15,000 miles (24.140 km) long.
Among the 70 fellow passengers aboard the small-cruising ship M/V Sheltered Seas, sailing for four days between the southeastern town of Ketchikan and Juneau (241 miles or 446 km further north), we found few who could resist making sport of the big cruise ships that rolled and pitched into their ken. It was easy enough to express a haughty disdain for what passed muster as SUVs in a maritime bumper-car arcade. But the year before we'd been aboard one of the big ships ourselves and found it a delight, if a bit brassy for this Jack London-esque setting.
On our little ship we were giving up the luxurious interiors, lavish buffets, and Las Vegas-style entertainment, but in Alaska — nicknamed the Last Frontier State — we were inclined to do without those sorts of frills. Besides, our day-cruise yacht still came with considerable comforts, including good meals, drinks and snacks, and an experienced naturalist guide at our elbow. Perhaps the chief inconvenience was that we had no cabin of our own. Instead, we were obliged to trade ship for town each night where rooms of varying qualities awaited us. We then were obliged to rise early, arrange a daypack, send our heavy luggage ahead to the next port, and get ourselves back on board.
In the late afternoon and evenings, we also had to find our own restaurant, our own cocktail lounge (which was often the bar the local loggers and fisher folks frequented), and do our shopping in a strange new town. There were a few guided tours, to be sure, but a certain level of uncertainty, inconvenience and adventure was the price we paid for our independence. And for our fellow voyagers, that was one of the lures of a very small day ship. On land, we could mingle with locals and partake of daily life in Alaska. It is a life unlike most of us lead in the Lower 48.
"…the town kids were lining the bridge with baited fishing lines, yanking salmon out of the Pacific left and right…"
If you come into Ketchikan, located on Revillagigedo Island in the Tongass National Forest, on a big ship, for example, chances are you have your pick of souvenir shops. You may choose from horse-drawn carriage rides, and guided tours of the world's largest collection of Northwest totem poles at Totem Bight State Park, Saxman Native Village and Totem Heritage Center. Or, you may want to tour Creek Street, a historic district on stilts, where Dolly's House is now a museum rather than a brothel. But when the big ships leave and even Dolly's House closes its doors, Ketchikan is another town entirely.
That's when we found ourselves on the little bridge where the creek from the Deer Mountain Fish Hatchery empties into the harbor. The salmon were so thick there that if one couldn't have actually trotted across the water on their backs, one could at least have fished with a coffee can. Instead, the town kids were lining the bridge with baited fishing lines, yanking salmon out of the Pacific left and right and offering to show visitors how easy Alaska fishing could be.
Another virtue of our small ship was that it called upon ports that the big ships ignored, such as Wrangell (population 2,300), a gold rush village almost halfway between Ketchikan and Juneau that has been British and Russian, as well as American in its past and now welcomes a trickle of visitors to the Chief Shakes Tribal House. This cedar structure served as the clan house of the Brown Bear tribe of the native Tlingit peoples. It still has ceremonial uses, but is outfitted as a museum. That's where we saw for the first time a set of hand-hewn wooden mud skis, used for generations to cross the slick tidal flats.

We also stayed the night on the next island over, in another small-ship exclusive port, Petersburg, which is known as Alaska's "Little Norway." The locals of this picturesque fishing community told us Petersburg was so thoroughly Norwegian that "a Swede could not live here." A fisherman's daughter gave us a tour of the boat basin. The evening was topped off with dinner at the Sons of Norway hall, where the Leikarring Folk Dancers entertained and the Lusvig sisters cooked up the hearty fare.
Meeting residents of Alaska's ports added a personal dimension to cruising; being on speaking terms with nearly all our fellow passengers and the crew — from chef to captain — increased the intimate mood of the voyage. In the end, however, small ship cruising's greatest difference was simply a matter of size.
In navigating Alaska's Inside Passage, size mattered and smaller was better. Our vessel, lacking cabins and casinos, was certainly trim enough to get us right up to the doorstep of several of Alaska's supreme glaciers, and within a point-and-shoot lens length of the wildlife, from wolves to Stellar sea lions, that hugged the forested shores. Our range was just short of that provided by a "chauffeured canoe," had one existed. We easily sailed in and out of channels that would have crushed the big cruise ships.
Sailing into Misty Fiords, one of Alaska's National Monuments.
The first day out of Ketchikan, where we spent the night in the town's finest hotel and learned some Indian lore from a local tribal member who spoke at breakfast, the M/V Sheltered Seas rather roughly rounded Revillagigedo Island and began its penetration of Misty Fiords.
This National Monument encloses a piece of the world that seems unchanged since its creation. The monument is filled with mile-high mountains rising straight from the sea, with 3,000-foot (914 m) high sheer granite cliffs worn smooth by glaciers, and scalloped by 1,000-foot (304 m) tall waterfalls. Two of the most spectacular sights are perhaps New Eddystone Rock, a 237-foot (72 m) tall lava plug standing like an exclamation point in the middle of Behm Canal and Punchbowl Cove in Rudyerd Bay, a series of vertical cliffs rising 900 feet (274 m) below the water surface, then soaring another 3,150 (960 m) into the sky.
Few big cruises ever go near here. Misty Fiord can fully live up to its name. We had to bundle up in our rain gear, not a surprise since those who lived in Ketchikan measured time not in months or years but in inches of rain. The thick mist was in its full glory. The waterfalls roared off the cliff faces, splashing us as the bow swung impossibly close to the shore; bald eagles soared overhead; and our vessel was able to bring aboard two wilderness rangers from the U.S. Forest Service passing by in sea kayaks, part of their routine 10-day monitoring tour of the Monument. They became our guides as we entered the narrow and twisting channels.
Later, on another, sunnier day, our small ship took full advantage of its maneuverability when we came face-to-face with LeConte Glacier, Alaska's southernmost active tidewater glacier in the Northern Hemisphere (about 24 miles or 38 km from Wrangell by boat). Slicing through a sprinkling of icebergs, bergie-bits (house-sized icebergs), and growlers (truck-sized icebergs), we ultimately reached an ancient wall of ice that was currently lumbering down the mountain at some 80 feet (24 m) per year.
Here, LeConte Glacier formed a formidable barrier between mountain and sea, and we were drifting as close as any of us would have dared. Cutting the engines and floating in place, the boat became our private amphitheater, and we the audience for a splendid display of ice calving. When a glacier calves, towering sections of its face split off and topple into the sea, unleashing the boom the Indians here aptly dubbed "white thunder." Except for a nearby fishing boat and the harbor seals ensconced on their little icebergs as if on floating homes, we had this theater of ice happily to ourselves.
A final spectacle awaited us on our last full day at sea, just south of Juneau, in Tracy Arm, another iceberg-laden, green-water inlet, which ends in two vast glaciers. Last year we had seen Alaska's even more famous Glacier Bay from the deck of a big cruise ship, but the intimate view afforded by our small ship, first at LeConte Glacier and now in Tracy Arm, exceeded anything we'd seen before. When the glaciers calved we felt, if anything, too close to the action. Yet perhaps not as close to icy nature as one of our crewmembers felt as we departed Tracy Arm.
The staff, it seems, always drew lots for a bath at Tracy Arm. Here, the winner would be treated to the world's chilliest shower in the form of a raging waterfall that poured forth from a cliff. Standing on the very point of the bow, the fully clothed winner braced to receive the full force of glacial spray as the M/V Sheltered Seas put its nose directly under the falls and we all cheered from the upper deck.
A staff member takes"the world's chilliest shower"at
the falls at Tracy Arm.
We were content to shower in the comfort of a Juneau hotel that night, our brief but intense sailing done. Most passengers continued by air to Alaska's big sights up north, but we were content with what we'd seen, without formality or frill, aboard the M/V Sheltered Seas, and seen as close-up as we had dreamed — not only the glaciers and icebergs, the bears and humpback whales of the Inside Passage, but a clan house in Wrangell, a Sons of Norway hall in Petersburg, and a fishing bridge in Ketchikan like no other in the world. Alaska's Inland Passage was monumental, of course, but the odd little things along the way added up, too, giving our cruise by day its singular immediacy.
If You Go
Cruise West provides a variety of small-ship sailing experiences in Alaska. Some ships are equipped with overnight cabins, while others rely on hotels in each port. Most economical are the southbound four-night and the northbound five-night "Daylight Yacht Tours" of the Inland Passage aboard the day-cruise yacht M/V Sheltered Seas. It departs from Juneau and Ketchikan, with a per-person price, based on double-occupancy, of US$ 1,699 to US$ 2,299, depending on sailing date and direction. Fares include land accommodations and all meals aboard the vessel. Airfare to Alaska departure points is extra. Land and air packages to Anchorage and Denali Park can be added. Inside Passage eight-night cruises on small ships with overnight cabins and additional destinations (Glacier Bay, Sitka, Skagway, Haines) start at US$ 3,799 per person.
Cruise West
www.cruisewest.com
800-888-9378
State of Alaska
Travel & Vacation Information
www.travelalaska.com
Inside Passage Travel Guide
www.insidepassage.com