When that happened to us, happily there was a solution. The park had rigged up a rail line to help carry the boat. With the help of a winch, we pulled the boat out of the water and onto a small cart on rails. Then we pushed the cart/boat 800 meters until it reached an area when it could go back in the water. It was a simple, but brilliant design.
When we reached land, we continued our hike to a tiny cabin set on the edge of a lake. Grey Owl and his wife had pet beavers (yes, beavers). The cabin had a "beaver door," so to speak. The animals could swim up from the outside into a beaver den which was located in the cabin, then they would exit the den into the home. It sounds kind of fun, except that evidently beavers are smelly.
For dinner that evening, we went into the small lakeside village of Waskesiu. The townsite has a wide sandy beach, which is popular with families. Kids splashed in the water, while teens threw Frisbees on the beach. It was a scene right out of a postcard.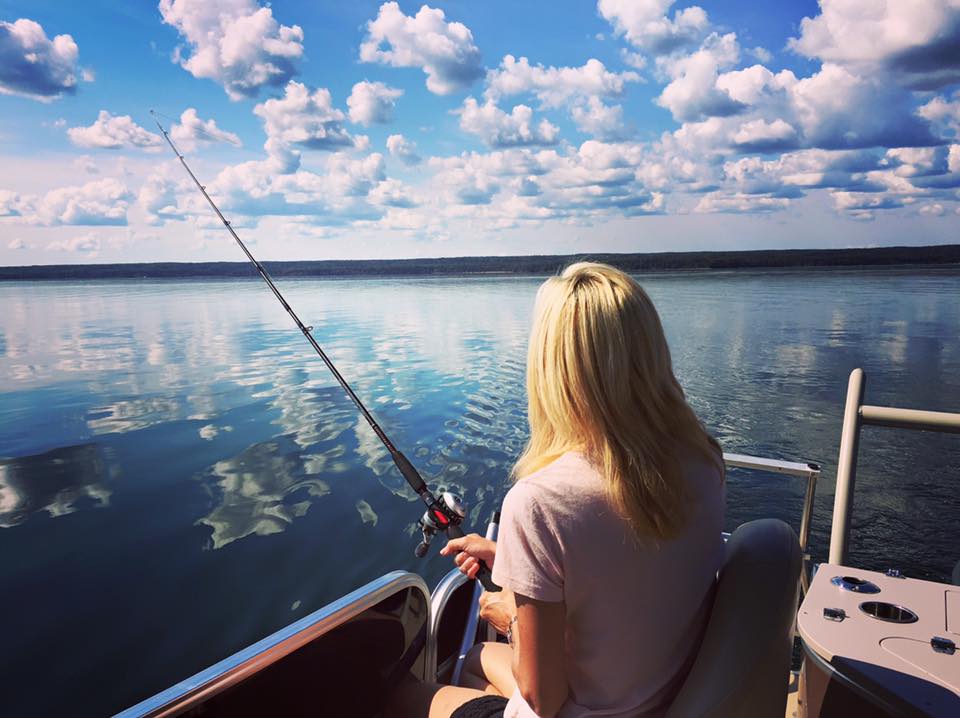 Fishing at Prince Albert National Park
On our last day in Saskatchewan, we decided to spend it on the lake. Fishing is a huge draw for this area, so it only seemed natural to try our hand at it. The expert fishing guides at Waskesiu Marina offer a "Learn to Fish" program, so we took them up on it. Our guide directed the wide pontoon boat to a favorite fishing spot on the lake. Then with a little instruction, we cast our lines.
Soon enough, the fish were biting, even for me. You should have seen the HUGE pike fish that got away from my net. (Really!)
It couldn't have been a prettier day. There was no one else around us, and I heard only the wind as we passed a nest of eagles high in the tree tops. There's something so relaxing about drifting slowly on the water under a deep blue sky.
"This is pretty sweet," one of my friends said, looking across the lake.
I could only nod in agreement. Yes, indeed.
If You Go to Saskatchewan
Tourism Saskatchewan
http://www.tourismsaskatchewan.com/
Tourism Saskatoon
http://www.tourismsaskatoon.com/
Author Bio: Janna Graber has covered travel in more than 40 countries. She is the managing editor at Go World Travel Magazine and the editor of three travel anthologies, including A Pink Suitcase: 22 Tales of Women's Travel.