Urban Adventure in Saskatoon
After exploring the province's First Nations heritage, we wanted to see the city's adventurous side. The Wyant Group Raceway is a local NASCAR raceway that holds stock car races and other events. On select days throughout the season, they also offer visitors the chance to drive a stock car themselves. For a reasonable fee of $30, you can take eight laps around the track. You get to drive the car with an expert guide alongside you.
After getting suited up, I climbed into a bright purple stock car and got strapped into all the safety gear. Then I was ready to go. As first, I was timid as I pulled out onto the track.
"Go high in the straightaway and tight in the corners," the instructor told. And so I did, edging faster and faster. The car's tires were wide and fat, and they squealed as we went around the corners.
"Now you're doing it!" my instructor exclaimed. I gave the car more gas.
There was a huge grin on my face when we finally pulled back in. I'd never imagined driving a stock car in the middle of the Canadian prairie, but it was an experience I won't forget.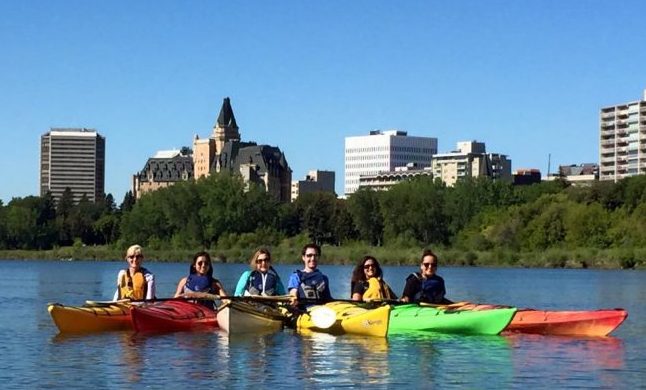 Kayaking on the South Saskatchewan River
The sky was bright blue on our last morning in Saskatoon, which meant it was the perfect time for kayaking. The South Saskatchewan River is wide, and local outfitters rent kayaks, paddleboards and prairie-river canoes. We each selected a kayak, and within minutes were on the water. The river provided a different view of the city, as we paddled under bridge after bridge, viewing the urban activity of Saskatoon.
Though Saskatchewan may be known for its farmlands, water is a central part of life here. The province has more than 100,000 lakes.
"We have to tease the Minnesotans when they brag about their 10,000 lakes," one local from Saskatchewan told me. "We have 10 times that many."
And indeed they do.
Prince Albert National Park
One of the most popular lake regions is found in Prince Albert National Park, just a few hours north of Saskatoon.
The national park draws Canadians and Americans who come for the world-class fishing, but it's also a favorite lakeside destination for families. Cottages, campgrounds and small hotels are plentiful. We chose to stay at the Elk Ridge Lodge, which is set in the heart of a boreal forest. There's a golf course onsite, and in the winter, many come for cross-country skiing and ice-fishing.
Prince Albert National Park has 3,875 square kilometers of protected land, which includes everything from grassland to aspen parkland to boreal forest. We saw this first-hand on our day hike to Grey Owl's cabin with a guide from Waskesiu Marina.
As the only American in our group, I had no idea who Grey Owl was, but as we set out, my Canadian friends told me stories of this British immigrant who became one of the country's first conservationists. He did a great deal to protect the land, but it was not without controversy because he took on a fraudulent First Nations identity as he did it.
With an earful of stories, we continued our journey across Kingsmere Lake and then through a narrow river channel. When you're boating in the back country, sometimes it requires portage to go around an impassable section of river. This usually means pulling the boat from the water and carrying it until it can go back in.
Continued on next page