Former run-down neighborhoods, like Riversdale and Broadway District, have experienced an impressive renaissance. The streets are lined with unique boutiques, busy coffee shops and bustling restaurants. As I browsed, I noticed a proud focus on local products, from Saskatoon Berry jam to the latest local designers.
That local focus came into better into view when my friends and I dined at The Hollows. Owned by former model Christie Peters and her husband, Kyle Michael, the cuisine uses the best ingredients in the region, from vegetables grown in the restaurant's garden to local fish and wild-harvested mushrooms. While a farm-to-table focus is common these days, it's the preparation of the dishes that takes this cuisine to the next level. It's fresh, flavorful and well-presented, and I have to admit – I was impressed.
The Hollows isn't the only restaurant making a splash in Saskatchewan. Later, we dined at Ayden Kitchen & Bar, run by Canada's original top chef Dale Mackay, and partners Nathan Guggenheimer and Christopher Cho. Their scrumptious dishes are just what you'd expect from such a star-studded team.
Even the tiny, but bustling Calories, a long-time local favorite, hit it out of the park with their tasty cuisine and bakery items. With dining options like this, I was going to have to loosen my belt during my time here.
Local products have taken on new demand, including from the Lucky Bastard Distillery. When we stopped by for a tasting and tour, I found a wide variety of fine liqueurs and spirits. Saskatchewan's premium micro distillery has a passion for their work, and that shows in their products.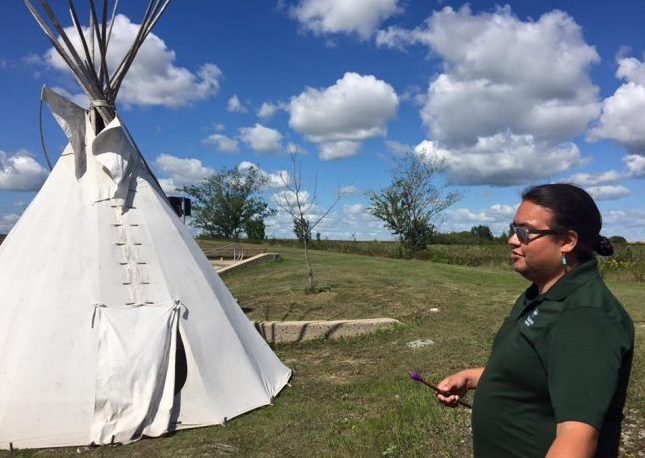 First Nations Heritage in Saskatchewan
European were not the first to settle this land; for thousands of years, many indigenous cultures called it home. That rich heritage is honored at Wanuskewin Heritage Park, just a few minutes from the city. This National Historic Site shares the story of the land and its first people with visitors. It's also an important archaeological dig site, with artifacts dating back more than 6,000 years.
"When you come to Saskatchewan, you should experience First Nations culture," our guide, Chris Standing, told us. "It's our story, our heritage. For more than 6,000 years, the Indigenous peoples of the Northern Plains have come to this region, following the bison."
Visiting Wanuskewin is not only educational, it's fun. We watched a teepee being built, and learned about its special meaning. Later, we got to try our hand at throwing an atl atl, a type of wooden spear that was used for hunting more than 3,000 years ago. In case you were wondering, it definitely takes some practice to master.
Continued on next page