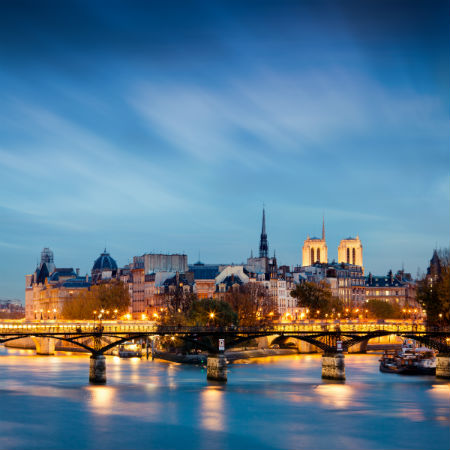 6) FOOD, LEGENDARY FOOD: In this neighborhood, every great meal is aromatic of the past. And across one holy trifecta of unforgettable brasseries, you're reminded just why. At Les Deux Magots (6 Place Saint-Germain-des-Prés), ghosts of Hemingway, Picasso and James Joyce mingle carelessly over sumptuous wild burgundy snails, wilted spinach salmon fillet, and roasted duck with figs.
Literally a skip away meanwhile, the fashionable Café de Flore (172 Boulevard Saint-Germain) counts Simone de Beauvoir and Jean Paul Sartre as its lingering patrons, best savoured over duck confit and French Champagne. Hop across the road, and Brasserie Lipp (151 Boulevard Saint-Germain) brings you a sophisticated peek into conversations that Proust, Chagall and Camus might once have engaged in over traditional French roasts and soufflés.
At Terroir Parisien (20 rue Saint-Victor) meanwhile, a plat du jour or haute croquet monsieur for lunch and the Apéro for dinner make for powerful arguments. Finally, walk into 1686 and Paris' oldest restaurant for dinner at Le Procope (13 Rue de l'Ancienne Comédie), a stunning remnant of old-world charm.
7) A FEAST OF MUSEUMS AND CHURCHES: Lest you thought this was all drink, eat and play, Quartier Latin doesn't disappoint the culture buff in you either. The embarrassment of cultural treasures and historical riches within such few square miles could alone keep you occupied for days. Start with the Musée Cluny (6 Place Paul Painlevé) – this National Museum of the Middle Ages, built on the excavation site of an ancient Roman bath complex, has an arresting collection of medieval tapestries and Roman and Gallic sculptures from the first century AD.
Next up, the quaint Eglise Saint-Sevérin Saint-Nicolas (3 Rue des Prêtes Saint-Séverin), tucked away in an impossibly tiny lane, possesses an immersive aura that flows across its Flamboyant Gothic architecture, its dark sanctuary flooded with candles, and stained-glass windows from the 14th century. Another beautiful ode to spiritual devotion is the Eglise Saint-Etienne-du-Mont (Place Sainte-Geneviève), where a Late Gothic architectural aesthetic merges gently into a Renaissance flourish.
Finally, on the edge of the painfully hip Saint-Germain-des-Prés neighborhood, lies my pick of the bunch: Musée National Eugène Delacroix (www.musee-delacroix.fr) is a small but exquisite homage to the life and works of French Romanticist Eugène Delacroix, including his eternal classic – Magdalene in the Desert.
Continued on next page