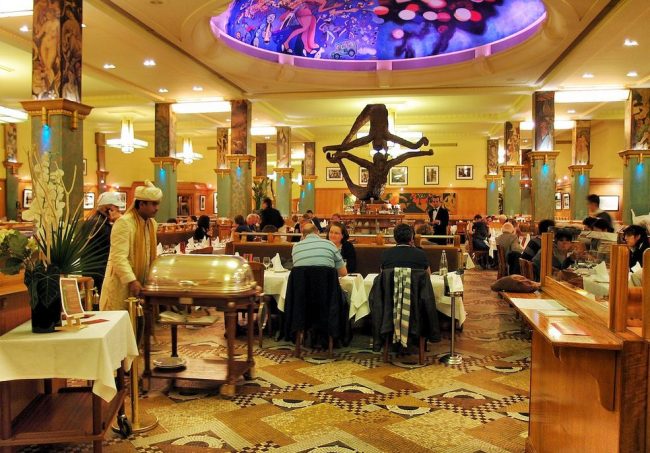 Dining in Montparnasse
The 6th and 14th are rightly known for their culinary history, especially linked to the "Lost Generation" expat Americans, in the 1920s. The big four are Café du Dome, Le Select, La Rotonde, and La Coupole. All are situated in the Montparnasse-Raspail (metro Vavin) neighborhood. Luminaries like Ernest Hemingway, Gertrude Stein and F. Scott Fitzgerald frequented these restaurants and bars.
Although we visit this part of Paris because of the colorful art and literary history and its beauty, we prefer humble restaurants, less well known, but perhaps equally good –and sometimes better.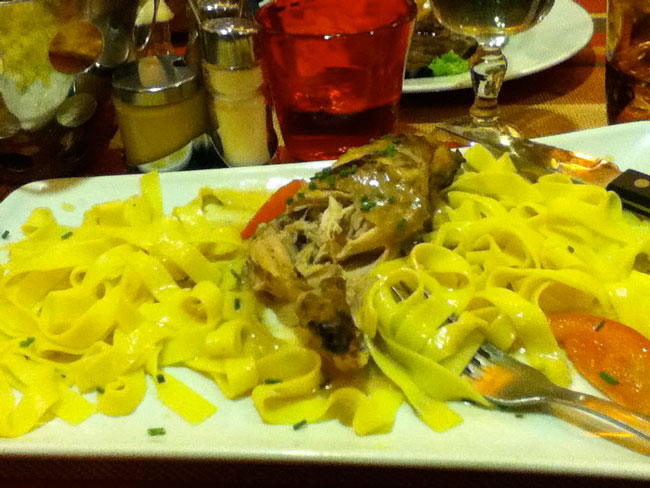 Rue Daguerre alone hosts at least a dozen restaurants and several take-out counters and bakeries serving salads and sandwiches. Each perpendicular street also has one or two establishments. Menus are usually posted in the windows. Be aware that not all are open on Sundays.
Here are two recent favorites. La Mere Agitee, which serves traditional French cuisine, is a five-minute walk from Rue Daguerre. Think French comfort food. Open since 1995, it is situated at 21, rue Campagne Premiere. A small restaurant, with a main floor and a basement for larger parties, it has no menu; the offerings are generally listed on a chalkboard.
The walls are hung with paintings and photos, good and bad quality, some presumably done by satisfied customers. The cook/hostess is La Mere, Valerie Delahaye, herself. She generally offers, as a prix fixe, a choice of two entrees, two plats, and two or three desserts and wine, all at a bit more than 30 euros.
All have been excellent; these are traditional French dishes: stews, soups, with crusty baguette, tartes or meringues. The ambiance is friendly; there are numerous regulars. Reservations are strongly suggested. Although la Mere understands some English, she prefers to converse in French, as do we.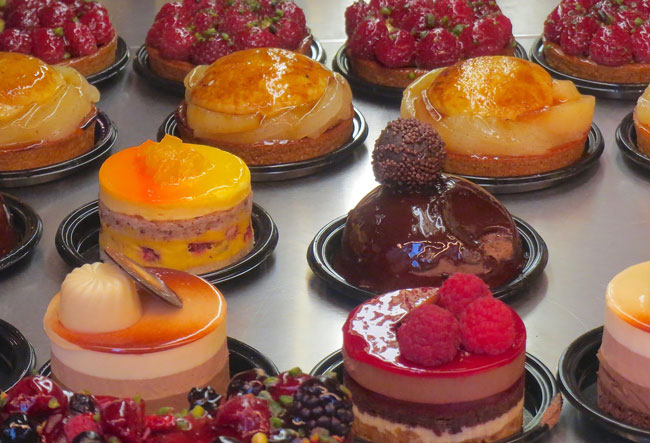 One other favorite, at 22 rue Daguerre, also small, is Le Petit Daguerre, which spills onto the sidewalk in good weather. This spot is hipper, more modern than my first recommendation. The menu is of moderate size and the quality of the food reliable.
My favorite is an English dish, fish and chips, but all plates have been fine. The extremely fresh fish is lightly breaded and not at all greasy. The frites are marvelous. My husband loves the lamb shank served with a braising liquid reduction and pureed potato, in quite a large portion (some restaurants seem to be appealing to our traditionally larger portions).
Le Petit Daguerre offers friendly service, a lively atmosphere, and reasonable prices. Some young waiters speak English. Reservations have not been necessary when we have eaten there, but we tend to eat at 7:30 or 8, a la Americaine.
Remember, when in Paris, tips are not expected, as service is included.
Note: Paris is home to more than 12,000 restaurants, and competition is brisk. Many have existed for 50 years or more, others for only one or two. Always check anything you read to see if an establishment still exists.
Clearly, we are not wed to the 14th arrondissement; we often cross the line into the 6th arrondissement, the abutting neighborhood.
Visiting the 6th Arrondissement
For example, Jardin Luxembourg, about 55 acres in size, is a five-minute walk from Montparnasse, and is a great place to relax: you can spend hours sitting, picnicking, reading or people watching: kids with their toy sailboats, young lovers on interlocked metal chairs, kissing, or men playing boules. Sometimes children are riding ponies. Flowers, graceful trees and historical monuments are everywhere.
The 14th arrondissement, especially around Rue Daguerre, is, of course, only one of dozens of lively sectors of Paris. It's a friendly and stimulating neighborhood. As Ernest Hemingway famously wrote, "Paris is a moveable feast."
After visiting for more than 20 years, we continue to find it so. The area around Rue Daguerre has become our second home.
If You Visit Paris
Art:
Musee Zadkine, 100 bis, Rue d'Assas
Foundation Cartier, 261, Boulevard Raspail
Shopping:
C & A, Montparnasse Rive Gauche, Centre Commercial Maine Montparnasse, 3 Rue de l'Arrivee
Marche Mouton-Duvernet, Place Jacques Demy, open Tuesday and Friday.
Restaurants:
La Mere Agitee, 21 rue Campagne Premiere.
Le Petit Daguerre, 22 rue Daguerre.
Helpful Information:
Online: Parler Paris by Adrian Leeds, a twice-weekly complimentary newsletter by an expat American who lost her heart to Paris. Parisbymouth.com focuses on food news and reviews.
In Print: Pick up l'Official de Spectacles every Wednesday to view what's on for art, music, films and theater. Available at kiosks for 1 euro.
Photo caption: Traditional French cuisine for lunch: lapin a la moutarde, frites, salade verte
Author Bio: Deborah Straw is a writer, editor and teacher who lives in Vermont with her husband, Bruce, a dog and two kittens. She has visited Paris at least 20 times. Her two books are The Natural Wonders of the Florida Keys and The Healthy Pet Manual.