I went skating on the canal my first day there. Although very nervous (there are no handrails!), I managed not to embarrass myself. I never fell down. I did, however, have to take about four breaks. My ankles gave out after awhile.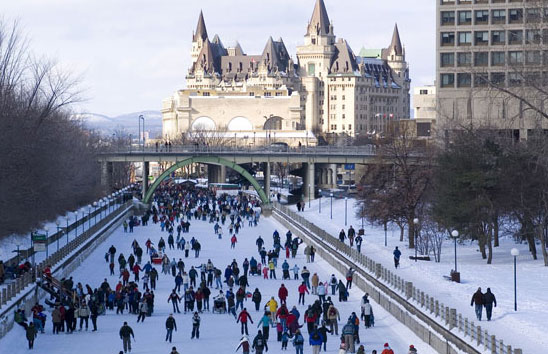 All I can say is that it was amazing. Everyone from tiny two-year-olds skating circles around me, to novices like myself, to kids playing hockey, to couples skating hand-in-hand. All were out in force. The key, obviously, is to dress appropriately. Once I had bought my snow pants and proper socks, as advised by the natives, I never felt the sub-zero cold again (well, not much).
Not content to merely ice skate, but really wanting to embrace winter in all its glory, I also tried snow-shoeing, which I found surprisingly easy. I went to Gatineau National Park, which is probably why I didn't notice the cold.
It is so beautiful and serene, it would have been a crime to complain about anything. Also — and this was really fun — I went down the snowslides in Snowflake Kingdom, Winterlude's amusement park located in Jacques Cartier Park. Besides 31 slides made of snow, there are dog-sledding rides, horse-drawn carriages, entertainment such as music and shows and more. And everything there is free! You can come every day of the festival if you want. During Winterlude, there are ice-carving and snow-sculpting contests and all sorts of events on the canal.
Although I may never come around to declaring winter my favorite season, I have learned that it can be a blast. Especially if you go where it's always a party, and you have the right socks.
If You Go
Skate conditions and information
http://www.canadascapital.gc.ca/places-to-visit/rideau-canal-skateway
Winterlude Festival, www.canadascapital.gc.ca/winterlude/home_e.asp
The historic Fairmont Chateau Laurier (1 Rideau Street, 613-241-1414) is the headquarter hotel of Winterlude. It is ideally located between the Rideau Canal, Parliament Hill, the Ottawa River, and museums and shops for just about everything you would want to do. For the festival, the hotel offers a Winterlude Getaway Package. The one-night package includes room, sleigh ride and Beaver Tails for a family of four. They offer a variety of other packages, as well. The hotel also features an indoor Art Deco pool. www.fairmont.com/laurier
Ottawa Tourism
www.ottawatourism.ca/en/
Canadian Tourism Board
www.travelcanada.ca
Author: Kim Foley MacKinnon