Three large, tawny figures took shape among the ocher grasses alongside the road. Lions! A large, commanding male shot up and stared at us with daunting yellow eyes. We were in awe. He was not, however, and quickly fell back down with a thump and went to sleep.
Not far from the lions, our campsite was tucked into a cozy grove of acacia trees. A cheerful staff greeted us with a candlelight dinner. To my surprise, it wasn't typical campfire fare. Instead, we were treated to butternut-squash soup, quiche, fresh-baked bread, vegetables and wine.
My tent was as delightful and extravagant as the meal — a roomy tent adorned with thick, comfortable beds, a hurricane lantern and nightstand. Most surprising, and certainly a bit of a relief, was its attached primitive bathroom and shower. After seeing the lions, the idea of leaving the tent for a midnight visit to the latrine wasn't appealing.
Despite the comfy beds, sleep was nearly impossible, as I lay awake reeling with excitement, listening to the fascinating foreign sounds of the night. Deep guttural moans from lions in the distance, the choruses of painted reed frogs like a symphony of bamboo wind chimes, the nearby whooping of hyena.
Hippos' rowdy honks, groans and snorts were comical-sounding, like hundreds of whoopee cushions. With the morning came a whole new world of music from the birds chattering to the drone of thousands of bees in the treetops.
Each morning began at 5 a.m. with a hasty breakfast, then a game drive at sunrise to capture wildlife images by the golden glow of early light. The hot, dry afternoons easily lent themselves to siestas until the air cooled enough for a late-afternoon game drive. Each evening culminated with a night game drive.
Using a spotlight, we'd seek out nocturnal critters lurking in the darkness, from busybody springhares and porcupines to beautiful and elusive leopards. Night drives, off-roading and walking safaris are not allowed in Botswana's national parks and game reserves, but are permitted on privately managed reserves such as the Khwai Development Trust that borders Moremi Reserve.
Both day and night, elephants were everywhere. They seemed to linger around every bend and be hiding behind every bush. Botswana's elephant population is currently estimated at around 120,000 — the largest concentration in Africa. Large swaths of trees and brush in many areas are stripped and savaged by the enormous eating machines, leaving only skeletal remains of forests. Botswana, like many southern Africa nations, is struggling with how to manage the ever-growing elephant population.
No matter how common the elephants are, the awe of their majestic presence never fully wanes — especially when you approach one on foot. Our guide turned out to be an exceptional tracker, studying prints in the sand like a forensic detective at a crime scene, determining the animal's age, gender and how far away the animal was simply by looking at a footprint.
Amazingly, his estimations were spot-on. As we came to a clearing, two large bull elephants appeared on the horizon. Stealthily we stalked, admiring them from only 20 feet (6 m) away. We were filled with both fear and beguilement. Watching the bulls so closely from ground level was breathtaking.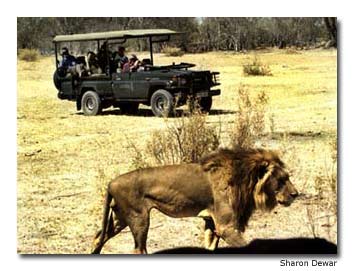 Continued on next page