Today Chandni Chowk is rated as having the greatest number of cycle rickshaws in the world and their use has made a significant reduction in India's serious air pollution problem. Utilizing only human power, pedal rickshaws save the cost of constructing parking areas for cars and trucks, and provide a low-cost alternative for transporting household goods around the market area.
Often instead of people, these bicycle carts carry bales of cotton, sacks of rice or crates of fruits and nuts. A benefit to the labor force issues, lakhs earn a decent wage without being a drain on the government for support. The push is on to ban all motorized vehicles throughout the Chandni market area.
An hour earlier, we had picked a rickshaw with a red plastic seat repaired with black electrical tape and topped with a tasseled, blue tarp roof to protect from the brutal Delhi sun. A 15-year-old named Alok won me over with his curly black hair and alluring smile. He offered me a banana as he held my hand and steadied the cart while I climbed into the narrow, uncomfortable space.
We started off at a moderate clip and the slight breeze through the open-air gig brought relief from the stifling 115 degree afternoon heat. Bliss would be short-lived. We turned the corner onto the main market street and became snared in the traffic snarl. The first 50 meters had been a tease. Nothing to do but sit back, munch on my banana and take it all in.
The jammed market area and constant grind of activity has been called a living museum. It stimulated all my senses. Merchants standing in the doorways of their narrow shops barked their sales pitches in Hindi. Women in colorful silk saris, loaded down with vegetables and other market goods, sloshed through the trash that piled up ankle deep along every curb.
Clumps of tangled electrical wires overhead formed grotesque shapes mid-air, then somehow braced themselves against the buildings. Rice bags brimming with turmeric, cumin and curry hogged valuable sidewalk space and robust spice aromas wafted into the air.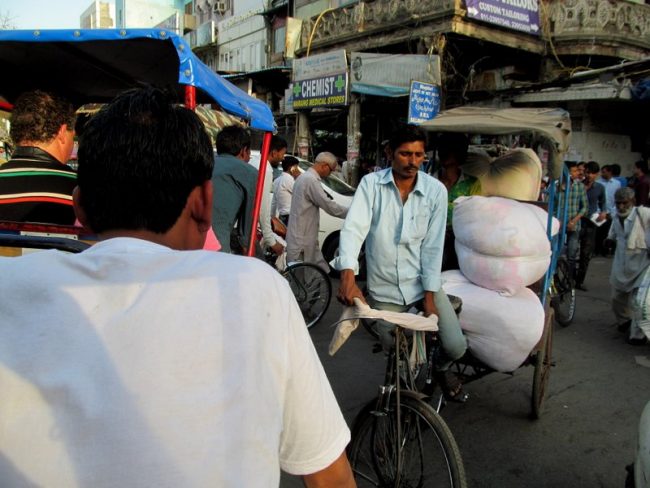 I clenched my banana peel tightly determined that I would not add to the garbage strewn everywhere. Delhi has attempted to put trash cans around the city, but these receptacles remain in place only a few hours before they are stolen to be sold in the market for other uses. I could never comprehend this habit, visible throughout India, of discarding items on the spot. We saw city streets, highway shoulders and fields in the countryside littered with unwanted items. A rare Dumpster overflowed and cows crowded around it looking for dinner. The sight of bony, malnourished cattle, sorting through garbage for their food made me look away.
I guarded that banana peel for over an hour, but then our young pedal-pusher stopped at the spice market to let us browse in the shops for 10 minutes. He gently uncurled my fingers wrapped around the peel and said, "Madam, give to me." I knew its fate the moment he took it. It joined the heap of trash at his feet. My determined effort to be one person out of 1.2 billion who didn't litter − dashed.
A leisurely stroll through the market proved impossible. Waves of humanity rolled along and anyone who stood still got trapped in the movement of the masses. The sidewalk resembled an obstacle course as I stumbled along. Homeless vagrants curled up in the doorways, merchants selling fruit in the middle of the walkway and small crevices waiting to snag an unsure foot were three impediments that sent me reeling. I raced back to the comfy protection of our waiting rickshaw. Walking turned out to be riskier than riding.
So, when in Delhi, head to the mosque, hire a pedal rickshaw and get ready for a fascinating, stimulating and eye-opening way to experience the complex layers and tough realities of India.
Author's Bio: After a life-long profession of treating the mentally ill at a PA psychiatric hospital for 33 years and also serving as its Director of Admissions, Carol retired to Lake Chapala, Mexico in 2006 with her husband, to pursue more positive passions. Her family thought that she, too, had 'gone mad.' She's been teaching English to Mexican adults for ten years, in a program operated by volunteer expatriates and writing for local on-line and print publications. Using her adventures experienced during visits to over 80 countries to capture a niche in travel writing, Carol also dabbles in 'memoir.'  A frequent contributor to Lake Chapala English magazine, "El Ojo del Lago," she's won several literary awards from that publication, including Best Feature in 2010 and Best Fiction in 2014. She also netted a story regarding her psychiatric field work in the published anthology, "Tales from the Couch."