Where to Eat in New Orleans

It's clear that dining will be a highlight of our trip, and our first dinner out does not disappoint. Located in an historic mansion, Cavan Restaurant & Bar serves up Southern small plates crafted by the Chef Ben Thibodeaux. I try the Crawfish Bolognese with smoked sausage ragu. It's an unusual combination that truly works.
We plan to spend a lot of time at the table during our time here in New Orleans. We seek our classic New Orleans favorites like Deanie's Seafood Restaurant and Market. Located in the heart of the French Quarter, Deanie's is one of the most popular seafood restaurants in New Orleans – and it shows. Expect a wait. Possibly a long one.
Deanie's serves hundreds of diners each night, and soon enough, you'll be feasting on barbeque shrimp, Crawfish Étouffée, charbroiled oysters, or my favorite, a traditional crawfish boil (happily, I'm here during crawfish season).
The restaurants in New Orleans are open late. Another night, after a fun evening on Frenchmen Street, where we dance to live music, visit a night art market and look into the windows of voodoo shops, we arrive at 10 pm at Domenica (123 Baronne Street) for clam and mushroom pizza, roasted cauliflower (an entire roasted head of cauliflower with dipping sauces) and classic New Orleans drinks. This premium spot is hopping. Even at 10 pm, we must wait a few minutes for a table. And it's worth the wait.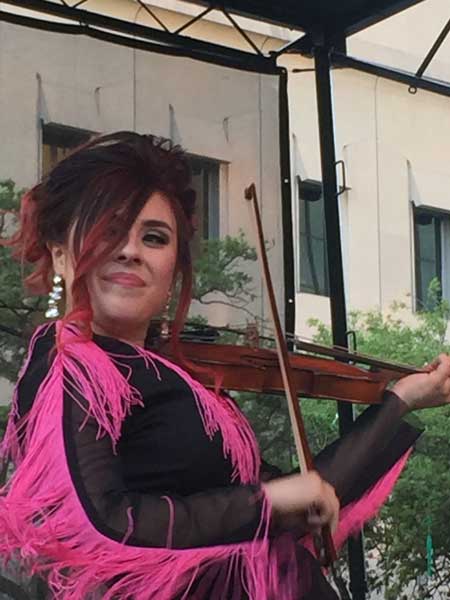 Music in New Orleans
As much as we like the food here, music is the other huge draw. It's part of the lifeblood of New Orleans, and musical talent and tradition seems to ooze from the very pores of its people.
Walking through the French Quarter, it almost feels like New Orleans has its own sound track. The sound track changes, like turning the dial of a radio, as we walk down the streets. Live jazz, blues, rock and more streams from each bar and restaurant we pass.
During the spring and summer, the city offers "Wednesday at the Square," a free concert series. On the night we're there, Cajun Fiddler Amanda Shaw is rocking it on stage. Pure energy emanates from the band as her fingers fly across the strings of her violin. The crowd is entranced, and so are we.
Continued on next page