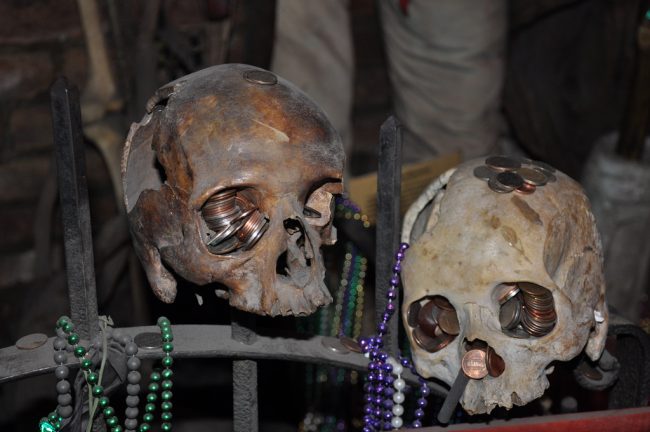 New Orleans Historic Voodoo Museum
Speaking of voodoo, and folks in New Orleans often do, there's no better place to explore and experience that mysterious combination of religion and superstition. It was transported there by slaves from West Africa in the early 18th century. I got my voodoo fix at New Orleans Historic Voodoo Museum, a miniscule but mesmerizing collection which I found to be both educational and entertaining.
Visitors are overwhelmed by a haphazard jumble of paintings, sculptures, dolls, masks and other artifacts. One painting depicts a voodoo exorcism which took place around 1850. The Gris-Gris room displays objects used to invoke supernatural powers which, I learned, are rarely used for evil. Rather they seek to invoke such achievements as fortune, luck and love.
A hollow "wishing stump" is festooned with notes that people left, along with a money offering for their ancestral spirits. Other tokens of hope donated to please other-worldly beings include alcoholic beverages, cigarettes and chewing tobacco.
More Museums in New Orleans
Three other museums which deal with vital facets of what makes New Orleans such a magnet for tourism rounded out our immersion. The aptly named Old U.S. Mint was built in 1835 and during its decades of operation produced millions of gold and silver coins. Today it displays treasure of a different kind, including instruments that were played by notable musicians and other memorabilia which traces the history of jazz from its humble beginnings on the city's streets. Another feature is a series of free jazz concerts.
Only in New Orleans would there be a national park devoted to jazz, and the Jazz National Historical Park fills the bill. The Visitor Center is the place to start,
and it's where jazz-related walking tours take off. The exhibits are not just about music, but also local history, cultures, wetlands wildlife and food.
Food has top billing at the Southern Food & Beverage Museum, along with local beverages of the city and the South. There's a separate exhibit area for each southern state, and the story of the various cultures that contributed to the region's culinary heritage. The associated Museum of the American Cocktail, demonstrations by chefs and occasional tastings round out the menu.
Whether enjoying distinctive dining, listening to world-class jazz or checking out any number of other attractions, New Orleans offers a surprisingly complete menu of choices.
If You Go:
For more information, call (800) 476-1651 or log onto neworleans.com.
Author Bio: After gallivanting throughout the United States and to more than 75 other countries around the world, and writing about what he sees, does and learns, Victor Block retains the travel bug. He firmly believes that travel is the best possible education, and claims he still has a lot to learn. He loves to explore new destinations and cultures, and his stories about them have won a number of writing awards.