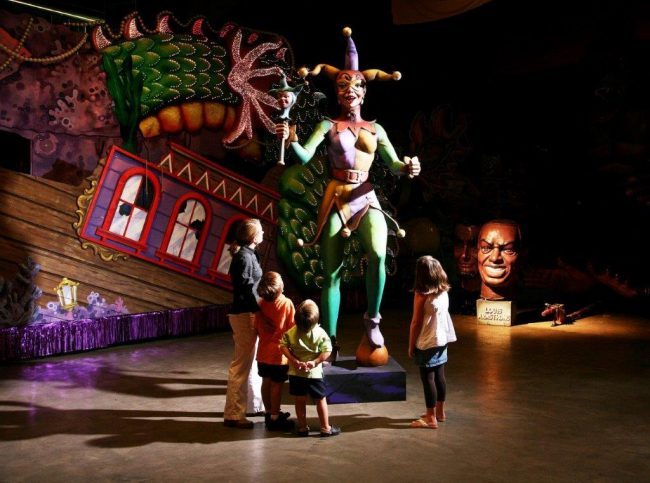 Mardi Gras World of New Orleans
Of course New Orleans is synonymous with Mardi Gras, the multi-day carnival, parade and excuse for over-eating and over-imbibing which has been celebrated there since the early 18th century. Two museums offer opportunities to experience the wonder of the festivities without the wildness.
Mardi Gras World is where floats for the parades in New Orleans and other locations around the world have been made since 1947. In a studio so vast it could almost have its own zip code, visitors see artisans constructing lavishly decorated floats literally from the ground up.
The scene is set in a video, followed by a taste of King Cake, a treat closely associated with Mardi Gras. This confection, which is believed to have been brought to New Orleans from France in 1870, is served throughout the carnival season.
During the tour, Fyllis and I felt like Lilliputians in a world of giants. We were dwarfed by much-larger-than-life likenesses of cartoon figures, movie personalities and fantasy creatures. Oversized animals and flowers the size of trees loomed over us.
Backstreet Cultural Museum
A different take on Mardi Gras comes forth at the Backstreet Cultural Museum. Don't let the nondescript exterior of the house that contains this collection put you off. The two rooms and hallways inside are jammed with memorabilia that pay homage to New Orleans' African-American carnival traditions and celebrations.
Artifacts, photographs and films tell part of the story. Elaborate hand-sewn costumes line the walls, vying to overcome the viewer with their ornate decorations and variety of colors which challenge the largest box of Crayolas.
Some of the outfits pay homage to Native Americans, who are remembered for the assistance they once provided to slaves running away from their owners. I also spotted hints of Africa, voodoo and other references to African-American history and customs.
Continued on next page