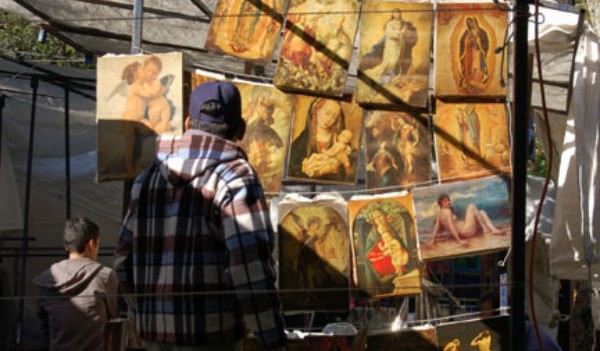 Barra's father was Oswaldo Barra Cunningham, a famous Mexican muralist who worked with Diego Rivera and behind a small stand of bamboo at his family's house is a hidden treasure: a ceramic mural fragment the two artists were working on just before Rivera's death. When I asked him why he didn't become a muralist, he laughed and said, "Too much competition."
When it's time for a snack or a meal, there are plenty of choices both at the market and at nearby restaurants. For the slightly more adventurous, the Melchor Muzquia produce market, which is ringed with food stalls, is only a block away.
There are two churches in the area: San Jacinto is up the street from the market and dates from the mid-1500s. The Convent of San Carmen, built in the early 1600s, is located on Revolución, a five minute walk from the market. It houses a small museum and in its basement, something a bit more intriguing: a dozen mummies, which formed naturally after burial due to the arid conditions of the soil.
There's also an interesting bit of history involving the U.S. Just around the corner from the market is a plaque dedicated to the San Patricio Battalion. The battalion was formed by soldiers—the majority of whom were Irish—who had deserted from the U.S. Army during the Mexican-American War (1846-1848) and joined the Mexican Army.
They fought in several battles against the U.S. and, eventually, 70 of them were captured. One court-martial for 29 of the prisoners was held in San Angel. Sixteen of the men were hanged in San Angel while the rest received 50 lashes and were branded with the letter "D", for deserter, on a cheek.
John Riley, the San Patricio's leader, was branded on both cheeks. A bust of him stands across the street from the plaque. While the San Patricios are viewed as deserters by the Americans, they're heroes to the Mexicans and are remembered with a yearly festival. Villanueva, the market's former president, knows all about the battalion and is easily persuaded to take you on a tour of the places where the men were housed, whipped and hanged.
San Angel, with its tree-lined streets and quiet neighborhoods, provides people with a welcome break from the noise and frenetic pace of Mexico City. And on Saturdays, there's the added benefit of taking in one of the city's treasures: the Tianguis Market.
If You Go:
San Angel: http://www.visitmexico.com/en/san-angel-neighborhood-mexico-city
Tianguis Artesanal Tenanitla: http://www.yelp.com/biz/tianguis-artesanal-tenanitla-m%C3%A9xico
Author Bio: Joseph Sorrentino is a freelance journalist and photographer who spends as much time as he can in Mexico. More samples of his photographs may be found at: www.sorrentinophotography.com
[mappress mapid="962″]