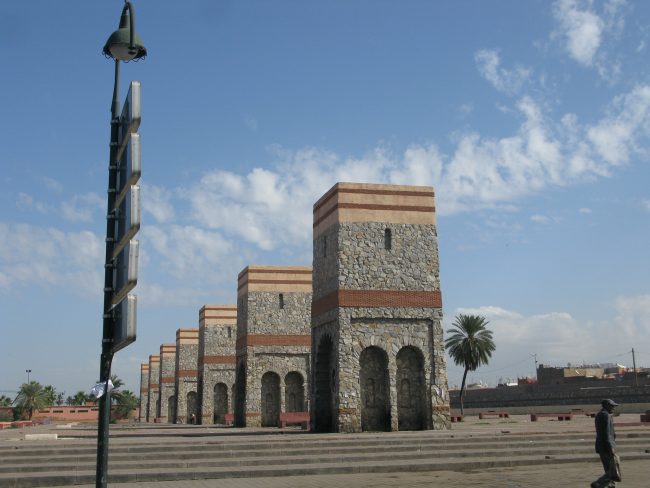 Authentic Moroccan Spa: Traditional Islamic Hammam
While alcohol-oriented after dark adventure can be found in the Gueliz district of the new city, you would be better served to throw caution to the wind and give an authentic Moroccan spa experience a go instead – the traditional Islamic hammam.
For the cost of merely entering a spa in the Europe or North America, you can allow your senses to be invigorated with a ritualistic cleanse (a personal bath and exfoliating scrub) following by an hour long Argan oil massage conducted with world class professionalism by spa therapists.
Through email, on the recommendation of a friend, I had arranged to meet Faiza at 7 pm at the eastern gate of El Badi Palace in the centre of the city. Greeted with a gentle smile and hardly a word of English, Faiza expertly wove her way through the throngs of tour groups lining the dusty streets beckoning reassuringly as she went, her feet moving so deftly she might have been floating on thin air beneath her djellaba.
Down the labyrinth of alleyways speckled with jewel hued lamps, I followed her, the odd pang of anxiety electrifying my body as we wound around the wall of the old Jewish cemetery where characters lurked in the shadows, characters straight from the pages of a Dickensian novel.
Rounding a corner to yet another needle-wide alley and a dead end, a recurring feature of Moroccan infrastructure, Faiza stopped abruptly, turned to her left and heaved an inconspicuous door open to reveal an ornately tiled courtyard, shrouded in ivory organza drapes from top to bottom. After the typical warm welcomes, I relaxed on a low rising couch strewn with plum coloured cushions, nibbling on almond biscuits and preparing for hammam.
Water is deeply sacred in Islam, and the respect this element is given during hammam adds great weight to the profundity of the experience. I felt privileged to be part of this ancient tradition, and as the coarse particles of ebony sand were kneaded gently into my body, routinely washed away with warm jugs of purifying fountain water, it was as if my troubles were washed away, too.
If You Go to Marrakesh
https://www.gov.uk/foreign-travel-advice/morocco
https://www.tripadvisor.co.uk/Travel-g293734-c145880/Marrakech:Morocco:Only.In.Marrakech.Dos.And.Donts.html
Lonely Planet Morocco Travel Guide
Lonely Planet Pocket Marrakesh
Author Bio: Alice is a Communications Executive and Writer based in Dublin, Ireland. She manages her own blog, aliceasks.com, creating content on human rights, global social issues and most of all – travel. Alice is on a mission to prove that travel breeds tolerance, understanding and mutual respect between all people, regardless of race, religion or nationality. She holds an Irish passport, but sees herself as a citizen of the world. Alice's adventures have taken her to 29 countries and 1 unrecognized state so far, from the arid sands of the Sahara to the frozen fantasy of Iceland. She holds a First Class Honours degree in Economics, Politics and Law from Dublin City University, as well as being a classically trained pianist and qualified music teacher.