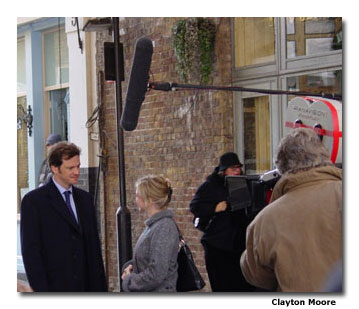 I never thought I'd be elbow-to-elbow with chefs like Jamie Oliver, the "Naked Chef," while doing my weekend shopping, but here I am at Borough Market, and I see Oliver all the time. Sometimes he's got a camera crew in tow, but most of the time he's either packing boxes of vegetables into his BWM or carting around his towheaded young son.
Regardless, we both gravitate to this open-air market, tucked away on a four-acre site on the south bank of the Thames River. The market was established in 1754 by an act of Parliament and has been serving up warm British fare and exotic delights ever since.
While I'm sure that Oliver schleps away obscure delights for his show, for me, these market visits are a part of survival. I live just two blocks away, and the Friday and Saturday market is a treat.
The market might be a draw for chefs from London's exclusive Savoy and Dorchester hotels, but the rest of Southwark is a little less cozy, and more than a few Londoners wouldn't cross the river without a map and a bag of breadcrumbs.
That said, it is well worth a savvy traveler's time to cross London Bridge and wander through the stalls. On a rare sunny Saturday, the bells of nearby Southwark Cathedral ring off the concrete and blend seamlessly with the shouts of vendors and the roar of overhead trains. Borough Market is located underneath the elevated train tracks that lead into London Bridge Train Station.
A nice first stop is "Maria's Market Café," a tiny greasy spoon run by the charming Maria Moruzzi, where the offerings include her legendary bubble & squeak (a fried mixture of potatoes and cabbage, so named either because of the sound it makes while cooking, or while digesting), steaming mugs of coffee and other means of post-pub recovery.
Vegetarians will find several gardens of delight, including the vast selection at Turnips' Fruits and Vegetables, where one of the staff periodically breaks out into thunderous but resonant bits of opera.
In addition to potatoes, leeks and other roots, there are startling vibrant berries, apples and more alien fare like Chinese Dragon Fruit.
Over at Tony Booth's Mushroom Company, exotic mushrooms are selected with care by everyone from visiting tourists to hotel chefs from "The Ivy" and "Claridges."
Other sights include the wide range of pheasants, turkeys, geese and ostrich at Wyndam's House Poultry, while several butchers like Wild Beef and the Ginger Pig cut beautiful slabs of lamb, beef and pork nearby.
It's not uncommon to see whole boars and wild rabbits hanging out at the stands, waiting to be diced into dinner. Smoked streaky bacon from the market has a much richer taste, while Spanish Serrano and Joselito ham is sliced for you right off the bone.
Fresh fish, brought up from the English coast at Brighton, line the tables at Applebee's Fish and The Hand-Made Fish Company. Eels peer out at visitors with dead eyes, tentacles from enormous squid hang over the side, and big blue lobsters slide over the ice in a futile attempt to escape. Nearby, a cup of scallops roasted with bacon goes for a handful of change.
One of the more high profile shops is Neal's Yard Dairy, located on quiet Park Street, which carries a staggering variety of British cheeses. Selected according to season as well as taste, the offerings at Neal's Yard include soft Stilton and Gorwydd Caerpilly (an unpasteurized crumbly cheese with a slight citrus flavor), tangy Greek feta, and Daylesford Cheddar, proclaimed "The Best English Cheese in the World" at the World Cheese Awards annually held in London.
The helpful and knowledgeable staff is always ready to offer a recommendation and a slice to taste of anything in the shop. My favorite is Keen's Cheddar, aged up to 14 months bound in cloth, with a very oniony tang and a strong aftertaste.
By far one of the most popular items is the chorizo sandwich at the Brandisa Spanish Foods stall, which serves a tasty sandwich only available from Noon to 2 p,m. Regulars start lining up early for a taste of fresh Spanish sausage, grilled over charcoal and served on a toasted roll with grilled peppers, rocket (a leafy vegetable, similar to arugula) and olive oil.
The stand is close enough to carry over a chorizo to share a pint among the gothic designs of the Globe Pub, built in 1872. Featured prominently in the film "Blue Ice" with Michael Caine, it was more recently immortalized in "Bridget Jones's Diary."
In the film, Bridget's apartment is located above the Globe Pub. In fact, locals found Renée Zellweger, Colin Firth and Jim Broadbent here filming the sequel just a few weeks ago.
There is always a way to satisfy a sweet tooth, as well. An unusual hot chocolate comes from the Cool Chile Company, made from Latin American cocoa mixed with ground almonds, cinnamon, sugar and milk.
Other drinks include spicy mulled wine and hot cider mixed with fresh citrus from the market. There is also traditional fudge, warm pain au chocolate and sweet berry tarts to be had.
Whether you are a four-star chef or just a culinary adventurer, Borough Market is a delight, far from the madness of London's tourist traps but accessible enough for a memorable morning out.
IF YOU GO:
The market is located on Borough High Street, one block south of the River Thames and three blocks west of London Bridge Underground Station. It is open Fridays from noon to 6p.m. and Saturdays from 9 a.m. to 4 p.m.. For more information, visit the market's official website at www.boroughmarket.org.uk.