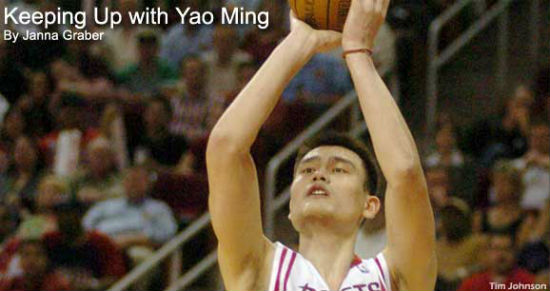 There are times when all Yao Ming wants to do in his time off is sleep. Slumber is a luxury that the 24-year-old Shanghai native has little time for. From October to June, he leads a busy life in America, playing center for the NBA's Houston Rockets in Texas and spending some 80 nights a year on the road with his team mates.
When the NBA season ends, Yao usually heads back to his homeland, where he plays for the Chinese National Team. This summer, though, he'll finally get a few weeks of much deserved rest. The Chinese star says all he wants to do is relax and do absolutely nothing — a state of being that he is little acquainted with.
Still, Yao loves the opportunity to play for his home country. Playing for Team China in the 2004 Athens Olympics was a great honor, he says, and the emotional 67-66 win over Serbia-Montenegro in the quarterfinals was a game he'll never forget.
"Even though I was disappointed that our team didn't get on the medal stand, it was such an amazing event for me to be a part of," says Yao. "I think our basketball team is going to be much better in four years. The new developing stars will be pointing toward the games and I intend to be much better, too!"
The energetic sportsman, who is well-known by basketball lovers around the world, rarely stops working. Advertising endorsement offers come at Yao constantly, but he only accepts a select few. Such endorsements have introduced Yao Ming to non-basketball fans. His humorous TV commercial for Visa was a favorite among American viewers, making Yao a well-known celebrity there.
Yet, there is more to Yao than his athletic skill and business savvy. In a way, he has become a conduit between cultures. Sports is a universal language, and Yao has served as a translator, bringing China and America — two very different nations — together in their adoration of this fun-loving, wisecracking young man who has a gift with a basketball.
"Yao tries to bridge the gap between the two cultures," says Tim McDougal, vice president of marketing at the Houston Rockets. "He's found a way to be a stand-out person in both societies."
The basketball star was thrilled to show the Houston Rockets his hometown this last October when the American team played an exhibition game in Shanghai. Yao took his coaches and team mates on an impromptu tour of the city, introducing them to his friends, pointing out the apartment building where he grew up, and even visiting the primary school he attended. Best of all, Yao was able to share some of the Chinese culture and tradition that is such a huge part of him.
The basketball player is hugely popular in Shanghai, for it was here that Yao — whose parents both played for Chinese National Teams — began his rise to basketball stardom, playing on the Shanghai Youth Team at age 14 and then the Chinese National Team at 18.
As a child, Yao dreamed of being an explorer and pioneer — and his skills have allowed that dream to come true. The 7' 6" (2.28 m) star just finished his third season with the Rockets, having been an All-Star Game starter all three seasons. He has obviously adapted to the fast pace of pro-ball in the NBA.
He has also adapted well to life in Houston, which is home to some 120,000 Chinese-Americans. He's gotten used to driving in the city's crazy traffic, developed a love for huge steaks and made good friends.
"I spend a lot of time at home, listening to music and reading new books," says Yao. "My team mates really help me out, not just by teaching me the game, but also some American slang!"
Although Yao often uses the help of his translator, Colin Pine, his English has become very good. "He speaks English all the time with his team mates," says McDougal. "And when he speaks English during interviews, fans are just blown away by his fun personality."
It's obvious that Yao has earned the respect of those he works with. "Yao Ming is one of the most remarkable young men I've ever met," says Barry Warner, president of Asian Southwest Media in Texas. "He's very atypical of today's athletes. He's humble and has a good perspective on life. I'm sure he would make an impact on society in whatever he did. His parents have great reason to be proud of him."
Yao is known for his great sense of humor. "He's quick with a joke," says Warner. "I've seen him laugh so hard that he has doubled over and fallen into his locker. The only time I've seen him down was when the Rockets traded Steve Francis, Cuttino Mobley and Kelvin Cato (former Rockets players), his good friends, to Orlando."
There is something inside of Yao that makes him work harder and want to do even better, says Rockets' strength and conditioning coach Anthony Falsone, who traveled to China this last summer to prepare Yao for the Olympics.
"Yao understands what he represents," Falsone says. "How he handles himself and everything he does is really a representation of a whole country, and he understands that. There is more to it than just him playing basketball and doing well for himself."
Yao Ming is one of the few NBA players who has fans all over the world, and the Houston Rockets gained a whole new fan base when Yao joined their team. At first, the Texas team wasn't sure how to reach that audience. In the end, the Rockets hired Chinese web developers to design a stand-alone website in traditional and simplified Chinese, says Audrey Cheng Trevino, Rockets' director of strategic planning.
The website also offers a weekly radio interview with Yao ― in Mandarin. Houston resident Andy Yao hosts the "The Big Hour" for the city's Chinese-American community, but the interview is available online. Such technology allows fans to keep up with Yao Ming.
While it's obvious that Yao Ming thinks about his fans, fame has come at a price. These days, it's almost impossible for him to go out to eat or even go shopping. And when he does venture out with friends, Yao is almost always mobbed.
"Everybody recognizes Yao," says Falsone. "In a way, it's a double-edged sword. Because of his great ability, he's created this character that can't really go out and enjoy life, especially in China. I'd say he was like the Beatles, only the Beatles didn't speak Chinese and Yao doesn't sing, but other than that, it's exactly the same."
So when the world becomes too demanding, Yao simply retreats to the peaceful solitude of his home in Houston, where he enjoys his mother's home-cooked meals and playing games on his computer. He likes to surf the net, and sometimes he even goes online to chat with his fans.
Who knows? Next time you venture online, you may just find yourself chatting with China's humble superstar himself.
More Info on Yao Ming
Yao Ming Official Site
Yao Ming Fan Club
www.yaomingfanclub.com
Houston Rockets