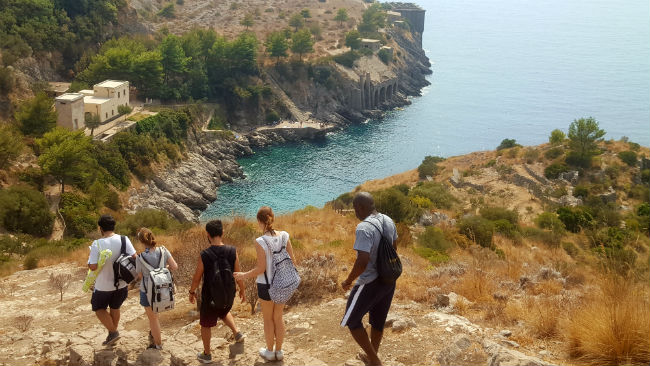 While detecting the trail entrance would have been impossible without our Neapolitan guides, the trail itself was quite easy to follow. The trail began up the front side of a mountain, and no more than 10 minutes into the ascent, we overlooked a surfeit of boats floating in the Marina del Cantone, the harbor where Via Amerigo Vespucci ultimately ends.
Once we crested the mountain and started our descent down the back side of the mountain, we encountered a post with two signs that pointed in different directions. The sign pointing to the left indicated the easier, but slower way down. The sign pointing to the right indicated the more rigorous, but quicker way down. We followed our Neapolitan guides down the latter, and it was but a couple minutes before Ieranto came into view.
Every step brought us closer to its waters, and the moment we reached the fine sands of its tiny beach, I set my backpack down and ventured to the 18-foot high platform. I couldn't resist a leap into those turquoise waters. And when I jumped, I knew our four Neapolitan guides were watching, appreciating the sight of their new friend falling into a paradise that few will ever experience.
If You Go to The Bay of Ieranto:
Casale Villarena should be your precise destination. They have a parking lot across the street and that is where you should park. (Note: You may have to go into the hotel to pay for parking)
Walk north on the main road (Via Amerigo Vespucci). It is uphill and you will walk around a sharp curve before you reach the entrance to the trail that leads to Ieranto. The walk is no more than a quarter mile from the parking lot.
Here is a picture of what the trail entrance looks like, which is why nobody can find it. (We got lucky because we'd latched onto a group of four from Naples who led the way.)
This is the view directly across the street from the trail entrance:
Author Bio: Miles Ryan Fisher grew up in the suburbs of Philadelphia and currently lives in Washington, D.C. He works as Editor-in-Chief of Italian America® magazine. In his free time, he enjoys playing in an adult baseball league and coaching little league.