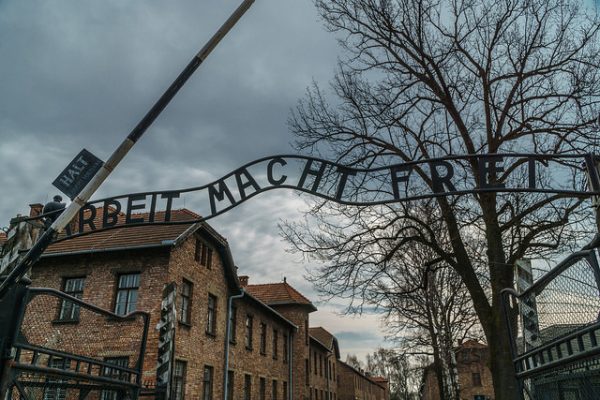 "Eva, what are your thoughts on God?" I asked.
"Well," Eva said. "I don't believe that God was there in Auschwitz with us. With all that happened, I can't believe it." She turned to the rabbi and the minister for their thoughts and they gave the usual explanations.
I didn't mind what she said; she had a right to her beliefs and I would have rather heard more about her opinions.
As the day wore on, Eva's prayers were answered and the weather did improve. The clouds parted and the sun began to shine.
I don't know what the others on the tour felt, but for me that was a sign, that in the midst of the darkness of that place, there was a ray of hope. Just as there was for me.
The girl who could barely walk around the block was able to walk eight miles on our first day at Auschwitz.
On Friday morning, we gathered at the Auschwitz memorial to light candles in respect. We were invited to say a few words. When it was my turn, I laid my candle on one of the steps and said, "This is in memory of all who perished here; for my grandfather who fought in WWII and for my dad who died three years ago."
We bid Auschwitz-Birkenau farewell and returned to the hotel.
Saturday was a free day.  I went to Oskar Schindler's factory, saw the last remaining walls of the Krakow Ghetto and then spent the afternoon in the Main Market Square with two lovely ladies.
I listened to a man play the water glasses and asked him to play "La Vie En Rose." Long after walking away, the tune serenaded me throughout the square.
I went wild in buying souvenirs, selecting things that my family and friends would love and I would cherish.
My friends and I paid for one of those horse-drawn carriage rides and I felt like a queen for twenty minutes as we toured the city.
That night, I soaked in the bathtub, thinking how far I had come and how far I could still go. No matter what my past held, the prison I had put myself in, that didn't have to be my future.
Eva Mozes Kor and countless other Holocaust survivors made lives for themselves after the war. They healed. If someone who could survive such darkness, then so could I, in my own small way.
Where there is life, there is hope.