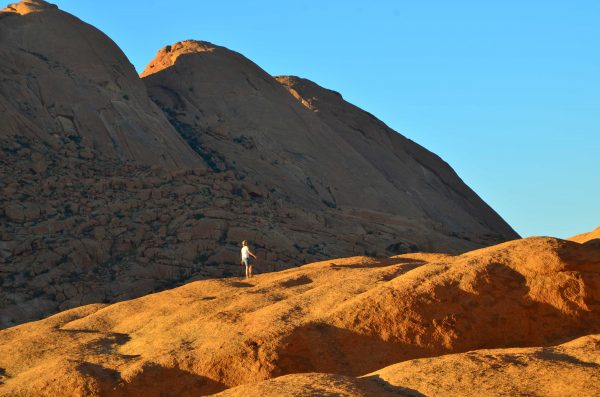 Though we'd just spent five days amid a plethora of animals in Etosha, it was in the coastal town of Walvis Bay (a 20-minute drive out of Swakopmund) that I had my most memorable wildlife encounter.
Walvis Bay is synonymous with flamingos, but I wasn't prepared for the unbelievable and intimate experience of seeing those elegant, pink-feathered birds en masse and up close. The water in this area is rich in food-producing nutrients, which is why Walvis Bay is one of the best places in the world to see flamingos in the thousands before they flit off to Etosha to breed.

A bee eater, spotted while relaxing at Ai-Ais Resort. Photo by Emma Strumpman
Ai-Ais
Namibia's strangeness, stillness and solitude removes you from the humdrum of daily life. It's rejuvenating for the soul. But, after two weeks of dust and dry weather, my skin was dehydrated and cracked, and feeling anything but revived.
Fortunately, Ai-Ais Resort, tucked in between tall reeds and slate mountains at the bottom of the Fish River Canyon, provided the kind of luxurious relaxation my body was craving. A hot spring feeds the spa, and I spent my afternoons soaking up its healing powers in the indoor warm bath, while watching other holiday-makers pad around in their pristinely white bathrobes. While a camping road trip is the ideal way to experience this country, the constant movement can have you feeling rather exhausted. Ai-Ais remedied that.
You know you've done road tripping right when you're ready to return to the comforts of home. But as soon as we crossed the Namibian border, my long-forgotten phone started bleeping and was almost thrown out of the car window and into the rushing waters of the Orange River. I guess I wasn't quite ready to come back down to Earth.
If You Go to Namibia
For more information, these websites prove helpful:
http://www.etoshanationalpark.org
http://www.namibiatourism.com.na
Author bio: Emma Strumpman is a Film & Media graduate student, currently living in Cape Town, South Africa. She is always up for an adventure, whether it's discovering a new hiking trail, finding a body of water to dive into or a sandy beach to meander along, meeting new people, trying new foods, hanging out with some wildlife or, of course, travelling. You'll hardly find her without notebook or camera, as these experiences she loves to record in words and photographs.