Travel in Etosha
After two-and-a-half consecutive days of travelling, and the heart-stopping encounter with a daredevil warthog, the moment finally arrived to set up the caravan and settle down at Okaukuejo. It's one of three campsites in Etosha, 22,270 square kilometers worth of national park area named after the vast salt pan that the fences enclose. On arrival, a hefty bull elephant brushed past the camp's perimeter like a good omen for what was to come.
Days at Etosha offered a simple routine: early morning game drive (with coffee and rusks, of course), lounge at the waterhole, late-afternoon game drive, sunset at the waterhole, braai, snuggle up by the waterhole…again.
Yes, the waterhole was worth the thrice-daily visits. A low stone wall forms an amphitheater around it and I'd spend hours reading books and snapping photos as the animals came and went, constantly shifting the scene.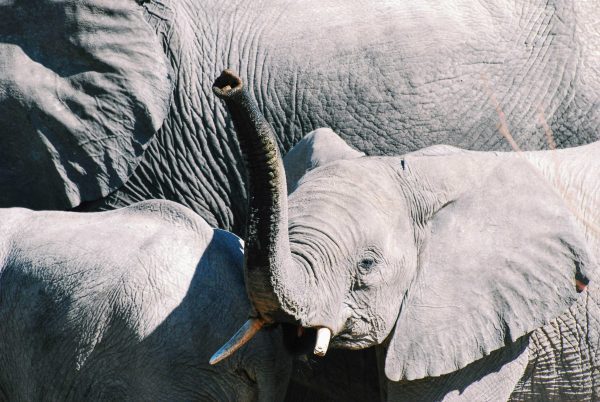 On the fourth day, a photographic tour-group arrived and, along with their tripods, they skulked around the wall's edge in time with the setting sun. You're not supposed to talk, so it was blissfully quiet save for the whisper and click of camera shutters, hushed chatter among other travelers, and a gentle splash as the animals took their afternoon swim.
Etosha has seen little rain recently, and certain stretches were so grey and lifeless that it was easy to become despondent at the lack of wildlife sightings. But huge herds swarmed around the salt pan's edge at Ontdeka waterhole, and the refreshing greenery on the Halale side of the park offered better sightings.
Our final evening curtailed any lingering disappointment, though. While it may sound like an African cliché, watching the sun set behind the spiny acacias while drinking icy-cold Amarula, with my parents and a couple elephants for company, was well worth the indulgence.

The Spitskoppe area is famed for crystals such as these, which we bartered for using food as currency. Photo by Emma Strumpman
Camping in Spitzkoppe
The campsite at Spitzkoppe, a vast expanse surrounded by caramel-colored mountains, was far removed from city life – bar the private long drops. But this makes it the wild, sparsely habituated place that it is. This kind of environment is also ideal for stargazing, which is exactly what we did that first night, warmed by a crackling wood fire and the heat radiating off the mountains.
Spitzkoppe's mountains look like soft toffee drizzled on a grassy plane, and we watched as other people climbed high up the boulders, following the rivets molded into the rock-face.
When we tried it for ourselves, the climb wasn't as simple as it looked. But scrambling up to the arch (a granite formation shaped like a giant eye), and getting a photo standing beneath it was well worth the small scrapes and bruises.
There were also plenty walks and hikes to do, but after a full morning of gallivanting on the Mars-like mountains, we were more than ready for a shower. Thankfully, there are actually outdoor showers at the site's entrance, and a flush toilet if the long drops prove too daunting. But they're far enough away from the main campsites to make you feel like you're still "roughing it."
Spitzkoppe also forms part of the Erongo region of Namibia, an area mined for crystals like aquamarine and amethyst. You can hustle for your favorites at the Uiba Oas Crystal Market at the Spitzkoppe turnoff on the B2, although we preferred to buy from the informal stalls further down the road towards the campsite. Friends of ours had told us that the sellers prefer to trade in food, as supermarkets in the area are few and far between. Sugar, Fanta and chocolate were in popular demand.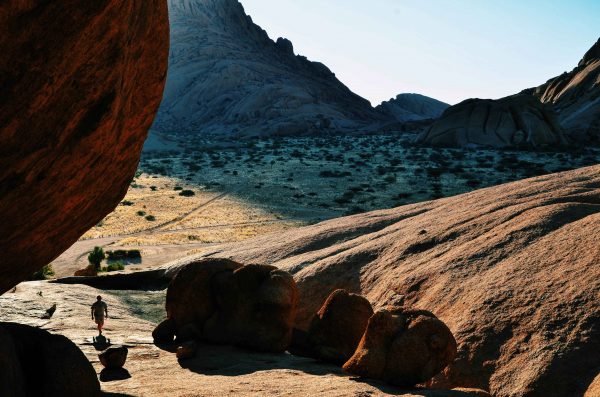 Swakopmund
Located at a point where the Namib Desert trickles into the Atlantic Ocean, Swakopmund – in stark contrast to Spitzkoppe's heat and isolation – is a bustling seaside city often shrouded in a cold, wet fog. In typical Namibia fashion, we had gone from one extreme to another in the space of a two-hour drive.
I've been to Swakopmund twice before, but explored the area further this time around and found that I'd severely underrated it. In our one full day there, we took a morning trip to Walvis Bay, climbed Dune 7, visited the crystal gallery, munched on various German pastries, and hustled for carved makalani palm-nuts (the perfect souvenirs and gifts) on the promenade. With its traditional architecture, German bakeries, and seemingly foreign accents – 30,000 of about 2 million Namibians speak German – Swakopmund hints at colonial Germany.
Continued on next page