Tentatively, I slide open the door to experience my first public bath.
There are two sacred rules of Japanese bathing: you must be naked, and you must be clean before getting in. I shed my clothes and scrub myself meticulously at one of the wash stations, seated on a teeny stool. There is an even teenier towel I can only assume is for being stored on top of your head while soaking.
Thus clad, I descend into the decidedly hot, chin-deep bath. The soothing experience sends me into a state of almost comatose relaxation – so blissful, I fail to notice the Korean now lazing next to me. Unfortunately, his broken English didn't surpass Queen song titles. Alas, I begin drifting away, before "Radio Ga Ga!" brings me back to earth.
Otaru, Japan
Next morning, under blue skies, I catch the train to Otaru, after stopping by a market for a breakfast bowl of warm rice topped with seafood: in this case, salty broiled salmon, which slipped down my throat like a sorbet. The journey takes two hours – there are no bullet trains at these altitudes – and as the train takes its lazy path along Yoichi Bay as I stare contentedly out of the window, utterly stuffed.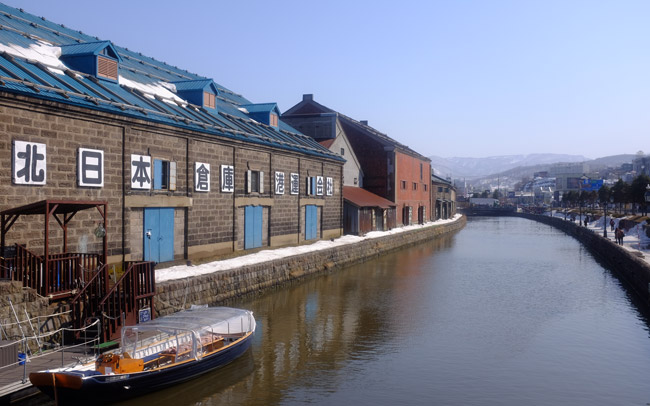 Otaru is a midsize port known for its picturesque canal, lined with Victorian-style gas lamps. 'The Town of Hills' is also home to a century-old former branch of the Bank of Japan, as highlighted by my authoritative taxi driver who stops and insists I take a photograph. Beaming with pride, he tells me this was a boomtown at the beginning of the 20th century, "Richest center of world herring industry!"
I'm dropped off at the City Museum and discover the industry soon collapsed due to overfishing. But the fisherman's loss is the modern tourists gain, as much of the herring heritage survived, including a timber warehouse – converted into the legendary ice-cream parlour, Kita-no-aisukurīmu Yasan (a jet-black scoop of squid ink, anyone?)
Later, I wander Sakaimachi Street's assortment of glasswork studios and music box stores, before watching a large king crab being sold for 16,000 yen, or £103. As the sun comes down, the canal begins to glow golden red and I retire to a little restaurant called Isezushi, packed with locals dining at the tiny counter. The chef treats me to a masterclass in sushi: 12 blindingly fresh slivers of seafood, washed down with eye-watering sake.
Just 40km east of Otaru awaits Japan's fifth-largest city, Sapporo. With a population of nearly two million, it's a different world here, pulsing with energy. I head for Ōdōri Kōen: a beautifully manicured, block-wide park that splits Sapporo into its north–south grid, before ascending the colossal TV Tower (147m) – offering views out to Okura and Maruyama. In truth, central Sapporo's sights will only fill half a day; most make a beeline for the clock tower (which has not missed tolling the hour for over 130 years), or the Winter Sports Museum. I decide to watch the world go by at Gyokusuien; a tiny teahouse serving exquisite brews from all over Japan.
Competing for attention with Sapporo's attractions is the needle-nosed shinkansen. From billboards to booklets, infinite train images pop-up across the city, alongside imaginative train-themed memorabilia. In a moment of weakness I spend 2,000 yen on a bullet train themed stapler, despite having absolutely no need for it.
Stapler in-hand, I'm greeted by Motoi, who introduces me to the city's most famous export: beer. After learning the methods behind Sapporo's liquid gold at the Beer Museum, I'm led into a handsome, late 19th-century brewery with a cavernous restaurant attached.
Continued on next page