Altitude is an issue in Ecuador and it's essential to plan accordingly. Experienced tour operators (it is recommended to contract one) know that most folks need some acclimatizing time and cannot go straight from the airport to the highlands. A good option is a visit to one of several rose plantations near Quito, or to one of several historic haciendas to have a meal or spend the night.
La Jimenita, just 20 minutes from Mariscal Sucre airport (which opened in 2013), is one option. La Jimenita is a splendid place to pass the time, lovingly restored to its colonial charm, with just 15 beautifully adorned rooms, pretty gardens, nightly guitar music, 18 acres of dense forest with hiking trails and 20+ rare species of hummingbirds. The Cruz family welcomes all visitors to "your house," and seems to mean that sincerely. You'll see your first view of Cotopaxi, the world's highest active volcano, from its observatory. Private transfers to the airport are just $20 per party.
Quito, Ecuador
Founded in the 1500's, Quito is one of the best preserved historic centers in the Americas, and is the highest official capital city in the world, at 9,350 feet. With some 2,600,000 residents, Quito is surrounded by emerald-green mountains with misty cloud banks tucked between them, and on a clear day, the snow-capped Cotopaxi can be seen.
Quito has several world-class luxury hotels, as well as many more modest accommodations, gourmet dining, beautiful plazas and a dizzying number of exquisite churches, colonial-era mansions, and excellent museums. With its altitude and proximity to the equator, Quito has a year round cool climate averaging in the '50's and '60's. There are two seasons, wet and dry – with the wettest time from October to May, which is true of much of the country.
Many tourists opt to begin their exploration in Quito. This colonial gem was named, along with Krakow, as one of the two first UNESCO World Cultural Heritage Site in 1978.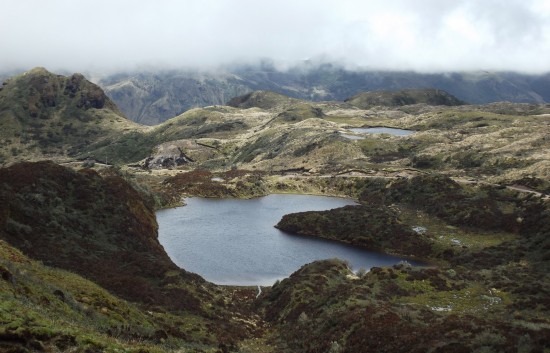 Others choose to get into the Andes Highlands, or the cloud forest, or the Amazonia region. Leaving Quito, one passes endless towering eucalyptus trees (an invasive species here,) grazing plump cattle, potato, bean and corn farms – a sea of shades of lush greens with purple mountains looming in the distance, cloud banks nestled between them.
We arrived at the 'Paramo' (treeless Andes Highlands plateau) to begin a strenuous hike. Starting from the La Virgen Cruce Cordillera Milesone (13,123 feet,) we headed down winding, muddy trails, very grateful for the knee-high rubber boots we were given.
The landscape was mystical, reminding me somewhat of the moors in western Ireland. Indeed, the vegetation was spongy and very moist, with plants I had never seen before, and huge mist-covered lagoons reflected the sky in every direction. We spotted three deer grazing between some rocks, and towards the end of the hike, were rewarded by our first view of Cotopaxi, resplendently emerging from the cloud bank with its snow-capped summit.
Continued on next page