Awakened by singing finches high in the palms, the entire bay slowly reveals itself in the early morning light. Fishing boats are heading out to sea while half a dozen outriggers race to the breakwater wall. The rain falls softly one minute, and the sun shines through the next as morning walkers and joggers begin their daily routines.
It's our first morning at the Hilo Hawaiian Hotel on historic Banyon Drive, and the views from the balcony are stunning.
Located along the eastern coast of the Island of Hawaii in the Hawaiian Islands, the town of Hilo receives an abundance of rain each year making this area rich in agriculture, rainforests and waterfalls. Travel in Hilo, Hawaii is something quite unforgettable.
Mesmerized by continuous activity in Hilo Bay, we yearn to head out to explore this magical seascape.
In true Hawaiian fashion, the breakfast buffet in the dining room below features fresh papaya, pineapple, Portuguese sausage and hash browns along with some of the more traditional favorites including Miso soup, Japanese Okayu (rice porridge) and a newly discovered favorite, pickled ginger.
While intently watching a family of ducks feeding along the waterfront, we linger over yet another cup of the richest Kona coffee imaginable. It's a great way to start the long, adventuresome day that lies ahead.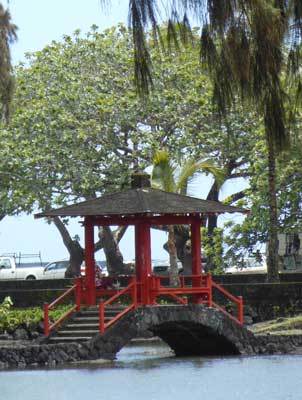 Queen Liliuokalani Gardens is right next door, and is worth spending an entire morning wandering through. The picturesque red Japanese bridge, stone sculptures, tea ceremony pagoda and foot bridges bring the entire community here to partake in its peaceful vistas.
Named after Hawaii's female monarch, this 30-acre park was dedicated in 1917 to honor the heritage of the Japanese-American immigrants who first worked in the sugar cane fields.
Across another foot bridge proudly stands Coconut Island (Moku Ola) which literally means "healing island" in the Hawaiian language. The site of an ancient temple dedicated to healing, it still comes to life daily with the sights and sounds of laughing children frolicking in natural swimming lagoons and on stone structures popular for jumping off.
Heading downtown later that morning, this historic sector along Kamehameha Avenue slowly comes to life as tourists and locals alike venture to aromatic coffee houses, cultural museums, antique and specialty book stores and a bustling old flower shop that first opened in the 1920s.
We head into several antique stores to revisit the area's intriguing past. Authentic Hawaiian shirts, books, ukuleles and vintage record albums line the crowded aisles. There's a dignified serenity throughout this town that honors a long, rich history.
Art Deco buildings still bearing the names of original stores, including Kress and the Palace, rise high above the friendly, local streets below. S.H. Kress & Co., a popular "five and dime" retail department store located throughout the US, operated from 1896 to 1981 and was praised for its unique architecture. The classic Palace Theatre first opened in 1925 during the American movie palace theatre heyday.
Downtown's Pacific Tsunami Museum is a fascinating study abounding with an extensive history about Hilo and its captivating past. Displays ranging from the science behind a tsunami to a warning simulator grace the interior along with heartwarming stories of survival, heartbreaking tales of those lost at sea and photos of Hilo before and after tsunamis have struck.
Housed in the First Hawaiian Bank Building, it was built in 1930 by the famous Hawaii architect C.W. Dickey and successfully survived both the 1946 and 1960 tsunamis.
Ebasu's flower shop, a few blocks away, first opened in the 1920s by the Ebasugawa family. Venturing in one afternoon, we are greeted with alohas and unimaginably beautiful displays of red, white and pink antheriums. The shopkeeper knew my mother, grandparents and great-grandmother over 50 years ago, and brings out a sampling of family photos are brought out and one of the sisters slowly recalls those years. This is a true piece of Hawaiian history — as is she.
From there, with several bright red bouquets in hand, we head high above Hilo to astounding views of the entire downtown sector and Hilo Bay.
A visit to Homelani Memorial Park, where my great-grandmother peacefully lies, translates to "Heavenly Home" in Hawaiian. Unique Japanese Gardens, stone angel figurines and historic family names dot the grounds telling stories of days gone by.
Heading back to downtown again on Wednesday morning, when Hilo's Farmers Market is in full swing, the colorful displays are spell-binding with antheriums, fabrics, beads, papayas, bananas, Koa wood carvings and artwork all intermixed.
The morning rain further energizes those of us assembled under the tent like enclosures. With several pearl and kukui nut bracelets, a Hawaiian shirt and tie and several local artist botanical renderings in tow, we linger a bit longer to enjoy the company of colorful, local vendors sharing stories and traditional lore.
With a family history richly ensconced in the region's sugar plantation legacy, Hilo's Sugar Plantation Museum is intriguing, authentic and informative. Currently being relocated from downtown Hilo and up the Hamakua Coast a few miles, it's now located in the old Papaikou Plantation Store and will reopen soon.
We are granted our own personal viewing and tour the museum one afternoon. It is still in the process of being refurbished, and photos, home décor, carvings and vintage signs adorn the walls and display cases. This place is truly a step back in time to plantation life and a well-deserved restoration of an entire lifestyle once found throughout the region.
Reluctantly leaving Hilo behind, but promising to return again soon, we continue north along the Hamakua Coast Belt Road.
This enchanting drive leads to world-famous Waipio Valley which takes our breath away as well as Akaka Falls, Lapahoehoe, and Honoka'a, a lovely old plantation town where my grandmother once taught school. This entire area is a leisurely drive that should be cherished with many stops along the way.
Akaka Falls is a scenic rainforest that has been used for many movies, while Lapahoehoe Point, far down below the highway, bears the poignant tsunami memorial from when it struck the school in 1946.
Heading further north, cliffs-top views of the mighty Pacific below and small towns revealing old Hawaiian architecture continue with every twist and turn in the road. Mana, a term granted to those special places that possess a spiritual quality, is indeed alive and well.
If You Go
Hawaii's Big Island
https://www.gohawaii.com/big-island