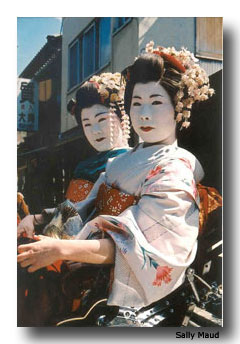 By comparison, many Japanese women still have few opportunities and choices when it comes to career and lifestyle. A woman working in the corporate sector is referred to condescendingly as "an office lady." If she marries and has a family, her husband may work 16 to 18 hours a day, forcing the wife and mother to become pretty much a single parent, isolated at home.
Geishas can make between US$10,000US and $12,000 a month, and they receive a level of respect that few other roles for Japanese women attain. So while becoming a geisha may seem a traditional and old-fashioned career choice, in some ways it offers Japanese women more freedom than other careers and lifestyle choices.
The commentary that fascinated me most on our walking tour was not the past of Gion, but the continued fascination with geishas in modern Japanese society. The intricate process that is required to receive the appropriate introductions to a teahouse (the agents for the geishas), the exorbitant expense — with payments being made to the various layers of the geisha hierarchy in return for a simple evening's entertainment of drinking, music and conversation — seem out of step with the instant and ready access to entertainment that modern Japanese have come to expect.
As we near the end of Peter's tour, I find myself struggling to find any connection with these women. Their lives, their customs and attitudes seem so removed from those of both modern Japanese and Western women. Yet there is an element of "businesswoman savvy" lurking under their mask-like makeup.
As we stop at a small shrine, we're surprised by the volume of stickers, printed in Japanese characters, adorning the lamp and walls of the shrine. No, it's not some strange type of offering to the shrine, but geisha "business cards." This, in turn, prompts Peter to open his wallet and display a similar selection covering the inside covers. His geisha friends have encouraged him to place them there, he says, to bring him good luck and good fortune.
Well, maybe the Japanese guys will fall for this one, but our genial guide laughs. He knows this is really just the women's subtle reminder to call and reserve another evening of entertainment. Everyone is into marketing, it seems, even in ancient Kyoto.