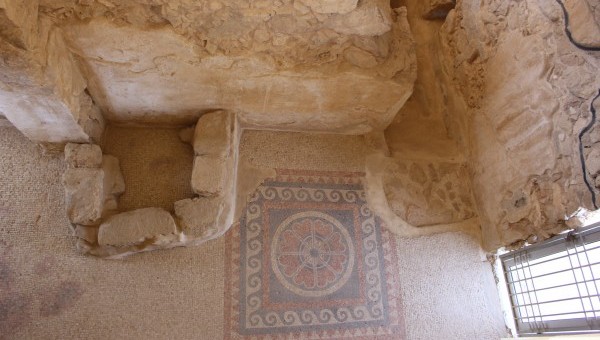 For me, the site's most poignant feature was the earthen ramp built by Roman armies two thousand years earlier to assault the fortress from the rear. On the last day of their lives, realizing they'd be overrun the next morning, the Jewish inhabitants committed suicide.
The lavish Northern Palace containing Herod's private rooms and a reception hall was, to my mind, Masada's most impressive structure. Clinging to the northern edge of the butte, it was also surprisingly free of people, maybe because the steep metal staircase that wound down to it from above felt like it was suspended in air.
The massive cisterns for capturing rainfall, the extensive food storage rooms, and the in-ground baths were reminders of the hard work it must have taken to support life in that harsh environment.
The tourist center at the base of Masada houses a large cafeteria with buffet meals as well as smaller items like falafel, hummus, and hamburgers. One evening when our hostel wasn't serving dinner, Mardena and I drove to Masada, bought meals, and brought them back to our room. Take note: during tourist season, the cafeteria can be a madhouse at lunch hour.
For outdoor adventure in Israel, it doesn't get much better than the Dead Sea region. The region is steeped in history and color, and there are activities to satisfy everyone from tour-busers to backpackers.
If you'll be there for more than a day, keep the Ein Gedi Youth Hostel in mind. The rooms are attractive, the price is right, and best of all, at day's end you can head to your deck, pull up a lounge chair, and bask in a view as pretty as a postcard.
If You Go:
Ein Gedi Youth Hostel:
http://www.iyha.org.il/Eng/eingedi
The more expensive Ein Gedi Kibbutz Hotel nearby:
http://www.ein-gedi.co.il/en/
Masada Youth Hostel:
http://www.iyha.org.il/Eng/masada-hostel
Information on Wadi Arugot:
http://bible-pedia.org/blog/category/hiking-near-the-dead-sea/
Information on Masada:
http://masadatours.com/essential-tourist-information-for-visiting-masada
Information on Ein Bokek and the Dead Sea Region:
http://www.einbokek.com/deadsea.htm
Author Bio: Paul Michelson has contributed to Go Nomad, In Travel, In the Fray, Clevermag and a number of other travel and humor magazines. He lives in Davis, California. 
[mappress mapid="961″]