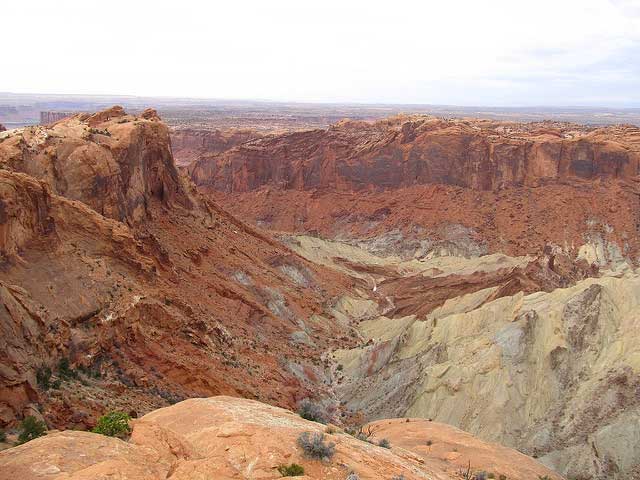 One explanation is that deep-lying layers of salt have pushed the rock upward. Another theory is that the salt dome is a remnant of a meteorite. Mystically inclined minds naturally suspect the work of extraterrestrials.
I need to watch my step. The desert is alive with "cryptobiotic soil crust" read warning signs along the trail. This sensitive top layer formed over decades from black, knobby algae, lichens and bacteria covering the meager, sandy soil, creating ideal conditions for fragile desert plants. Even so-called potholes are brimming with life.
Tiny organisms prosper in these hollows washed out by the rain, which can range from less than an inch to big enough to bathe in. Even if it's hot and dry for prolonged periods, there's sufficient moisture in these holes for miniscule invertebrate creatures to exist.
Lying on my belly and peering into their water world, I feel as if I could watch the wondrous water ballet of tadpoles and mini shrimps for hours, but a crimson evening sun suddenly reflects in the puddle.
Much too fast my desert day comes to an end — with an amazing show. The sky mirrors the red earth and shimmers not in its ordinary blue, but in a violet hue. Cirrus clouds cannot settle for one color; some are pink, others yellow-orange, lavender or pastel purple.
All of Canyonlands is dipped into a rosy lilac glow. And I finally understand what the park ranger at the entrance gate meant. He didn't over-promise.
If You Go
Canyonlands National Park
www.nps.gov/cany
Canyonlands Information
www.discovermoab.com