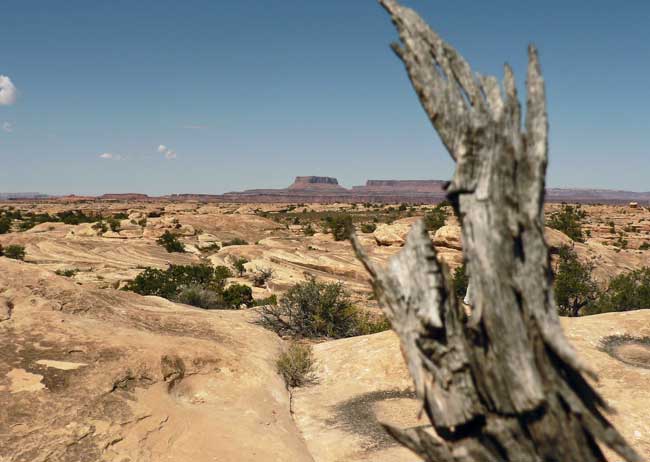 The closest hotel with air-conditioning is far away, which deters most visitors from exploring this wilderness overnight. Canyonlands remains remote, sweltering hot, underdeveloped and very dusty. Hence it's one of the most fascinating areas of the United States.
My ears ring with silence. I feel small and insignificant, engulfed by this seemingly endless, open country still shaped by gigantic natural powers and untouched by civilization. The sun burns relentlessly. Sudden winds whirl up hot desert sands. One particle at a time, the fine grains patiently pound at the rock, blasting my face, and soon crunch between my teeth.
High above my head, towering clouds conglomerate into gigantic mushrooms. Thunderstorms are rare here, except during the late-summer monsoon season, but when they do occur, they become a violent outburst of primeval powers. Change happens infinitely slowly though. Only the light moves at the speed of lightning. Sun and clouds paint constantly varying patterns of shade onto their rocky red canvass, like a time-lapse movie come to life.
Only a handful of paved roads zigzag as timid catwalks of civilization through this monumental landscape. Frequently, however, there are only dirt tracks, such as Shafer Trail. The narrow pathway clings desperately to a steep wall resembling an amphitheater.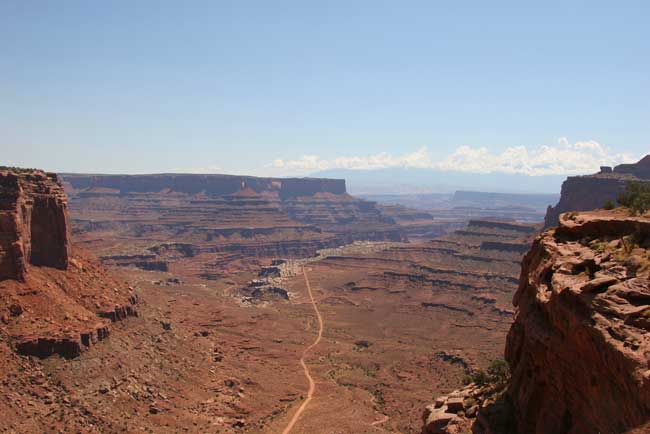 Originally cattle were driven up the harrowing serpentines. Today daredevil 4-wheelers scramble along this adventurous alternative route leading up from the edge of the Colorado River southwest of Moab to the Island in the Sky district.
This is the most-visited and most-accessible part of the park. Canyonlands' visitor center has outhouses, but desert country or not, has a drinking fountain — with a sign posted asking visitors to please not fill their water bottles. The miniature source is strategically positioned right across from the information desk and supervised by suspicious rangers who seem to be making sure that I am only taking a few sips and not secretly refilling my bottle.
Hydrated, I'm ready to head out into the spectacular landscape. Some sites, such as Angel Arch, and cliff houses and petroglyphs of ancestral Pueblo Indians, can be reached only by all-terrain vehicles, mountain bikes or arduous hikes. Perhaps it's best to test my desert fitness on a short hike to the famed Upheaval Dome first.
This enormous crater is one of the strangest geological formations in the entire park; it would actually be much more fitting for the moon. A whitish gray-green dome-shaped rock rises from the center of a 1,400-foot-deep (427 m) basin. Its origin is much debated.
Continued on next page