Punta Arenas, Chile
We flew over this region festooned with dozens of waterfalls, thick forests, and scattered frontier outposts on our way to Punta Arenas, capital of Chile's southernmost Patagonia region. The first stop there is the outdoor maritime museum where one can climb aboard a full-sized replica of the ship that brought Magellan here in 1543.
He sailed from Spain with five vessels, but only one survived the perilous journey around the cape where 600-800 ships have been lost at sea. A replica of the HMS Beagle captained by Fitz Roy with Darwin on board as the resident scientist is also here to explore.
Prior to the opening of the Panama Canal, Punta Arenas was a bustling hub of commerce. It is still surprisingly cosmopolitan with remnants of elaborate homes of the wealthy Europeans who made their fortunes here. Today it is the gateway to outdoor adventures in Torres del Paine National Park and cruises into Tierra del Fuego and Antarctica with high-end hotels, good restaurants, and trendy shops.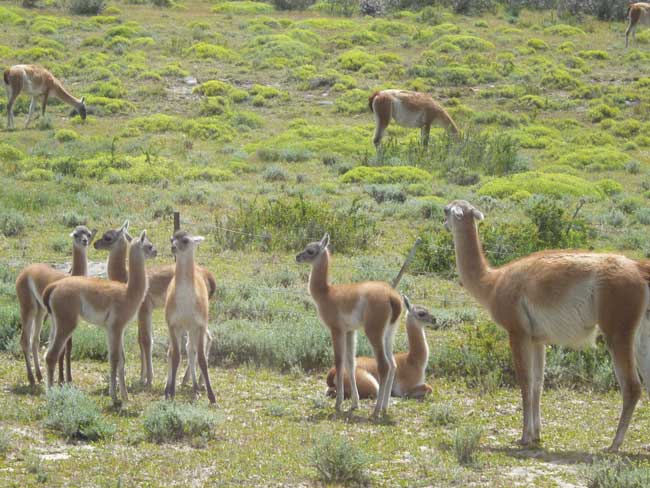 Torres del Paine
The drive from Punta Arenas across the pampas (flat, grassy plains) to Torre del Paine garnered sightings of lesser rhea, a relative of the ostrich; herds of doe-eyed guanaco, ancestors of the llama; upland geese; caracara, a black headed buzzard; and the mighty condor with its 9-foot wing span. Condors are goofy looking on land. They need the ubiquitous wind of the region to lift their heavy bodies and carry them as they glide on thermals high overhead.
Torres del Paine did not disappoint. The grandeur and awful power of Nature's handiwork is head-spinning, but Southern Patagonia is all about the wind. It drives everything. It is so powerful that one can lean into it and experience a feeling of flying. It shapes forests of gnarled and leaning trees and sculpts granite peaks into jagged fingers poking through sedentary rock into to azure blue skies. It spreads fast-moving clouds into lenticular shapes resembling flying saucers.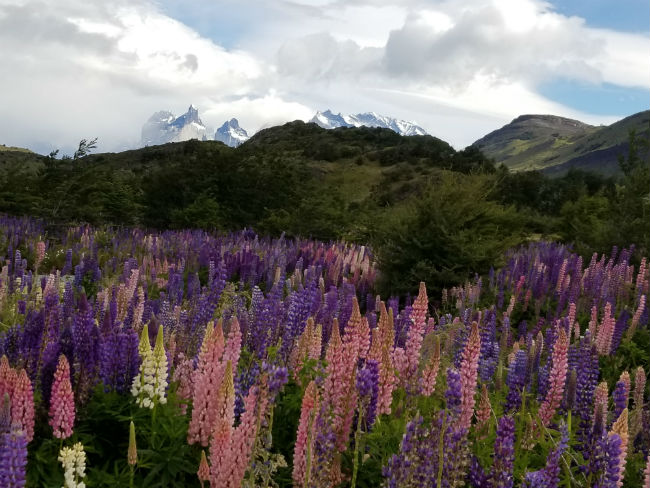 Hiking in Southern Patagonia
The challenge on hikes in Southern Patagonia becomes learning how to read the wind. It can be spotted creating a cloud of white spray across moonstone-colored water stippled with white caps. Gusts reaching 70-mph are common. When this happens, it is best to put your back to the wind and brace yourself with one foot forward. The wind is ceaseless, so seeking protected valleys and forest walks where the tree canopy whips furiously overhead is understandably desirable.
I asked local guide Kris who leads international trekkers on the 5-10-day park circuits if she ever tires of the wind. She said she finds freedom in the mountains where there are no snakes, no mosquitoes, and no dangerous animals beyond the puma, a big cat, who has plenty of guanaco to eat.
In winter, she especially likes when the wind stops and there is nothing but the sound of solitude. She knows how to anticipate the weather shifts and is always dressed in layers with rain pants in her pack.
I tried to absorb her calm, steady manner as I marched beside her on the way to Salto Grande, a gushing turquoise waterfall set between Lago Nordenskjold and Lago Pehoe. I wasn't fit enough to hike eight hours to see the famed Towers up close, but I did get to the base of Cuernos del Paine, aka The Horns, that rise more than 8,000 ft. straight up from Lago Nordenskjold.
I wished I had time to horseback ride like Lady Dixon in the low-lying meadows choked with wildflowers and into the protected valleys where about 500 trekkers from around the globe hike every day from October through April. Still, I was thrilled to have stayed at the Hotel Lago Grey overlooking a glacier-fed lake guarded by the snow streaked Paine Massif, the 10,000-foot giant of the park.
A rainbow arced over the scene as I sipped my morning cup of coffee in silence and cherished my time in the wild land at the end of the earth and everything in between.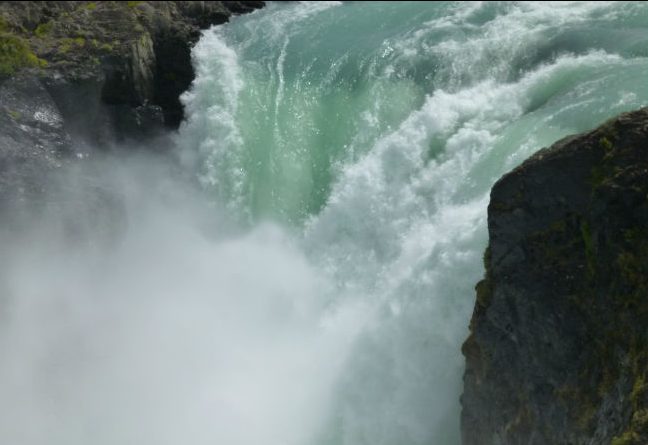 If You Travel in Patagonia:
Overseas Adventure Travel arranged my trip.
Chile Tourist Information:  https://chile.travel/en/
Puerto Varas Tourist Information: https://www.visitchile.com/en/tourist-guides/puerto-varas/
Torres Del Paine: https://torresdelpaine.com/en/
Local outfitters are available in all the regions and cities mentioned in the piece.
Adventure-travel writer, Linda Ballou's mission is to get to as many beautiful places she can before they are gone! She shares a host of travel articles on her site, along with information about her travel memoir, Lost Angel Walkabout-One Traveler's Tales. www.LindaBallouAuthor.com. Join her on Facebook or subscribe to her blog