Though shore time in each port is short, we cram in a lot of sightseeing. In Montreal, we spend an hour exploring the Montréal Biodôme, a family-friendly nature center that allows facility located in Montreal that allows visitors to walk through replicas of four ecosystems. Each one is home to unique plants and animals.
Then we stop for a famous Montreal bagel at Saint-Viateur Bagel & Café in the Plateau Mont-Royal neighborhood. This local favorite has been serving up oven-baked bagels since 1957. The neighborhood is quintessential Montreal, with tidy walk-up homes, huge bike lanes and local grocers on every corner.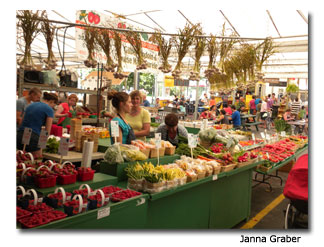 But my two favorite stops are the Atwater Market and the Underground City.
The Atwater is a vibrant, year-round farmer's market located in the Saint-HenrI neighborhood. Established in 1933, the market is brimming with bakeries, butcher, and specialty cheese, wine and produce shops. The folks in Montreal love fine dining—and it shows. I find food items at the market that I've never seen elsewhere. Regardless of the weather, the market pulses with life.
The Underground City is also filled with life—especially in the winter. Some 20 miles of connecting passageways wind beneath the city, filled with restaurants, stores, and professional offices. The whole thing has the feel of a huge mall, and it's easy to get lost in the winding passageways. But the Underground City is especially wonderful in the winter, when temperatures average below zero. You can do just about everything in the Underground City. As one local tells me, "We have everything down there but a morgue."
Continued on next page