E
ating well on a budget in San Francisco has never been easier than it is today. Food lovers visiting the Golden Gate City can enjoy exceptionally tasty meals for about US$ 10 per person — all under one roof, only minutes from downtown. This best-kept secret, which opened to the public in 2002, is quickly becoming popular with trendy gourmets in search of irresistible cheeses and breads, quiche, caviar, oysters, chocolates, organic foods, vegetarian dishes, wines, and much, much more — at manageable prices.
Where is this gourmet's paradise?
It's the old Ferry Building at the end of Market Street at the Embarcadero. Hidden for years by a gloomy overpass, this long-time landmark with its 240-foot (73 m) clock tower, modeled after the 12th century bell tower of Seville in Spain, is one of the few public buildings to withstand the 1906 and 1989 earthquakes. Although the Ferry Building is still a transportation point for shuttling passengers across the Bay to and from Larkspur and Sausalito, it is now changing its image to the world by becoming one of the best farmer's markets internationally.
I discovered the market on my second day in San Francisco on a recent trip. For the remaining nine days of my visit, I took daily late-morning food pilgrimages to this holy spot, where I sampled an eclectic mix of palate-pleasers. Although the shops are open daily, it is on Saturday, Sunday, Tuesday and Thursday that the market truly springs to life. Farmers selling everything from flowers to vegetables surround the building. Those who may have forgotten the taste of a ripe tomato or melon will find themselves singing hallelujahs after one bite into the magic fruit or vegetable.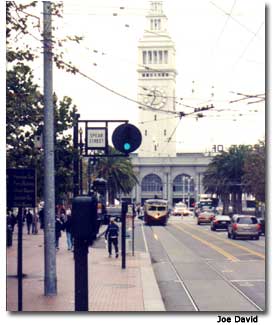 The 240 foot (73 m) clock tower attached to the Ferry Building serves as a landmark locater for the international farmer's market housed inside.
By cutting out the middleman, the market reduces the cost of quality food for the consumer. At the same time, it provides farmers from the neighboring areas an opportunity to reap more profits by selling fresher and healthier foods directly to the public at realistic prices.
The best day to visit for those who like action and choice is on Saturday morning around 9 a.m. It is then that countless stalls, selling everything from mushrooms to walnuts, surround the building. The crowd is thick and the trade is brisk. Prime choices are snapped up immediately by chefs, cooks and food lovers.
My favorite stop, because of my profound passion for anything salmon, is Cap'n Mike's Holy Smoke. Captain Mike and his wife are regulars on Saturday, and their alderwood-smoked salmon has been properly baptized with a special recipe before being slowly smoked over alderwood coals. It isn't cheap (about US$ 28 per pound), but it so moist and delicious that you won't complain.
Inside the Ferry Building are permanent shops. Many have counters or tables for diners to use. Some noteworthy places open during the week:
The Acme Bread Company is a legendary Bay Area bakery, which began business about 20 years ago in Berkeley, where it still maintains its original location. A full selection of artisan breads are baked fresh in a hearth oven throughout the day at the Ferry Building location. Acme Bread is made with only organic flour, and the company works closely with farmers who supply the variety of grains for its flour.
The Cowgirl Creamery's Artisan Cheese Shop offers a full range of cheeses from France, England, Italy, Spain and around the world, representing leading names such as Jean d'Alos, Neals Yard's English Farmhouse cheese, and others, including proprietors Sue Conley and Peggy Smith's award-winning cheeses, which they prepare daily.
Tsar Nicoulai Caviar is a small, 15-seat Parisian-style caviar café and retail shop, which offers a variety of domestic and imported caviar. The menu, which changes daily, includes such shamelessly delicious treats as Russian blinis (a thin, often buckwheat, pancake usually filled and folded), sturgeon sausage and whipped potato waffles with smoothed sturgeon and vodka caviar sauce. The owners, Mats and Dafne Engstrom, are internationally respected for farming sturgeon to produce caviar.
Hog Island Oyster Company is a 25-seat oyster bar and retail outlet that offers an assortment of raw oysters on the half-shell, traditional oyster stew, steamed clams and clam chowder. All shellfish is refined using a technique from France that sorts shellfish by hand and places them into a state-of-the-art tank where the seawater is purified by an ultraviolet sterilizer.
Alderwood-smoked salmon from Cap'n Mike's Holy Smoke is just one of countless gourmet items available atthe Ferry Building Market.
Far West Fungi is a one-stop destination for a wide variety of wild and organically grown mushrooms. The choice changes seasonally. For those interested in unraveling the mysteries of mycology (the branch of biology dealing with fungi), there is an extensive collection of books on mushrooms — from growing to identifying them.
Frog Hollow Farm sells a variety of fresh-from-the-farm organic seasonal fruits, including the farm's nationally famous peaches. It also prepares assorted fruit-filled pastries, freshly made on-site and a widely acclaimed line of conserves, chutneys and marmalades.
Miette Patisserie is a small and charming pastry shop, reminiscent of the patisseries of Paris, with glass display cases lined with exquisite-looking cakes, cookies and pastries. Many of the ingredients used for bakery items are organic, and most are from local producers.
Ferry Plaza Seafood stocks a wide selection of fresh fish and seafood to take home; it also serves prepared items such as crab cioppino (a dish of fish and shellfish cooked usually with tomatoes, wine, spices and herbs), salmon roasts, stuffed clams and more at its 16-seat counter. All produce comes from marketplace merchants, including the wine list.
Ferry Plaza Wine Merchant is a classic, service-oriented shop for buying, tasting and learning about wine. The list includes wines from around the world, well-known selections, as well as less-recognized favorites from Germany and Austria. There is a strong emphasis on California and other American wines.
It is not uncommon for vendors to
demonstrate their cooking "art" for curious shoppers.
Besides the above, there are many merchants, such as Recchiuti Confections, which creates sublime, handmade confections; Stonehouse California Olive Oil Company, which offers outstanding olive oils in bottles and in bulk; Mistral Rotisserie Provencal, which prepares in its French rotisserie roasted meats and poultry with Mediterranean flavors; Golden Gate Meat Company, which stocks natural and organic meats; and Farmer's Garden, carrying an abundance of fresh fruits and vegetables and specialty items such as nut butters and freshly baked fruit pies. All of them are there, waiting to serve you, seven days a week, during your food pilgrimage to the City on the Bay.
If You Go
Ferry Building Market
One Ferry Building
San Francisco , CA 94111
415-693-0996
www.ferrybuildingmarketplace.com
Minimum Hours:
Monday-Friday, 10 a.m. – 6 p.m.
Saturday, 9 a.m. – 6 p.m.
Sunday 11 a.m. – 5 p.m