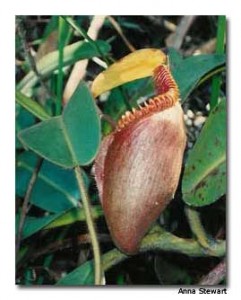 We could see the mountain from our breakfast table. It didn't exactly rise before us. Rather, it punched up through the dense jungle in a jumbled crown of granite spears. You know it's going to be there, but you're not quite prepared for the sudden reality looming above you.
This particular chunk of granite is on the island of Borneo, in the Malaysian state of Sabah. At 13,455 feet (4101 m), Mt. Kinabalu is the highest mountain between the Himalayas and New Guinea. My husband and I were at the headquarters of Mount Kinabalu National Park preparing to climb to the top of this crown.
Thankfully, our climb was nothing like the journey of its first climbers in 1851. We had merely to follow a well-made trail up the mountain.
It took Sir Hugh Low and his companions weeks of hacking through the jungle, picking off leeches and evading rhinos and diseases to reach the summit plateau. When they finally got there, they climbed several of the tall spires, but unfortunately not the actual summit.
During the first hundred years after Low's first visit, only 53 people had climbed to the top. Today, the park receives more than 210,000 visitors a year, about 10 percent of whom climb the mountain.
Geologically, Kinabalu is a young mountain. Geologist believe that about 1.5 million years ago, a mass of granite rock that had been cooling and hardening under the earth's crust began to rise and break through the layers of soft rock above it. Rains continue to erode what ice and glaciers polished into the strange sculptures rising haphazardly above the acres of granite mass. The mountain is still rising about 0.2 inches (5mm) per year.
The steep trail climbs over 5,000 feet (1,524 m) over roots and rocks.
As Low first discovered, many unusual specimens of both flora and fauna thrive on Kinabalu. More than 1,500 orchid varieties, 280 species of birds and strange insect-eating plants have been found.
The lowland forest is rich in Sabah's main timber trees – the dipterocarps. Huge buttressed trees create a high canopy that allows little light to enter. The undergrowth is sparse and surprisingly easy to walk through, although with no landmarks, it's also easy to get lost.
Our walk, however, would begin in the next zone – montane oak forest at 6,000 feet (1,829 m). Kinabalu has some of the richest oak forests in the world, with more than 40 different species recorded.
It is here that the mass of vines, palms and orchids are forever tangled in the oaks, conifers and myrtles. Above the oaks are the mossy or cloud forest, then the bamboo forests, the rhododendrons, and finally the summit zone of ultrabasic soil and granite rock.
Park regulations require a guide to take you to the summit. We shared ours with a New Zealand couple, a Dutch couple and a woman from Germany. The guide's job was to follow us up the mountain: an easy walk for this local. He was training for the Kinabalu Climbathon the following week.
The record for running up to the summit and then back down the extremely steep trail  – 5,500 feet up, then down, in 13 miles (1676m up, then down in 21 km) – was 2 hours, 29 minutes and 38 seconds. He placed third last year. It took us almost 5 hours just to get to Laban Rata rest house at 11,000 feet (3352 m).
The climb is not technical, just unrelenting. There is no way you could get lost on this trail because of the hand rails, ladders, and steps made of roots, boards or stones and the fact there was a steady stream of hikers in both directions. Large groups of Malaysians were enjoying their school holiday with a stroll up the mountain.
The trees of the cloud forest are often gnarled and stunted from lack of sunlight, are covered in mosses, lichens and orchids from the added moisture. Climbing bamboo, thorny rattans and woody rhododendrons form dense undergrowth making going off the cut path almost impossible.
In August, we were out of season for the main orchid show (October to January), but in this temperate climate, something is always blooming.
I panted uphill, thankful for the numerous resting gazebos complete with latrines, drinking water and shelter. A power cable and water pipe system were constant trail companions.
The rest house is located where the trees end and the rocks begin. It is fairly basic, but we were surprised that the incredible kitchen offered everything from French toast to fresh shrimp sautéed in an oyster sauce.
We drank a cold beer in the large, comfortable dining room. To our left, a huge picture window framed the misty jungle below. To the right, a sign read, "Do Not Spit."
After a couple of hours of rest in the basic dormitory, we bundled up in everything we had (which wasn't much since we were traveling in the tropics) and started the climb to the summit at 3 a.m. Although it was very cold when we started, we soon got hot climbing in the bobbing line of flashlights.
The fading moonlight reflected on the rock as we marched up the granite to the plateau itself. A series of ropes in the steeper inclines helped those without Vibram soles.
The sun's arrival was not dramatic. Since we were only about 6 degrees above the equator, sunrise is always about 6 a.m. and sunset at 6 p.m. No lingering, the sun just comes up, then plops down. Still, there is something almost surreal about watching the sun give shape to a broad granite slab on a tropical island.
Below, I know the hornbills and gibbons were calling in the day, women were walking to the rivers for their baths, and fires were started to make tea. And we were in a pale yellow light, a mosaic of languages, colors and smiles. I was cold but happy.
The Malaysians shivered in their thin windbreakers and started back down as soon as they took pictures of every combination of people. We took our time on the walk back down. I was hoping we would see a Giant Red Kinabalu Leech, which can reach over 12 inches (30 cm) in length.
Since it's only food source is large blue earthworms, I felt safe. Actually, the only animal I saw was a Bornean Mountain Ground Squirrel. It was much easier to find orchids and pitcher plants.
Pitcher plants are odd plants that have found a niche in disturbed and poor soil areas. They eat insects. The Malaysians call them 'Monkey's Cooking Pots." The plant captures its prey by secreting attractive nectar. The largest pitcher plant in the world is Rajah Brooke, which can hold up to two quarts (about 2 l) of water.
My knees were starting to ache going down the endless staircase. My shoulders were sore from my daypack, and it looked like it might rain. We passed a group of tiny local women, practically bent double from the loads they carried in baskets on their backs. Their job was to bring the groceries needed to feed people like me.
I peeked into their packs and saw cabbages, cases of noodles, boxes of fresh seafood and cartons of eggs. The weather-worn women grinned from under their sweaty brows as I flexed my arm and pointed to them. "Strong," I said. They climbed Kinabalu for work. I worked to climb Kinabalu.
That night, we ate dinner at the same restaurant we had breakfast in the day before. Mount Kinabalu still looked like a mirage glimmering through the moist clouds, but now I knew it was real. I had stood on the summit of this island of rock, ruling over a sea of jungle. I had risen above the canopy.
If You Go
Kinabalu Park is a fascinating ecological system. It's easy to spend a whole day just at park headquarters. Even if you're not a botanist, the search for natural treasures is wholly satisfying. More than half the plant species on Mt. Kinabalu are endemic, creating a floral island. Like other rainforests, its riches may not be known until they are gone.
You can look for the parasitic Rafflesia plants that produce a fleshy red flower up to 3 feet (0.9 m) across. It's more likely you will smell its rotting stench than actually see one though. The largest flower in the world, Rafflesia, has no leaf, stem or root. Its uniqueness also threatens it with extinction. Too rare for most visitors to see, its habitat at least is protected on Kinabalu.
Climate/Weather: Avoid the monsoon season (November through May). It's wet in the tropics as well as hot and humid. At 13,455 feet (4101 m), Mt. Kinabalu is chilly. Bring a set of long underwear, rain shells and good hiking boots. You can always buy a sweater in Kota Kinabalu, a two-hour bus ride away.
Getting There: The easiest way to get there is to fly from Kuala Lumpur on Peninsular Malaysia. Malaysian Airlines makes several trips a day.
Passports/Visa: Even though Sabah is part of Malaysia, they act autonomous and require everyone who enters to go through immigration. You'll get a two-week tourist visa, which can be extended.
Accommodations: Reservations for a room or a bed at Mt. Kinabalu park headquarters, Laban Rata Resthouse or Poring Hot Springs need to be made in Sabah's capital, Kota Kinabalu, at Park Headquarters. Park headquarters has several restaurants and kitchens are available if you bring your own food.