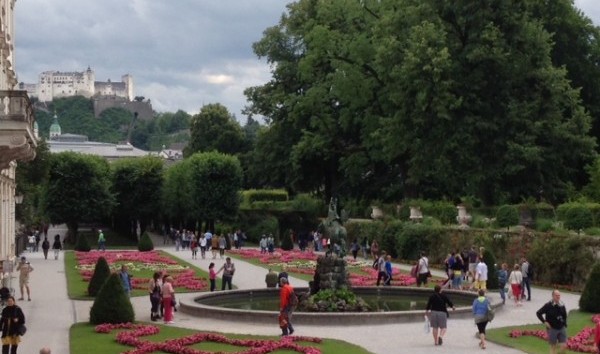 In reality, "The Sound of Music" coalesces with, conflicts with, or often does not coincide at all with contemporary Austrians' experiences. As with Manhattanites who have never visited the Statue of Liberty or Parisians who are indifferent to the Eiffel Tower, many Austrians have never even seen the movie before or visited each of the sights. In a moment of rude awakening, our one-time Viennese waltz instructor told us, "The Sound of Music is trash." (At least various versions of the Laendler, the Austrian folk dance, are real, as he told me.)
Instead of an idealized meeting, my attempts at communication and even temporary tourist assimilation represented a misplaced cultural encounter in which others are not as we have always known them to be, through script or storytelling. Ultimately, whether through historical fact, imagination or re-appropriation, the film lives on as a message told through American ideals of optimism, family, patriotism, belonging, love, life and survival.
As the von Trapps journeyed from their Austrian homeland to America, many including me journey in the opposite direction to a place so romanticized as to be contained within an Edelweiss snow globe, and yet real as to draw audiences together through time and space into the music and the story. The Salzburg of reality differs from the Salzburg of my imagination, yet visiting this unique Austrian city has inspired me with a deepened and more complicated sense of the world and of myself.
If You Go:
Salzburg Information:
salzburg.info
Austria.info
soundofmusictour.us/
www.salzburg-sightseeingtours.at
Author Bio: Ruth Li is an English teacher at InTech Collegiate High School in Utah and is the recipient of a Woodrow Wilson teaching fellowship. She received a B.A. from Wellesley College and an M.A.T. from Brown University. She is the author of the novel Invisible Threads, which is published on iBooks and Kindle. Her work has appeared in the Wellesley Review, and has won awards including the Ching Jen Lum Creative Writing Prize, the Dickens Project Scholarship Essay Contest, and the Utah Shakespearean Festival's "Shakespeares of Tomorrow" Youth Playwriting Contest.
[mappress mapid="964″]