I am not a strong swimmer, and the shore in front of the ship was sharp and rocky. We started off toward the ship, the fins making it easier to stay afloat. When we got closer to the wreck, we could see it was covered in a thick layer of rust.
Fish swam in and over the ship, and as we got braver, we realized we could stand on part of the ship.  Eventually, we carefully climbed up crumbling parts of the rusting metal and leapt off into the ocean. When we swam back to shore, and older couple told us they had been looking everywhere for snorkeling gear to rent and couldn't find anything. It seemed like everything had come together perfectly for that moment.
Later in the day, we got ready to board a pirate ship. The Jolly Pirates cruise has an affordable two-hour sunset cruise that sails out to a peaceful cove. Here, with an open bar, you can sit anywhere on the ship (we climbed the netting and nestled in at the front of the ship's mast) and watch the sunset. The best part is the rope swing. You can swing off the side of the ship into the ocean and climb back onto the ship to dry off. Afterward, I stopped at a small cigar shop on Moomba beach where the ship had picked us up and purchased two Cuban cigars to enjoy later.
We spent the next day living out our best beach life. We got a taxi to Eagle Beach and understood why it was ranked so highly. Long soft white sand stretched endlessly on each side, and the water was warm and calm. After making each other into sand mermaids and swimming around, we sat near the shore as the waves lapped lazily at our feet.
It was incredible that not long ago I felt like nothing good was happening to us, and here we were. Sometimes it really just takes a change of scenery to make you realize that nothing is ever as bad as it seems. Distance has a way of shrinking the problems you have back home. It was like we had pushed a reset button.
After returning to Solar Villa to nap and shower, we made our way to the downtown area of Oranjestad. We found a movie theater called The Cinemas, and we saw the newest Thor movie for only $8 per ticket. The theater downtown has a good selection of movies that are in theaters in the U.S. and is a great place to end the day.
What to Do in Oranjestad, Aruba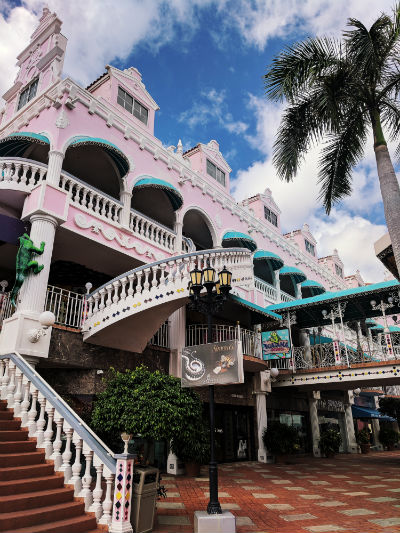 The downtown area in Oranjestad is a great spot to head if you don't have any concrete plans. There are high end shops that cater to the cruise clientele, as well as locals selling their wares.
While downtown, you can visit Fort Zoutman and tour the oldest building in the city. And at night, you can get gussied up and try your luck at the casinos, of which we didn't have much. You can smoke in the casinos, and we lit up a Cuban cigar and pulled the slots, feeling glamorous despite our lack of winnings.
It was dark when we returned to our hotel, and I floated on my back smoking the last Cuban cigar in the warm water and looking up at the sky, marveling at how much had changed in a week.
We were sad to pack up the next morning, but felt a fresh energy for returning home. We couldn't truly be unlucky after the wonderful week we had just had.
If You Go to Aruba:
Where to stay: http://www.arubasolarvilla.com/
Solar Villa: I can't recommend them enough. This was one of my favorite places I have ever stayed, and it was affordable.
Where to eat: There are a lot of American classics nearby, like Taco Bell and pizza joints. We found the Chinese food place around the corner from Solar Villa to be generous with the portions and affordable.  I tried to cook some plantains from the super market but struggled. A better cook than I would have more luck making home-cooked meals with the fresh local ingredients. Some great local food spots are The Dutch Pancake House (think light fluffy pancakes made sweet or savory) and Fred Restaurant.  Fred Restaurant is possibly the best food on the island, so book ahead of time.
Author Bio: Kelsey is a journalist based in Austin, Texas. She is the assistant editor at Go World Travel Magazine and has contributed to a wide variety of publications, including Bustle and The Huffington Post.