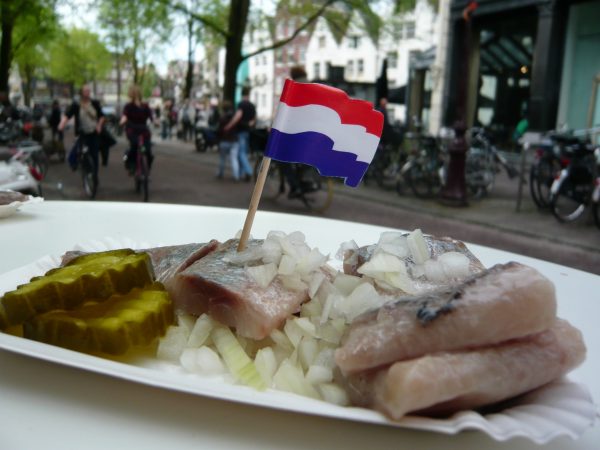 Cuisine in Amsterdam
Soothe those munchies with Amsterdam's very own thriving food scene.
Try Dutch-style frites smothered with classic condiments like mayonnaise and ketchup or a modern twist on toppings with onions, satay and curry sauce.
For the quintessentially Dutch experience try raw herring. Often topped with onion and pickle, you can try the signature to-go from one of the many street stalls found in the city. For food without the fishy aftertaste, try Kroketten, deep fried croquette style bites, and Bitterballen, Dutch meatballs.
Don't leave without indulging in some cheese. Try the classic Gouda or local Oud Amsterdammer to get your fill. Often served with a mustard dipping sauce, these cheesy bites make for a great midday snack.
Finish the night with the classic Dutch dessert, the stroop waffle. Warm, gooey and sweet, these indulgent treats are a winner with locals and tourists alike. Tip: if eating in, place on the rim of a hot chocolate or steaming coffee to warm the waffle and melt the syrup inside to perfection.
Architecture in Amsterdam
Beyond the instragrammed cozy canal houses and the gothic churches, there's another side to architecture in Amsterdam.
Take a trip through Europe with the Zevenlandenhuizen. These seven houses, all in a row, are each styled on the architecture of a different European country. From France to Russia, Spain to Germany, Tjeerd Kuipers's designs take tourists on a journey across the continent.
On a similar theme, for a quick trip to Shanghai, visit the Buddhist temple, Fo Guang Shan. With parts flown out especially from China, this building is an authentic glimpse into the country's architecture.
Those famous narrow-fronted houses stem from historic tax laws. The wider the front of the building the larger the tax bill, meaning Amsterdam's homes were built with width in mind. Any canal front makes for a pretty picture, but Singel 7 is worth a visit as the narrowest house in the world. For more small sights, visit the Oude Hoogstraat 22, the smallest house in Europe at a cozy 2 meters wide and 6 meters deep.
Get a feel for the city's current landscape at the Architecture Centre Amsterdam. The building itself is also impressive.
And no tour of Amsterdam's architecture would be complete without a windmill. Take your pick from the eight remaining in the city. The most famous is De Gooyer which is conveniently located next to the award-winning brewery, Brouwerij't Ij, for a post windmill pint.
Of course, some things are clichéd for a reason. But if you're bored of bikes, bud, and boobs, there's plenty to do beyond them in Amsterdam.
If You Go to Amsterdam
How to get there: Amsterdam's airport is Amsterdam Airport Schiphol, which is just 20 minutes from the city center. From there, you can get a taxi, airport shuttle, or jump on the train directly to Amsterdam Central Station. Plan your route here:  http://www.amsterdam.info/transport/
Where to stay: There are 100s of accommodation options in Amsterdam to suit every budget and taste. Check out http://bit.ly/2ebjnFs to find out the best neighbourhood for you to stay in. Try the famous St Christopher's Inn for a lively hostel scene or The Dylan for the 5* experience. For something different, why not stay on one of Amsterdam's famous canals in a quirky houseboat.
Author Bio:
Vanessa Gibbs is a London-based freelance writer, content consultant and copywriter. She writes about all things travel and lifestyle and likes to scuba dive and fill up passports. Find out more: VanessaGibbs.com or say hi @ness_gibbs.