3. Get Lost in the Old Town
Once you've finished inspecting the Royal Mile's delights, scout out the rest of the Old Town. Traverse the Grassmarket, previously a medieval market place and the site of public executions. It's now filled with traditional pubs, quirky shops and great restaurants. A stone's throw from here is the Cowgate, a low-level road situated under George IV Bridge. Not particularly impressive during the day – it's been called 'the bowels of the city' on more than one occasion – its many pubs and clubs come alive at night.
Edinburgh University's central area is also worth a look. Made up of two squares, it contains some fascinating architecture, including the 'Hogwarts-esque' Teviot Row House, the oldest purpose-built student union in the world, and McEwan Hall, a stunning, 19th century circular building.
4. Get Political
The Scottish Parliament is quite unlike anything else in the city. Constructed from steel, oak and granite, it appears to have germinated from the very soil, a living entity. Situated next to Holyrood Palace, there's lots of room for independent exploration.
Peruse the exhibition and artwork in the main entrance hall, or check out the Debating Chamber (parliamentary business allowing) where heated debates on Scotland's future trajectory occur. You can also take a free tour to learn about the history, procedures, work, and design of this utterly unique building. Don't miss the inspiring Cannongate Wall, where the words of famous Scots are inscribed into different types of Scottish stone.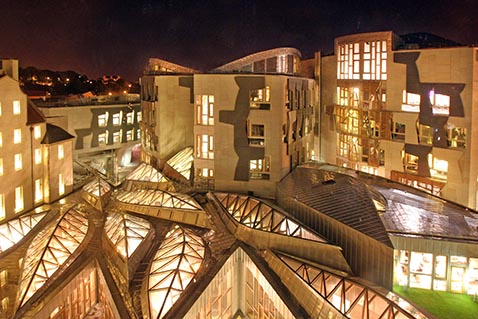 5. Meet Bobby
No trip to Edinburgh would be complete without meeting Bobby, the city's most famous canine. This little Skye terrier spent 14 years faithfully guarding the grave of his dead master, and has been immortalised in Scottish history ever since.
Find the bronze statue dedicated to his memory on George IV Bridge, and spare a moment to pat his nose. Locals say it brings you good luck. Then visit the site of Bobby's long vigil, Greyfriars Kirkyard, with its lesser known but just as fascinating history. Here, Franciscan monks and paranormal activity go hand-in-hand with the birth of Lord Voldemort himself.
6. Become a Culture Buff
Exciting enough that Edinburgh is filled with museums and art galleries galore, the best thing is most have no entrance fee. One must-see is the National Museum of Scotland, located on Chambers Street not far from the Royal Mile. Exhibitions include everything from Dolly the Sheep to samurai armor, Isle of Lewis Chessmen to the process of evolution. While there don't miss either the Grand Gallery, a huge, light-filled atrium detailing Scotland's contributions to the world, or the roof-top viewing platform, affording fantastic views of the Old Town and beyond.
Other free museums include the Writer's Museum, dedicated to three of Scotland's literary heroes – Scot, Stevenson and Burns. Or try the Museum on the Mound to pour over one million pounds in cash and Scotland's oldest banknote.
If you're more of an art lover check out the Scottish National Gallery (located at the bottom of the Mound) that has pieces from Van Gogh, Cezanne and Titian, amongst many others. There's also the National Portrait Gallery, recently refurbished to its 19th century splendor, and the National Museum of Modern Art containing cubist, surrealist and impressionist works.
7. Beach Out
Something you wouldn't expect from cold, wind-struck Edinburgh is a traditional seaside town. But a short bus-ride away is just that – Portobello, the city's only beach. Popular for sunbathing and swimming, on sunny days it's often packed out with locals relaxing. The promontory that runs beside it, lined with cafes, ice cream parlors, and fish 'n' chip shops, has a faded glamor which only adds to the town's charm.
If you fancy going further afield there are several other beaches within an hour of Edinburgh. Try visiting North Berwick, a picturesque fishing village only 20 minutes away by train. Explore the town's pretty streets while taking in the magnificent views of Bass Rock. Or, go to Seacliff to avoid the crowds and take in the dramatic ruins of old Tantallon Castle.
Continued on next page