On a sunny day, Inishmore is awash in a sea of cycling tourists taking in the ancient island at a pace that suits its demeanor. And with one main road running the length of the island, navigation is a cinch. As I pedal my way west under a cloudless sky, I quietly wonder whether a bunch of clumsy foreign cyclists such as yours truly drive the residents mad as they attempt to get around and perform their daily duties.
But just then, I come across a local driver who stops to help a fallen rider, after which he hands her a bottle of water and an apple. Would that happen on the streets of downtown L.A.?
Isolation permitted the residents to maintain a time-honored lifestyle well into the 20th century. The rugged islanders, immortalized in John Millington Synge's play Riders to the Sea and Robert Flaherty's film Man of Aran, maintain their hardscrabble life.
Even today, most of the island's 900 or so inhabitants live in stone houses and speak Irish among themselves, politely breaking into English to make their guests feel welcome. Pastoral settings with grazing horses and sheep, and warm-hearted locals are a respite from the fast-paced modern world.
Almost immediately after I leave Kilronan, the landscape is dominated by stone walls and boulders enclosing hundreds of small fields like frames around artwork. And in true Irish fashion, these meadows are at least 40 different shades of green.
Thatch-roofed stone cottages strung along the road provide a great example of Celtic and early Christian heritage, and give me the impression that I've traveled back in time. That is until a guy whizzes by me on his bike wearing loafers and bellowing into his cell phone.
While Inishmore is bursting at the seams with archaeological ruins, giving your neck a serious workout as you ride along, the biggest jaw-dropper of all is Dún Aengus, a semicircular stone-walled space that ends dramatically at a cliff some 300 feet (100 m) above the tumultuous Atlantic surf.
I have an overwhelming urge to do the touristy thing by getting down on all fours to take a peek over the sheer cliff edge. A local informs me that, with no guard rails and strong winds at this spot, some tourists have not returned home from their visit.
One item for sure not going home was the hat of the Dane beside me, as he watched it slowly make its way down to the rocks below. "Look at that hat head," his girlfriend kindly points out, pouring salt on the wound.
Dating back more than 2,000 years, Dún Aengus is made up of four semicircular stone walls (presumably these were circular originally, but they collapsed as the cliffs eroded) and a central stone slab.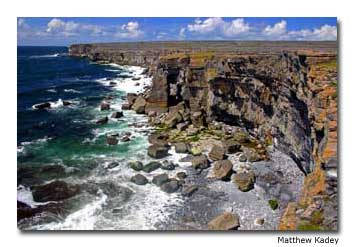 The walls cover an area of approximately 14 acres (5.7 hectares). Between the third and the outermost wall, several thousand jagged stones were set in the ground at angles to serve as ancient barbed wire, making passage through this area very difficult for would-be attackers. Now they're just obstacles for ungainly camera-toting tourists.
While there's little doubt regarding the historical significance of Dún Aengus, what exactly that is, is up for debate. Who built and used this Iron Age structure? Why here, with no water supply? Some historians question its use as a fort, arguing that it was used as a pagan religious center. With such a splendid setting, this is a much more romantic thought, as opposed to a hub for bloodshed.
Continued on next page