I've always loved secret gardens, ever since I was a young girl and read the book of the same name. There's something so delicious about entering an enchanting pocket of beauty and imagining resident gnomes and fairies as its caretakers.
Though Ohme Gardens is not really a secret, it's still a hidden treasure for those unfamiliar with the Wenatchee Valley.
This is one of those destinations that often flies under the radar unless you've traveled through central Washington or are a consummate apple connoisseur.
Wenatchee is the Apple Capital of the World. To be specific, Wenatchee is located almost directly in the middle of Washington State, on the west side of the Columbia River.
However, those in the know are well aware of this mountain getaway's allure and are drawn to the area like magnets. They come for the picturesque scenery, the three hundred days of sunshine a year and the outdoor adventure.
In addition is the farm-to-table food, wine and cider and unique shopping experiences. All of this is wrapped in a small-town ambiance where the locals are friendly and welcoming.
Though I'd passed through Wenatchee several times in my travels over the years, I had never spent much time in the area until recently. I soon discovered what I had been missing all these years. Like Ohme Gardens.
Visit Wondrous Ohme Gardens
This nine-acre, wooded wonderland is perched on a rocky bluff, just north of the city. Winding stone pathways traverse the hillside.
These lead you through lush foliage amid towering cedars and firs, to clear, tranquil pools and sparkling waterfalls, with names like "Moment-in-time" and "Decision Point."
Take a seat on one of the fifty-three stone benches and soak up the views of the Columbia River, Wenatchee Valley and Cascade Mountains. There's even a Hobbit Bench for wee ones. And of course, a wishing well.
The gardens were a labor of love for Herman and Ruth Ohme. They created their own private oasis with just a dream and hard work, mostly by hand. Native stones were hauled from the Columbia River to create pathways and borders.
Small evergreens were transplanted from the Cascade Mountains. And five-gallon milk cans were used to hand-water the plants before eventually constructing an irrigation system.
Initially intended as a family retreat, the interest of friends and community members prompted the couple to open the place to the public. Eventually, in 1991, the Ohme family sold the gardens and surrounding property to Washington State Parks to preserve them for the public and for generations to come.
Ohme is a wonderful spot to appreciate natural splendor and if you're seeking serenity, you'll find it here. You can also enjoy live concerts and yoga in the gardens during the summer months.
Explore the Great Outdoors
The region's landscape is ripe for exploring on land and in the water. Hikers revel in the many trails that are easily accessible from town. For a good overlook of the city, take the trail to the top of Saddle Rock.
When you reach the summit, the entirety of Wenatchee lies spread out below, along the curving blue ribbon of the mighty Columbia River. Beyond are jagged, snow-capped peaks.
For more sweeping vistas, head to Horse Lake Reserve. Here there are miles of trails that offer swoonworthy panoramas of the valley, mountains and confluence of the Columbia and Wenatchee Rivers. In addition are old ranch homesteads and patches of colorful wildflowers. You'll feel on top of the world.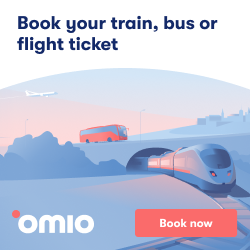 Make a beeline for the rivers or Lake Wenatchee if you're into boating, fishing, jet skiing, water skiing or any other watersport. This is where you'll find bliss on a hot, sunny day.
In winter, the place to be is Mission Ridge, a popular ski area is only twelve miles from town. It offers light, dry powder, thirty-six runs spread over two thousand acres and endless vistas.
In town, don your walking or jogging shoes, or hop on a bike and explore the Apple Capital Loop Trail. This urban, paved bicycle and pedestrian trail follows the shores of the Columbia River. It takes you past parks, a wildlife preserve and whimsical outdoor sculptures.
The latter are part of a collection of public art made possible by Art on the Avenues. There are nearly ninety pieces, featuring nationally renowned artists, on display around town.
My personal favorite is "Ped," by Kevin Pettelle. It's a larger-than-life-size, bronze rendering of a human foot, with incredible detail given to the toes and toenails.
Tour Rocky Reach Discovery Center for a 'Dam' Good Time
Another interesting attraction in the area is the Rocky Reach Dam and Rocky Reach Discovery Center. The Columbia River is one of the world's greatest sources of hydropower and at the Discovery Center, you'll learn about this mighty waterway and its capabilities.
There are displays, a film and numerous interactive exhibits that do an excellent job of dispensing information in an entertaining manner. Especially for children.
You can play at being a steamship captain and steer a vessel through a treacherous span of the Columbia River. Or, view salmon and other fish through the Fish Viewing Window, get an inside look at the anatomy of a fish and crank a turbine to make electricity.
You can also learn about the first inhabitants along the river with a section devoted to Native American history. Then step outside on the deck and take in the views of this powerful waterway and the massive Rocky Reach Dam.
Shop and Dine in Historic Downtown
If shopping's your thing, take a stroll through Wenatchee's historic downtown, which is on the National Register of Historic Places. You'll find a selection of eclectic stores, boutiques and art galleries.
Make sure you stop in the Antique Mall of Wenatchee to peruse three floors of antiques, collectibles and vintage items for a flash from the past.
Downtown is where you'll also want to be when hunger pains hit. There are plenty of restaurants and cafes with a range of cuisines to appeal to all appetites. Try McGlinn's Public House, a casual eatery and bar in a warehouse-style ambiance.
The menu offers everything from burgers and ribs to blackened salmon, pastas and hearty salads. Save room for the peanut butter pie or lime cheesecake.
At Atlas Fare, New American cuisine is the focus. Executive Chef Top Rojanasthien performs culinary magic with dishes like shrimp ceviche accompanied by crispy shrimp chips.
Also, creamy crab chowder with roasted corn salad, truffle wontons, pork chops with coconut fried rice, shrimp and grits, clay pot prawns with glass noodles and more. You'll dine on this explosion of flavors inside the historic Metropolitan Building.
You'll also want to check out Pybus Market. It's an indoor marketplace with food vendors, cafes, artisans and craftspeople that's a showcase for the bounty of the region. Shop for cheese, seafood, meat, olive oils and various culinary products. Or browse at the handmade goods and jewelry on display.
Then dine on woodfired pizza and brats at Fire. Snack on yummy scones and croissants at Café Columbia. Get your eggs Benedict and avo toast at Huck, or go south of the border for Latin food at South. Top it off with some authentic Italian-style gelato at Ice.
Union Hill Cider
As for libations, Wenatchee is known for its beer, wine and cider. The valley's weather is ideal for growing grain, grapes and fruit. Therefore it has attracted dedicated, passionate winemakers, brewers and cider. And you don't have to go far to sample their products.
There are over a dozen tasting rooms and breweries within walking distance in the downtown core. Several others dot a driving route in East Wenatchee.
Intrigued with the cider business, I drove over to Union Hill Cider. It's a family and friends-run business made up of eight self-described orchardists and cider fanatics.
They've combined a love of all things apples with their skills to make cider that brings out the unique characteristics of culinary and traditional cider apples.
Co-owner and cidermaker Andrew Handley recounts that it all started back in 2012. This was when he and his roommate decided to put their respective talents as an orchardist and beer aficionado together to become the best cider makers on the block.
They bought a few gallons of apple juice and a carboy and put their venture into action. One month later, after letting the cider ferment in their closet, they tasted the results.
As Handley says, "It was about as delicious as you could imagine, if you can imagine bland yeasty tasting boozy water!"
In time, after doing lots of research and talking to other cideries, they planted fifty acres of cider-specific apples in a new orchard that Handley's father owned in nearby Quincy. With much hard work and several years later, they've perfected their creation and now have a thriving boutique business.
The company produces about nine thousand gallons of cider per year and currently makes thirteen different ciders. Their product is in sixty-five different locations across the state, including bars, restaurants and wine shops.
Drink Up
Union Hill Cider's tasting room is located in East Wenatchee, overlooking the valley and Columbia River. There's an outdoor patio and tiered seating to take advantage of the soul-soothing views.
Visitors can try eight types of ciders on tap in a flight or by the glass. And of course, you can buy bottles to go, too. Check out the bottles' artistic labels, created by Handley's sister, Tori.
You'll be intrigued by the cider's names and even more jazzed by the flavors. Pinkheart is my favorite. It's a meld of Red Fleshed and Cripps Pink apples finished with Dabinett, a traditional English cider apple variety.
With its notes of raspberry, rhubarb and grapefruit, and tart finish, this pink-hued cider is crisp and refreshing. And it's suitable for any occasion.
For something more robust, try Whiskey Business. This barrel-aged cider spent ten months in red wine barrels and then was finished in American whiskey barrels. Or Hopped and Hazy, which blends Honeycrisp, Snowdrift Crabapples and several other apple varieties, plus Mosaic and Liberty hops.
The result is a cider that's medium-bodied and reminiscent of tropical fruit, but ends with a slightly bitter finish. The company's tagline for this one is, "If you like IPA, then this is your cider. If you don't like IPA, then this is still your cider." 
Handley and his partners are proud of their ciders and relish the rewards of being involved in this business. They enjoy interacting with people and sharing their knowledge, while introducing them to new flavors and tastes. "It's really satisfying," says Handley, "when others see the fruits of your labor."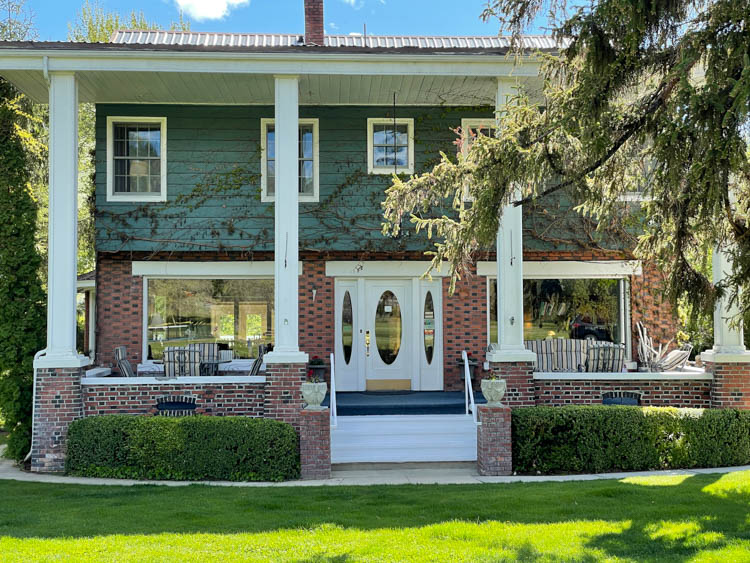 Stay at Warm Springs Inn
During my stay in Wenatchee, I made the Warm Springs Inn and Winery my homebase. This 1917 mansion-turned luxury bed and breakfast offers a relaxing and indulgent experience. The historic property is situated on ten riverfront acres surrounded by cherry orchards and stately old-growth trees. It's a heavenly oasis.
Each of the six rooms is elegantly decorated and boasts mountain, river or orchard views. The Garden Suite, where I stayed, is spacious, bright and airy. It has a cozy living room and a walk-in dressing area that can double as a separate twin bedroom for an extra guest.
There is also a large bathroom, a comfy king bed with quality linens and antique furnishings, including a crystal chandelier. Those with romance on their minds might have a tough time leaving this cushy adobe.
The English Room has a British theme. Meanwhile the Swedish Room will transport you to Scandinavia with its sunshine yellow and blue hues. And the Bordeaux Room will take you to the wine country of France.
Innkeepers Ludger and Julie Szmania are the host and hostess with the "mostest." Their warm hospitality will put you at ease immediately. And they love to pamper their guests with gourmet country breakfasts, estate wines, fresh-cut flowers, a crackling fireplace and many other special touches.
I could wax rhapsodic about the breakfasts. Ludger whips up multi-course meals that will impress any foodie. One morning, we began with a crepe with apples and cherries from the orchard, followed by a strawberry and passionfruit slushie and a side of apple strudel.
Then came an entrée of poached eggs with sweet potato and veggie hash. All of it was scrumptious and definitely fueled us for our day of activity.
Warm Springs Winery
The inn has its own winery, too. Grapes are grown at Brender Canyon Vineyards, located on Ludger and Julie's other property, Brender Canyon Farm, in Cashmere. Ludger makes the wine in the basement of Warm Springs, where he produces 100-125 cases a year.
Guests and visitors can do a wine tasting session with Ludger, who will bend your ear off discussing wines and anything else you want to ask him. He's a font of knowledge about food, wine and the Wenatchee Valley, plus he's a wonderful storyteller with a colorful past.
As for the wines, I sampled five gems. A Sauvignon Blanc with notes of green apple and melon. A Merlot with nice hints of black cherry and raspberry. A robust, lightly acidic Rose. A bold Syrah blend called "Clusterphobia" and a rich red blend, labeled "Innfared."
What Makes the Inn so Special
Step out onto the deck and hear the river rushing by. Then, stroll through the cherry orchard, read a book in the gazebo and play pickleball on the brand-new court. Or, be entertained by the antics of the inn's menagerie of creatures, including a dozen chickens, a cat, a dog and a resident peacock named Prince. The latter just showed up one day and stayed – well who wouldn't with all these amenities.
Ludger and Julie make a great team as innkeepers. As a prior Executive Chef and restauranteur, Ludger is the creator, inventor and artistic type.
Meanwhile, Julie with her finance and business acumen assumes the role of general manager. They're both very hands-on and strive to provide a memorable experience for their guests.
The couple takes pride in owning such a unique, historical property. And they are delighted to share it with others.
According to Julie, the building was a residence from 1917-1990. It has also served as everything from an Arabian horse ranch to a private tuberculosis sanitarium. But she assures me that there are no ghosts.
As you can probably imagine, Warm Springs is a prime wedding destination, too. This year it will host fifteen weddings, twelve of which number between one to two hundred guests.
If you go:
Author Bio: Debbie Stone is an established travel writer and columnist, who crosses the globe in search of unique destinations and experiences to share with her readers and listeners. She's an avid explorer who welcomes new opportunities to increase awareness and enthusiasm for places, culture, food, history, nature, outdoor adventure, wellness and more. Her travels have taken her to nearly 100 countries spanning all seven continents, and her stories appear in numerous print and digital publications.