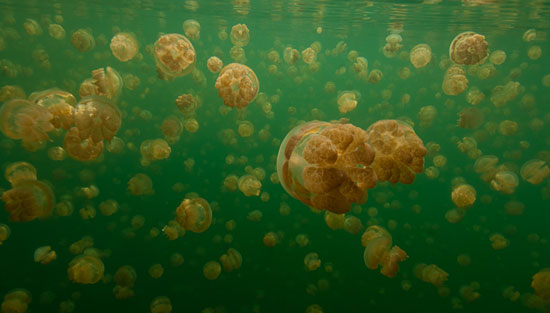 Swimming with Jellyfish in Palau
Living near the Atlantic Ocean in Charleston, South Carolina, I'm not the biggest jellyfish fan. When they line our beaches for miles, that usually discourage swimming.
So when I hear one of Palau's most fascinating nature encounters is swimming with "friendly jellyfish," my initial response is: ya'll have fun, I'm going for cappuccino.
But I've flown so far, why not take a look? First there's a steep up and down hike on a rocky tree limbed trail. Nice workout. Then a peaceful lake filled with snorkelers. Hmm, how dangerous could it be?
I nervously hold hands with my pals, Yuri and Emma Krasov, and off we swim into the warm murky lake. A few hand-sized jellys waft past us. Then dozens.
I grab Emma's shoulder, don't panic Sharon. Emma is petting the jellyfish like they're puppies.
She gently pushes one towards my hand. I give it a tap. Feels like jello, soft, rubbery jell-O.
In the middle of this warm lake, we're guests at a jellyfish party. I feel them bobbing all around me and think, ok, everyone stay calm and just enjoy this Twilight Zone moment.
I wonder if they have brains? Are they happy we are here visiting or are they waiting for us to leave? Surely they have a busy day, sunning, swimming and snacking. Unless you speak jellyfish, all your communication must be telepathic.
Later we learn that when Jellyfish Lake was sealed off from the ocean, the moon and golden jellyfish living here lost their ability to sting. They now live on algae, and spend their day bobbing to the surface, following the sun.
Sounds good to me.
Where to Stay in Palau
Palau has a wide variety of hotels and resorts catering to different tastes and budgets. Luxurious Palau Pacific Resort is popular with honeymooners, offering 160 bungalow style guestrooms on a pristine Pacific Ocean beach. Palm trees surround the beachfront fresh water swimming pool/Jacuzzi.
The Coconut Terrace Restaurant serves excellent Continental/Asian cuisine, and guests enjoy weekly culture/dance performances. Guests can scuba, snorkel, kayak, and
aqua bike, through the on-site dive shop, Splash Dive Center. This resort has a wonderful gift/art shop, Milad beauty/nail salon, and the Elilai Spa.  www.palauppr.com
The Airai Water Paradise Hotel & Spa will appeal to families. The Hotel has waterslides, jungle spa pools, a swimming pool, and a beautiful beach. The Restaurant serves Chinese, Korean, Japanese and South-Pacific dishes. Enjoy massages at the Balinese Spa. www.airaiwaterparadise.com.
Ngellil Nature Island Resort is a true Palau getaway experience. The Resort is on a tropical island, a ten-minute boat ride away from Airai Island. There are serene rooms in a jungle setting, excellent local cuisine, and tours to caves, relics, and historical sites. Kayak, canoe, snorkel, or just relax in a hammock with a Pacific Ocean view. Plantation@palautelecoms.com.
For information on Palau, contact: www.visit-palau.com