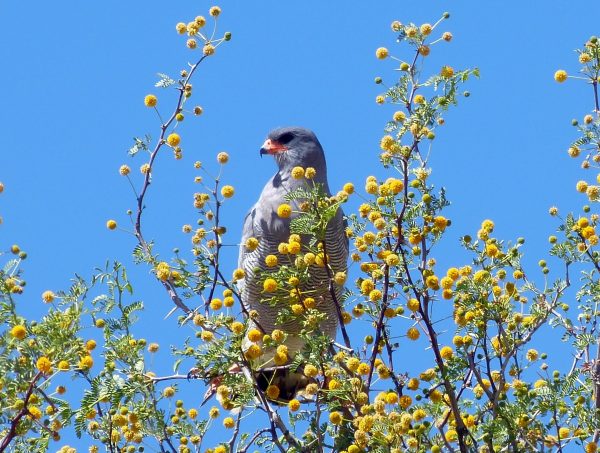 I hiked the trail several days in the cool of the morning. Out of sight and sound of the lodge, it felt like being alone in a desert wilderness. On the evening sundowner tour, I was amazed by the prolific wildlife in the arid desert. We saw herds of desert-adapted zebra, as well as springbok, gemsbok, ostriches, and the most incredible birds' nests I've ever seen. Huge fibrous masses – giant "bird apartment blocks" – are built by small brown birds called sociable weavers. Each nest houses hundreds of birds, can weigh several tons, and can be continuously inhabited for 100 years.
Sossusvlei
The day of my visit to Sossusvlei and Deadvlei, we left the lodge in chilly pre-dawn darkness.  But it wasn't chilly for long as the temperature rose quickly with the sun. As the sky brightened and we approached Sossusvlei, it became apparent why we left so early. The angle of the sun in the early morning creates the amazing dune shadows which make for stunning photographs of the red dunes, especially when viewed against the clear azure sky.
Once again there was an abundance of wildlife in the desert. Before reaching Sossusvlei, we drove past numerous springbok and gemsbok, also known as Oryx, the national animal of Namibia. Later in the day we saw more of each, as well as many unique birds, including ostriches, several pale chanting goshawks, a gorgeous, emerald green swallow-tailed bee-eater, and kori bustards, the largest flying birds in Africa.
As visually stunning as Sossusvlei is, Deadvlei is even more dramatic. Formed centuries ago when sand dunes blocked the Tsauchab River from the clay pan where camel-thorn (Acacia) trees grew, the fossilized blackened trees – estimated to be 700-900 years old – form a barren forest in the desert. We hiked up one of the dunes surrounding the bowl of Deadvlei, then ran straight down the slope into the graveyard of trees.
Many visitors rent cars and drive themselves, but seeing the park with a local guide is highly recommended. They know the desert flora and fauna, the best spots for photography, and how long it should take to climb Big Daddy, the tallest dune in Sossusvlei. They also know how to drive in deep sand. I saw multiple tourists stuck hub-deep in sand who were rescued by local guides, and we stopped to push two of them out ourselves.
Most lodges near the park have their own guides, and I was lucky to spend the day with Michael, a charming and very knowledgeable young man from northern Namibia. We spent 11 hours in the desert and I loved every minute of it.
I slept well that night, with visions of desert dreamscapes floating through my mind.
If You Go:
Cardboard Box Travel Shop  https://www.namibian.org/
Sandwich Harbour 4X4  https://www.sandwich-harbour.com/index.html
Sossusvlei https://www.sossusvlei.org/
Namib Desert Dream Tour https://www.namibian.org/travel/safaris/accomsaf/desert-dream-tour.html
Author Bio: Jeanne Block is a nurse/health educator who lives in Santa Fe, New Mexico and has been traveling solo for over 25 years. Her solo journeys have taken her around the United States and to Europe, Africa, Micronesia, and to Mexico eight times. She has had multiple travel stories published by GoNOMAD.
[mappress mapid="991″]