Christmas in Strobl
The idyllic town of Strobl turns into a nativity village at Christmas. The life-size nativity scene is a focal point, and a shepherd's path guides visitors to a giant Advent gate and then along more than 30 wooden stalls selling cookies, sweetbreads and other pastries. Many also sell handicrafts and Christmas ornaments. Little ones like visiting the small flock of sheep on sight, and groups of musicians can often be heard singing carols. Log fires offer places to stop and warm up.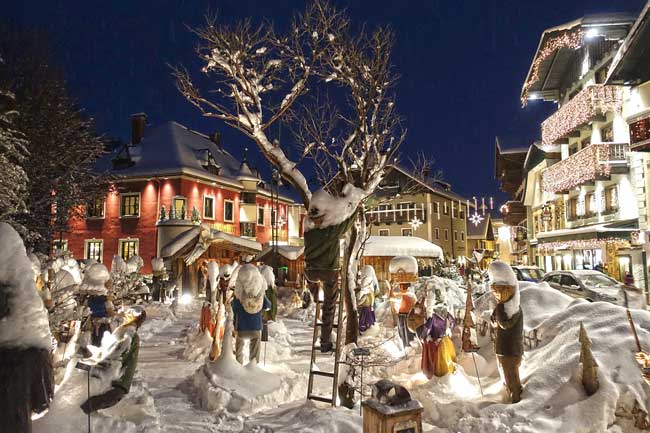 Christmas in St. Wolfgang
The first thing that most people see when nearing the village of St. Wolfgang by ferry is its huge, floating peace lantern. Large Advent gates lead to lantern-lit streets lined with Christmas trees. Christmas angels – usually local teenage girls – visit the Christmas market to add to the spirit, and small bands perform Christmas carols throughout the season.
The St. Wolfgang Christmas market is open from Monday to Friday, but Wednesdays are perhaps the most fun. Electric lights are turned off and all Christmas festivities are lit by candlelight, creating a magical atmosphere that is unforgettable. The shops and wooden stalls are lit by lantern, and you can watch local craftsmen creating their vintage works.
On Mondays, St. Wolfgang offers guided walks along the ancient pilgrim way over Falkenstein Rock, which is lit by torches and lanterns.
Christmas in Austria is refreshingly sweet, with an emphasis on the simple pleasures of being together with friends and family. Add to that Christmas markets filled with twinkling lights, baked sweets and the sound of Christmas carols and you have a holiday experience that is unforgettable.
If You Go to Austria
Lake Wolfgangsee Advent Cruises: Start your tour in St. Gilgen, which is a 45-minute drive from Salzburg. After time in St. Gilgen, you can board the ferry to visit Strobl and St. Wolfgang. Advent ferry cruises run from November 18th to December 18th, and then again from December 25th to January 1st.
More information: www.austria.info
Author Bio: Janna Graber has covered travel in more than 40 countries. She is the editor of three travel anthologies, including "A Pink Suitcase: 22 Tales of Women's Travel," and is the managing editor of Go World Travel Magazine (www.goworldtravel.com).