Editor's Note: We're all dreaming of travel ahead. Here's some inspiration for future adventures. We share places, products and activities we recommend. If you make a purchase using a link on our site, we may earn a commission.
When exploring a new city, it's good to be prepared with a little knowledge of the sights to see. Although some attractions may be deemed "tourist traps," that doesn't mean they should be struck off your list. I discovered this on my first visit to Washington's "Emerald City" when I explored five top Seattle tourist attractions.
Brimming with diverse neighborhoods, a great food and music scene, and, of course, coffee, Seattle is a magical mecca. As summer approaches, warm days and light nights make Seattle an even greater city to explore.
Check Out these must-see tourist attractions in Seattle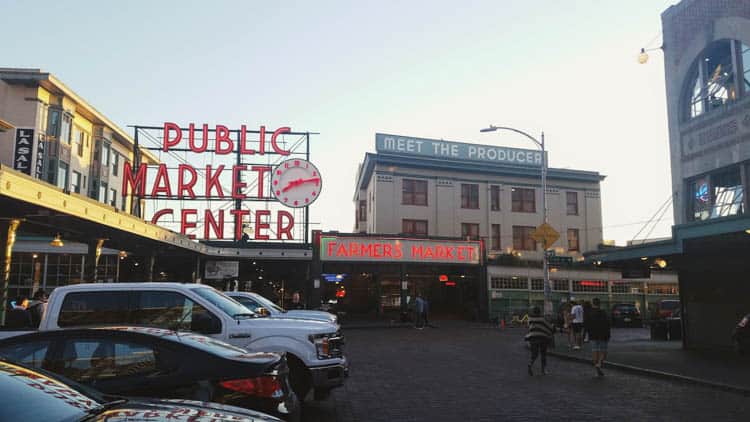 Pike Place Market is the ultimate spot to "shop local" and is a top tourist attraction in Seattle for good reason. There's something for everyone at Pike. But, what struck me was the strong sense of community as I walked the halls and spoke with vendors.
After getting your picture atop Rachel the piggy bank, make sure to drop some coins in her. Proceeds collected go directly back to local charities. If you look up, you'll notice apartments that are homes for low-income seniors.
My favorite element of the market is the buskers. In pre-pandemic times, visitors would notice sign-up sheets pinned to the poles where the musicians perform. To reserve their "gig," buskers are asked to note their name next to the free time slot on the sheet.
Note: Until we move back into larger gatherings, you can still support the buskers online.
As for eating, you're definitely in the right place. Sweet tooth? Cinnamon Works has been making cookies since 1983 and they're some of the best I've ever tasted.
Cheese connoisseur? No visit is complete until you try Beecher's "World's Best" Mac and Cheese. Coffee lover? Head to the very first Starbucks, grab a latte and snap the obligatory Instagram selfie in front of the iconic sign.
Once you have your tasty treats in hand, make a beeline to Pike's Secret Garden. With its beautiful ocean views, it's the perfect place to recharge.
I'll admit as I waited in line to go to the top of the famous Space Needle, I wondered, "Why am I doing this?" Loud families, long lines, and a conveniently located gift shop created the stereotypical tourist experience.
But then I reached the top and realized why the Space Needle is a must-see Seattle tourist attraction. Built for the 1962 World's Fair, the Space Needle is one of the most recognizable landmarks in the world. It stands at 605' tall and provides visitors a 360-degree panoramic view of the city.
Recent renovations have made the experience better than ever before. Enjoy the observation deck with open-air glass walls and Skyriser glass benches. On a clear day, you can see as far as Mount Rainier.
Below the observation deck step onto "The Loupe." This is the world's first, and so far only, rotating glass floor. Look down and you'll see Seattle Center park 500 feet below.
There's also the chance to wine and dine at the Space Needle. The Loupe Lounge offers expertly crafted libations and light bites inspired by the Pacific Northwest. For a more intimate experience, reserve a Sunset Champagne for two or an afternoon wine flight.
As you exit the Space Needle, you may notice some brightly colored glass sculptures. Follow the path and you'll soon find yourself at Chihuly Garden and Glass. If Kurt Cobain is Seattle's Grunge God, Dale Chihuly is their King of Art.
Chihuly is a native to nearby Tacoma, and easily the most iconic living glass artist. I entered the museum unfamiliar with him, and not knowing what to expect. I left in awe and have since returned for another visit.
Take your time exploring the eight galleries, the Glasshouse, a peaceful garden, and a theatre. As you walk through the Glasshouse you'll be amazed at vibrant reds, oranges, yellows, and amber of the pieces on display. The play of light and color will shift depending on the time of day you visit.
The eight galleries will give you some Lewis Carroll vibes, and the inviting garden may inspire you to lay down and stare up at the Space Needle for a while.
Another fabulous Seattle Center attraction is the Museum of Pop Culture (aka MoPop) The "geek" in all of us is certain to go into overload at this innovative museum.
Originally called the Experience Music Project, MoPop has since evolved into one of the most comprehensive places for pop culture history. Rock music lovers will be in heaven as they view the largest collection of Cobain and Jimi Hendrix .
Beyond strong musical influences, MoPop also has an impressive range of collections and exhibits. Video gamer? You're sure to love their current Minecraft exhibit. If cinema is your thing, Scared to Death: The Thrill of Horror Film awaits you.
Take me out to the ball game! Whether or not you're a baseball fan, I highly recommend a Summer night with the Seattle Mariners. Not only is the atmosphere invigorating, but the stadium also offers stunning views.
Of course, America's pastime is not complete without some all American snacks. Grab a hot dog and a beer and head high into the stands where the retractable roof allows for some killer skylines and sunsets.
The season just launched with limited capacity. On select nights, get tickets as low as 21 dollars. Make sure to check their website as rock concerts are also hosted.
Time to start planning your dream vacation to the Pacific Northwest? Start preparing with the best flight deals available through Kiwi. Then you can find hotel and VRBO options, favorite restaurants in the area, insider sightseeing tips and more on Travelocity and TripAdvisor.
So many great sights await you in Seattle. Summer is an ideal time to visit. For health and safety precautions, please keep in mind that advanced reservations are needed for all attractions mentioned excluding Pike Place Market.
Author's Bio: Mary is a Los Angeles-based freelance travel writer. She's written on her blog, Along Comes Mary, since 2012. Her work can also be found in various online outlets as well as FWT Magazine. Mary is a proud member of IFWTWA, the International Food, Wine, and Travel Writers Association. A former Executive Board Member, she currently serves on their Conference and Editorial Committees. When she's not writing or traveling, her favorite place to be is with her husband, daughter, and their two dogs.