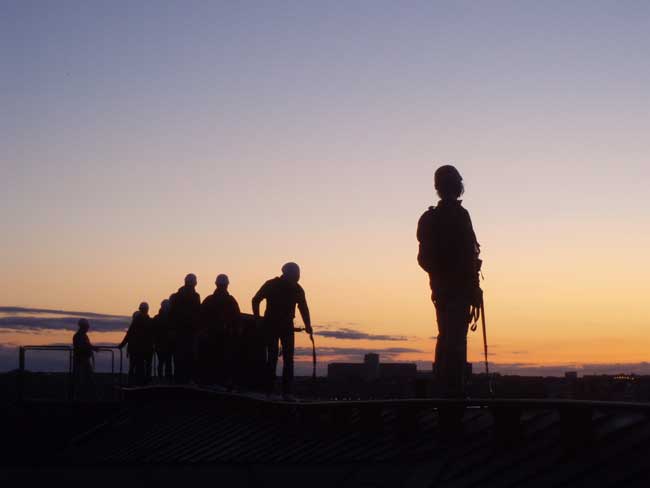 Rooftop Tours in Stockholm
Either maneuver means I am looking down at the cable — and at the roof, and at the street below. Way below.
Before taking an hour to walk the rooftops, I had figured that it would be a once-in-a-lifetime experience. Now, I'm positive it was.
Back on the street in Stockholm, I look up to see a cluster of people walking the rooftops. What was I thinking?
If You Go: Stockholm Rooftop Tours

The English-language website for the Rooftop Tours company, Takvandring Sverige, is https://takvandring.com/en/ Photos on the website will help you decide about reserving the experience. The price is about $71.
Tour season is generally late spring into early October. Tours in the morning are usually reserved for groups, such as those from cruise ships. Afternoon tours and morning tours on the weekend are open to individuals.
Bad weather does not automatically cancel the rooftop trip, though a guide will go aloft first to determine the safety factor. If the rooftop path is too dangerous, the guides typically will substitute a walking tour of Europe's largest medieval community, Gamla Stan (the Old Town).
Author Bio: Robert N. Jenkins, former travel editor of the St. Petersburg Times, is a freelance writer based in St. Petersburg, Fla.