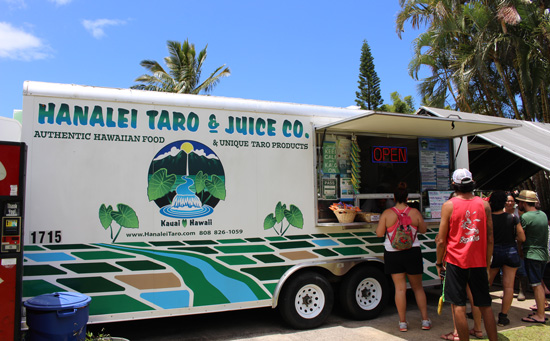 Where to Eat in Kauai
In Hanalei, head to BarAcuda for tapas and wine with friends. If you'd rather have something fast, stop at the food truck called Hanalei Taro & Juice Co. for yummy authentic Hawaiian food such as laulau, kalua pig, poi, lomi salmon, and kulolo. The Wishing Well Shave Ice truck (right across from the Hanalei Taro & Juice Co truck) is also something you'll want to visit. Try the shave ice with macadamia nut ice cream inside. If you want to catch some local music and vibe, get some pizza or just a beer at Tahaiti Nue, also in Hanalei.
The Eating House 1849 in Poipu is prominent Hawaiian chef Roy Yamaguchi's latest creation. Eating House 1849 pays homage to Hawaii's vibrant culinary heritage with locally-sourced dishes like Plantation Paella, 1849 Spicy Ramen Bowl (it's huge and the flavors are incredible) and Chicken Kamameshi. Don't miss their signature chocolate soufflé.
Our pick for the most romantic dining spot on the island goes to Makana Terrace at the St. Regis. The outdoor dining patio offers such a wide view of beautiful Hanalei Bay with the mountains in the background that it almost seems surreal. Go for their buffet breakfast or if you can, at sunset when the skies are filled with dark pinks across the blue colors of the bay.
Where to Stay in Kauai
The Cliffs
Princeville
If you're the type that likes to cook your own meals and have a little more room and privacy, you might want to check out The Cliffs at Princeville. The resort offers one to two-bedroom condos on the cliffs overlooking the North Shore. Units can be rented by the day or week, and some of the units are even available as a timeshare exchange (if you are a timeshare owner).
Like many homes and accommodations in Kauai, The Cliffs condos don't have – or need – air conditioning. Though the air may be warm outside, huge windows and ceiling fans allow the trade winds to keep the condo cool day and night. Each unit has a lanei with large table so you can enjoy most of your meals outdoors. There are BBQ facilities throughout the resort. Wild chickens wander the resort, adding to the cacophony of bird sounds that awaken you each morning. Banana, coconut and avocado trees dot the grounds. Lounge in the Adirondack chairs along the cliff and watch for whales or if you time it right, you can watch the sun set over the sea.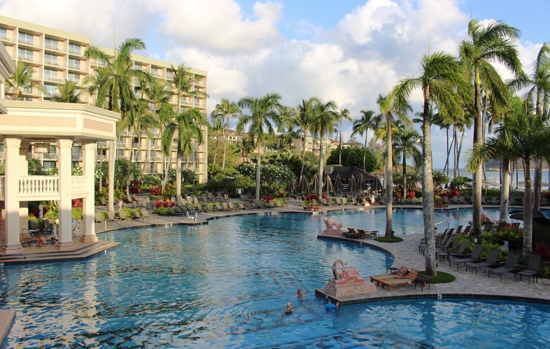 Kauai Marriott
Lihue
If incredible pools are your thing, the Kauai Marriott Resort on Kalapaki Beach might be right up your alley. The resort has an enviable location right on Kalapaki Bay, so you can swim and snorkel right from the resort's beautiful beach. Golfers will like the 19-hole Jack Nicklaus-designed course at the adjacent Kauai Lagoon Golf Club. The Kauai Marriott Resort is large and airy, with five open-air restaurants to choose from. Each room offers the usual Marriott luxury touches and has a balcony to enjoy that great Hawaiian weather.
Ko'a Kea Resort
Poipu Beach
Those who prefer smaller boutique hotels might want to stay at Koa Kea Resort, which opened in 2009. Located in Kauai's famous Poipu Beach area, the 121-room resort has a small beachfront, tidy pool, and upscale luxury rooms featuring modern design. Red Salt is the resort's oceanfront restaurant, serving fresh Hawaiian produce and cuisine.
St. Regis
Princeville
The St. Regis Princeville is one of the finest properties in Hawaii – and this is the place to consider if you're planning something very special, such as an engagement, vow renewal or even a wedding. (Some 85 weddings are held here each year.) You can even arrange to have your own private dinner on the beach with your sweetheart.
The St. Regis Princeville is classy and sophisticated, but never stuffy or overdone. This is Hawaii, after all. Nature's beauty takes center stage, with huge windows and open architecture taking advantage of the resort's incredible location overlooking Hanalei Bay. The rooms offer unparalleled luxury and creature comforts, from bath salts to daily butler service available with certain room levels. Have dirty shoes from hiking Napali Coast? No worries. Your personal butler will ensure the shoes return to you looking almost new. With pampering like that, you might never want to leave.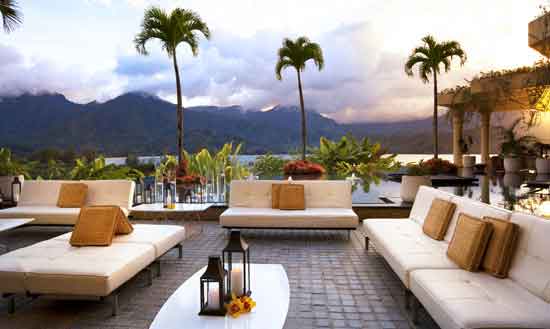 The Halele'a Spa at St. Regis Princeville has romantic spa treatments for couples, including the Napali Ritual of Energy and Balance, which includes a couple's scrub, facial massage, couple's soak and a couple's massage. Oceanfront couple's massages are also available in a cabana right on the beach.
No matter what your style and taste, you're sure to come back from Kauai with many cherished experiences – and memories. Visitors to Kauai often come back and again, and chances are, you will too. Although you may travel to Kauai to celebrate the woman or man you love – you may just end up falling in love with Kauai as well.
If You Go
Kauai Visitors Bureau
KauaiDiscovery.com