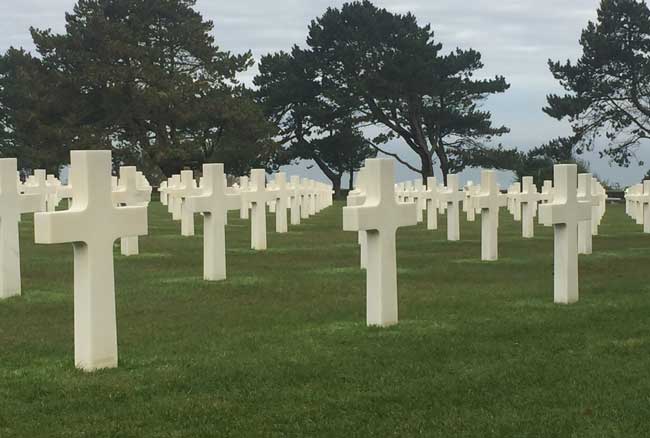 D-Day: Beaches of Normandy
Vantage Travel is known for its excellent port excursions. The itinerary is packed with tours, all led by knowledgeable local guides. Each person receives a headset and receiver to take along on tours, which makes it easier to hear the guide. When we arrive at the Normandy American cemetery, our guide's insight makes it even more meaningful.
I knew the American Cemetery was more than 172.5 acres, but I'm not prepared for the staggering sight of 9,387 graves. The orderly rows go on for as far as I can see, and as I wander through them, a lump in my throat, I grasp the incredible human loss – thousands of young men and women who gave their lives fighting to defeat the Nazis. I know there are many French, British, Canadians and others who sacrificed too.
Later, I make my way to Normandy American Cemetery Memorial for a wreath laying ceremony in remembrance of those who lost their lives here. As taps play and the wreath is laid, an older gentleman behind me weeps openly, and I have to wipe my own eyes too.
We travel then to Omaha Beach, its empty wide expanse so peaceful and tranquil. When we see the photos of those horrifying landings at the Normandy beaches, it's hard to believe they are the same place.
It is one thing to learn about the horrors of war; it is another to see the results. Thankfully, time marches on. Today, Normandy is once again a beautiful destination.
Rouen, France
Our next port stop is the city of Rouen. It's best known for the impressive Cathédrale Notre-Dame de Rouen. Though damaged by war and fire, the church still stands tall above the city.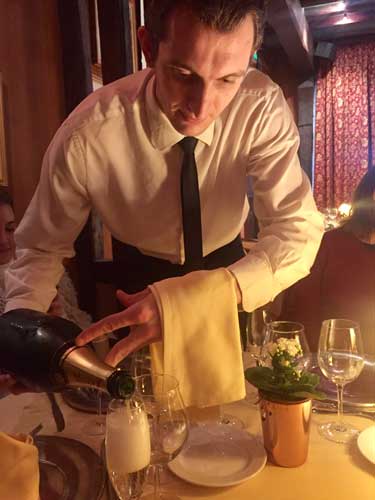 Rouen is where the young military leader and Catholic saint Joan of Arc was executed in 1431. I hadn't realized how young she was, but I'm even more impressed when I tour the Joan of Arc Museum.
Another famous woman has left her mark on this town. It was at La Couronne, a restaurant in Rouen, that Julia Childs first fell in love with French cooking.
As we dine at La Couronne that afternoon, I can see why. The food is served with flair. And the food? It is French cuisine to remember.
Conflans- Auvers-sur-Oise, France
The ship sets out again early the next morning for Conflans and the tiny community of Auvers-sur-Oise. This artists' colony was the last town in France that Vincent Van Gogh called home. It is where he died and where he is buried.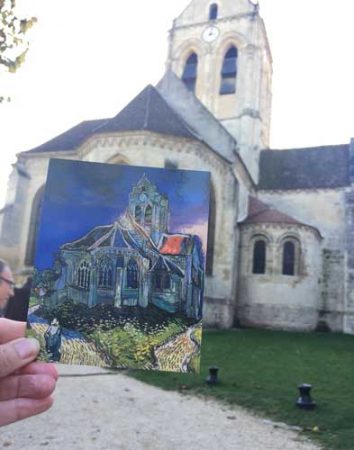 From the dock, we follow a well-worn path uphill along thatched roof cottages to the Church of Notre-Dame d'Auvers. This is the church I know from Van Gogh's famous painting, and as I pull out a postcard print to compare, I see the genius of Van Gogh's artistic eye.
From the church, we continue walking through the community to the cemetery where Vincent Van Gogh is buried alongside his brother, Theo. Vincent was only 37 years old when he took his life. The room where he lived, worked and died can be visited at the Van Gogh House here in town.
Continued on next page