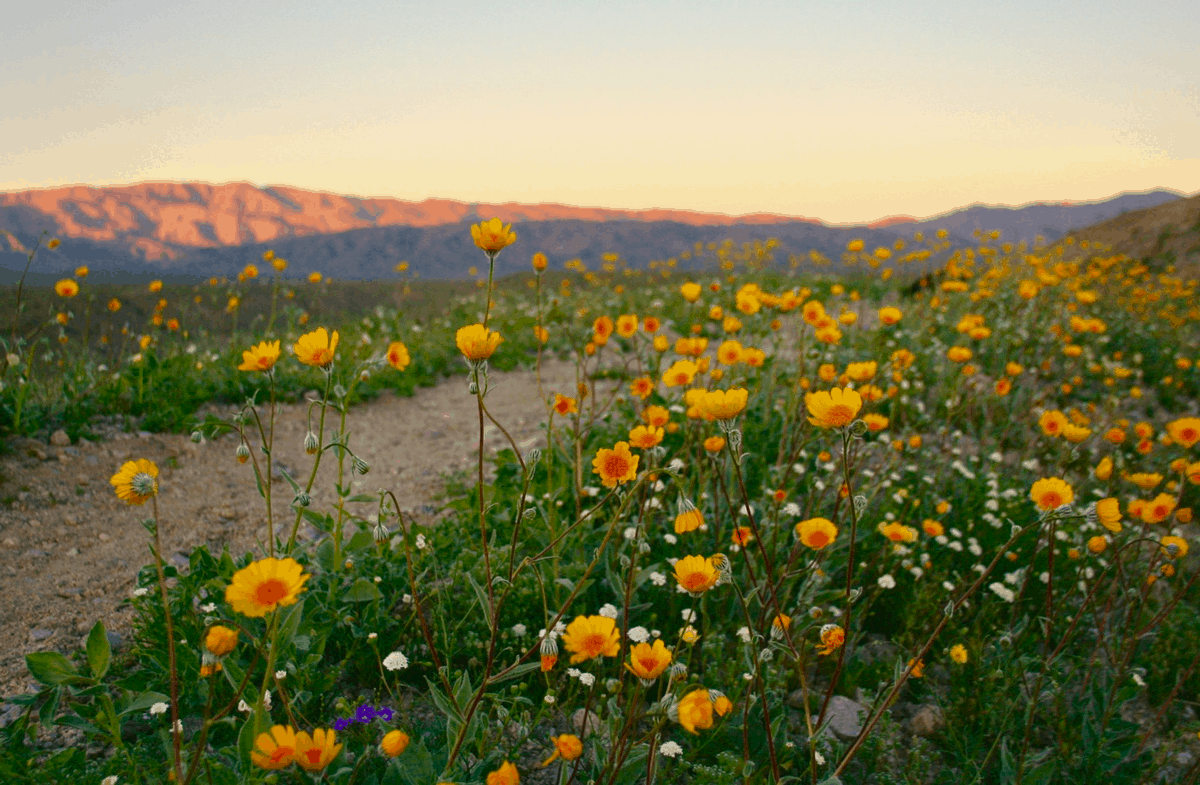 We're bouncing across the desert in a red jeep when Mike, our guide with Desert Adventures Eco-Tours, asks about snakes.
"You're not afraid of them, are you?" he asks. "We just might see some today."
San Andreas Fault in the California Desert
"No," I reply without conviction, keeping my eyes on the dusty dirt roads ahead.
We're on Metate Ranch, an 800-acre private preserve in the California Desert near Palm Springs, California. We're headed to see the San Andreas Fault.

There is no one else in sight, and all I hear is the crunch of our tires. The earth is so dry that the dirt and rock formations look almost white, a stark contrast to the deep blue sky overhead.
The desert is home to its own unique wildlife, from snakes and tarantulas to coyotes, lizards and birds. The region seems barren, though, and I wonder how these creatures survive. Then in the distance, I see a thick line of tall California fan palms. They are a literal oasis in the desert.
Beneath them lies the San Andreas Fault, which runs 800 miles from 30 minutes south of Greater Palm Springs to Cape Mendocino on the Northern California coast. While there is no gaping hole in the ground along the fault line, there is an underground aquifer that oozes fresh water at the surface.
Mike parks the jeep and we follow him on a narrow path through the trees. He points out hundreds of tiny tracks of the animals that find water here daily.
The tracks lead to a small creek that runs continuously throughout the year. It is the aquifer that brings life to the desert.
Underground water has brought rich life to this entire region. After landing at Palm Springs International Airport, I was surprised at the number of tall palm trees and colorful flowers that adorn this small town. Its setting is picturesque; it's surrounded by mountains so close you can almost touch them.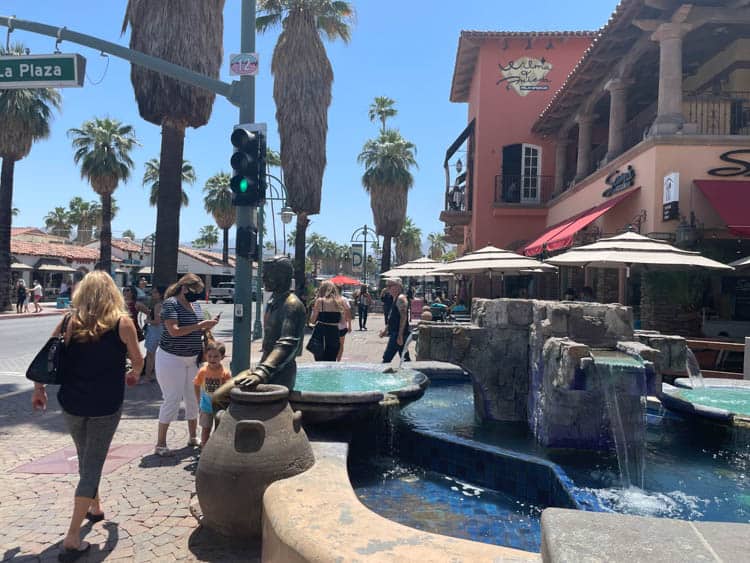 Explore Downtown When you Visit Palm Springs
The Greater Palm Springs region in California has some 360,000 year-round residents in nine distinct communities – Palm Springs, Desert Hot Springs, Cathedral City, Rancho Mirage, Palm Desert, Indian Wells, La Quinta, Indio and Coachella.
In the past, Palm Springs was a Mecca for movie stars and celebrities from Hollywood. Their glitz and glamour can still be seen in the town's abundance of mid-century architecture, which has been carefully preserved.
Yet when I look closer, I see a vibrant town with many young people. Palm Springs is still an oasis for those seeking an escape from the hubbub of California's big cities or even the cold weather.
Golfers, sun-seekers and many from the LGBTQ community have found a warm welcome in Palm Springs. I'm one of those sun-seekers on a weekend getaway with my husband, Benjamin.
Palm Springs has not disappointed us.
Stay at the JW Marriot Desert Springs Resort & Spa
The base for our stay is the beautiful JW Marriott Desert Springs Resort & Spa, which is a destination on its own. Recently refreshed, the luxury resort has a lakeside setting with views of the mountains and palm trees. Ben and I spend several hours lounging at their large pool and linger over breakfast outside along the water.

The JW Marriott Desert Springs is well-known for its spa, and as an avid spa lover, I can't pass up the chance to enjoy an aromatherapy massage.
The resort's 38,000-square-foot facility has 48 treatment rooms, a Turkish-style hammam, bistro and a saltwater pool. Spa treatments incorporate locally grown citrus and dates.
Soak in Natural Mineral Springs
Hot mineral waters provide additional ways to relax. You can experience them in the small community of Desert Hot Springs.
I spend a morning soaking in the hot springs at Azure Palm Hot Springs Resort & Day Spa, and then feel ever better after a nutritious meal and fresh juice drink at their health food café.
Other mineral springs to try when you visit Palm Springs are Two Bunch Palms, a 77-acre resort that dates to 1930 and was a longtime favorite celebrity retreat, or El Morocco Inn & Spa, a Casablanca-inspired retreat.
Adrenaline Rush at the BMW Performance Center
While relaxing is great, others visit Palm Springs for the adrenaline-laden experience at the BMW Performance Center in nearby Thermal Springs. The center is a dedicated performance driving facility that is open to the public.
Courses are taught by BMW professional drivers. After class instruction, participants get to drive BMW M5 vehicles (or Minis) on the private course and receive feedback from instructors.
While I'm at the mineral springs, my husband attends the full-day Car Control School.
"It was completely different than what I expected," he says upon return. "It was more than just a chance to drive a brand-new BMW around a track. It was an advanced driving school that gave me instruction on everything from emergency braking, last-minute lane changing.
We even did skidpad work on what to do when you oversteer or understeer your vehicle in a wet environment. Our class of 11 had three instructors providing us real-time feedback on our driving techniques as we sped through each of the four real-world driving scenarios."
The instruction is something that he can use in real life, Ben says, and I'm all for that. But I think his favorite part of the experience was the high-speed Hot Lap they got to do at the end of the day.
Visit Family Fun at Shots in the Night in Palm Springs
Although a weekend isn't long, we still pack in several other fun activities. One evening after dark, we head to Shots in the Night, an interactive glow-in-the-dark golf experience.
Alongside other families, many with school-age kids, we hit buckets of glow-in-the-dark golf balls at lit targets on the field. We were then handed a computer tablet and assigned to our own putting green.
The tablet communicates with the lighting and sound at the green, and we can choose one of several mini-golf games on the tablet.
Special lights turn the green into a playing field for each game. Although my skill level is questionable, I haven't had that much fun golfing in a long time.
Excellent Cuisine at Top Restaurants to Visit in Palm Springs
No vacation is complete without sampling a destination's cuisine and restaurants. Palm Springs is blessed with an abundance of top establishments to delight any foodie.
We start off our dining experience in Palm Springs with dinner at Babe's Bar-B-Que & Brewhouse. It can be hard to find good barbeque but Babe's has taken it to a whole new level. Everything is made from scratch and presented with obvious care.
We try a flight of the brewery's beers and are just as impressed. Babe's is the brainchild of Donald Callender, the man behind Marie Callender's food empire. Today, Babe's is run by his son, 26-year-old Lucky Callender, whose passion for the restaurant is obvious.
One of the great things about dining in Palm Springs is that you can dine outdoors much of the year. Eight4Nine Restaurant has one of the most beautiful outdoor settings that I've ever seen.
The white minimalist décor mixed with twinkling lights, careful artwork and chic table settings would make the perfect setting for a rom-com engagement scene. While we weren't getting engaged, we did find it very romantic and lingered over our delicious meal there.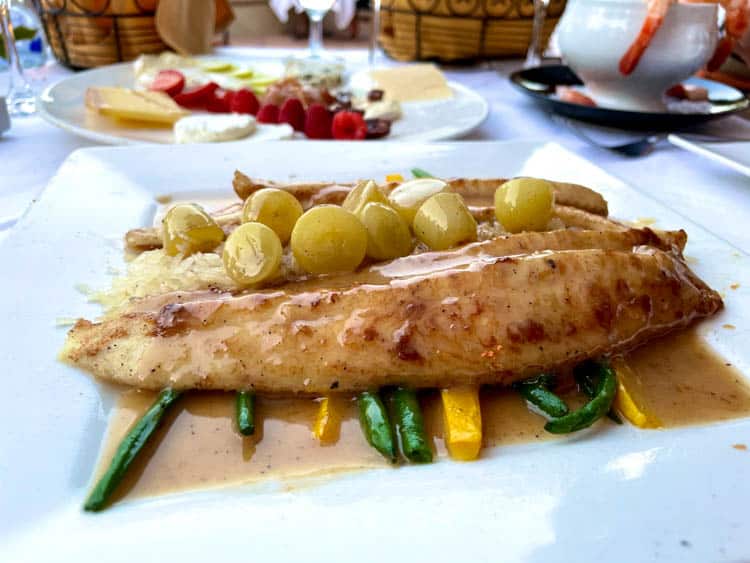 Cuisot is another restaurant that would make a perfect setting for a special occasion. Located in a country French farmhouse setting, this French restaurant has earned top ratings in the Zagat Survey.
The food is delicious, and the wine sommelier is so helpful and knowledgeable that each wine paring fits perfectly.
Get a taste for these wines before you go with a selection of wine bottles from California picked by a Sommelier based on your preferences and delivered to your door. Check out subscription options, one-time boxes and chat more about wine here.
On a different spectrum is the quirky, lighthearted and truly California Lulu California Bistro. Their outdoor Bistro Garden is hopping when we stop there for a delicious (and very affordable) brunch. We are having so much fun that we don't say no when they suggest a cotton candy dessert.
On our last evening in Palm Springs, we enjoy one more outdoor dinner at Johannes, a European restaurant by Austrian-born Chef Johannes Bacher.
Bacher is known as an "eclectic" chef and sitting on the patio watching the sunset, we happily try his unique take on several Austrian classics, along with their Modern-Love Bees Knees Martinis.
It's a fitting end to a weekend of experiences that can only be found in Palm Springs.
Book This Trip
Palm Springs has a warm desert climate. The best time to go is January to April but fall and spring are also nice. The summer weather in Palm Springs is very hot, and not the best time to visit.
Ready to start planning a relaxing visit to Palm Springs? Get prepared with knowledge on the best sights, hotel or VRBO accommodations, local restaurant favorites and more through TripAdvisor and Travelocity. Book your flight and rental car at the best seasonal deal through CheapOair.
Be sure to book a couple of expert-led tours, skip-the-line tickets and fun activities in Palm Springs through GetYourGuide. You can find ideas and reserve your dates ahead of time here.
Learn more about visiting Palm Springs at visitpalmsprings.com
Latest posts by Janna Graber
(see all)