Laying in a hammock poolside at Ojo Caliente. Photo by Gabriela Rodriguez.
A Relaxing Finish
The following day we said our goodbyes to the Earthship. The home had taken care of us and it felt like we were saying goodbye to a good friend as we closed the garage for the final time. We made our way south to the Ojo Caliente Mineral Springs where we had a day of relaxation and soaking in the geo-thermal mineral waters.
I have always felt that the last day of a trip gets spoiled by thoughts of going back to reality, but that doesn't happen when you are too busy letting your troubles melt away in one of the many soaking pools. There are four different types of spring waters at Ojo Caliente Mineral Springs, each boasting different benefits. My personal favorite was the mud bath. Mud water flows out of the four spouts. You can cover your body with it before rinsing off in the mud bath. It was a chilly day, but after cooking in the pools of hot water I hardly noticed.
Private soaking tubs are also available for private relaxation. On extra cold days, tell the staff you would like the fire to be lit before you check in for the private soak. This will provide the added warmth of the fire next to you.
As a last-ditch effort to avoid going back to reality, I spent 80 minutes under the hands of the talented Catherine Borner getting an "Ancient Echoes" massage at Ojo Caliente Mineral Springs. I drifted in and out of consciousness in a state of pure bliss as she massaged my head and shoulders. The time disappeared quickly, as did all my stress. It was the perfect way to end the weekend.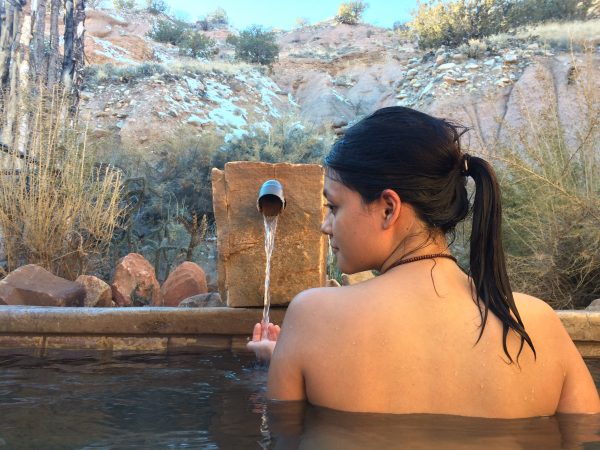 If You Go to Taos:
Earthship Biotecture
575-613-4409
visitorcenter@earthship.com
earthship.com
Taos Pueblo
575-758-1028
taospueblo.com
Ojo Caliente Mineral Springs Resort & Spa
505-583-2233
guestrelations@ojospa.com
ojospa.com