A View of the Rio Grande Gorge
It would have been easy to spend all day relaxing inside, but the outdoors was pouring in through the massive windows beckoning us out to explore.
After driving over the Rio Grande Gorge the previous day, we were eager to get a better look. Just down the road from the Greater World Community, seemingly out of nowhere, the earth opens and the giant crevasse carved by the Rio Grande spans out into the distance. Fences line the edge and offer a little peace of mind when you look into the depths below, but vertigo still plagued my girlfriend as we walked out onto the bridge. She grabbed hold of me for reassurance and fought her fears for the sake of the view.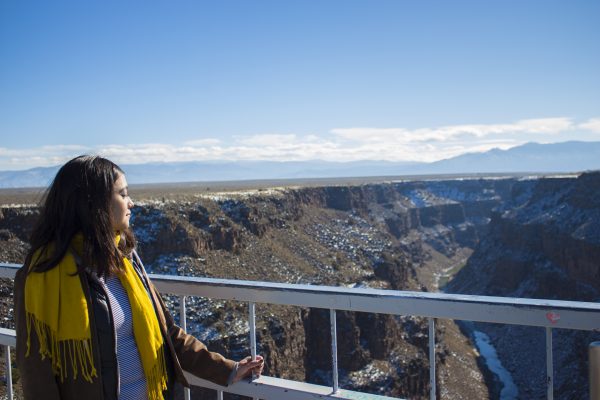 Local vendors parked their cars and trucks next to the bridge and set up tables filled with Native American jewelry, art, relics, and other knick-knacks. We stopped by to admire the assortment of crafts and talk with the locals. After a few friendly conversations and a ring purchase later we decided to delve further into the Native American culture and head to the Taos Pueblo.
Continued on next page