Nevis has numerous bars and restaurants, but small roadside pubs and bars have their own charm.
One example is Passion Bar and Grill, a tiny stand with an outdoor patio lined with colorful scarves. Rum punch is a mainstay on the island, so it's what you drink when you're in Nevis. Many locals make their own brand of moonshine, which they serve up for just a few dollars.
Beaches on Nevis
A big part of any island vacation is time spent at the beach, and Nevis has no shortage of beautiful places to lay a beach towel. One of the best-known beaches on Nevis is Pinney's Beach, which runs for three miles and is just outside of the capital, Charlestown. Other beaches to visit include Oualie Beach, Paradise Beach and the Nisbet Plantation Beach Club, which also has an excellent restaurant.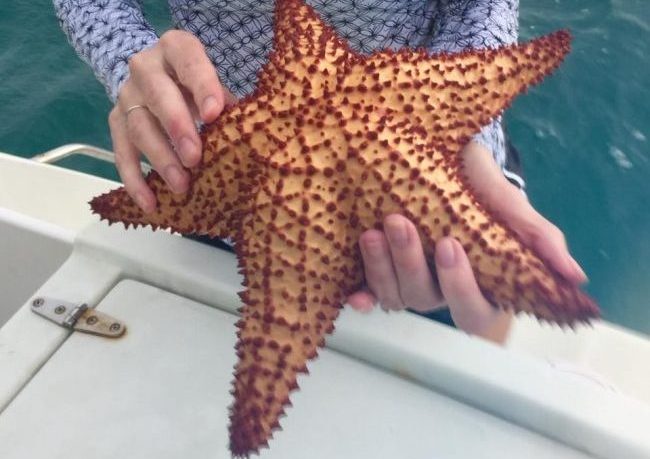 Diving and snorkeling are popular activities in Nevis. One afternoon, we head out to sea with Ned, who owns the Aquatic Recreation Centre. He shows us where bubbles stream from underground lava tubes, and points out vibrant sea life, including a large orange starfish.
Alexander Hamilton and Nevis

At the Museum of Nevis History, I learn of one of the island's famous sons, Alexander Hamilton. The well-known American statesman was born on the island in 1757, and lived here till he was nine. The museum has an excellent exhibit about his life.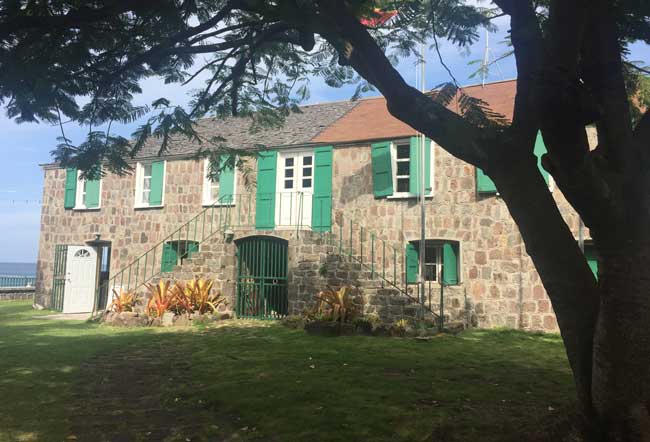 Near the end of my visit, Champ drives us to one other treasured part of the island's history – St. Thomas' Lowland Church. Built in 1643, it still stands high on a hill overlooking the sea. As we enter the church, I notice stone plaques on the walls honoring parishioners hundreds of years in the past. I wonder what life was like here then, and wonder about those who have called the island home.
St. Thomas is not just a relic of the past, I learn, it's a still a living, breathing church. Locals attend here each week, as thousands have before them.
It's that strong sense of community that I have witnessed here in Nevis.
When I mention that to Champ, he chuckles and nods his head.
"You know you're only a stranger here once," he says, and I hope that it is true. I'm already looking forward to my return.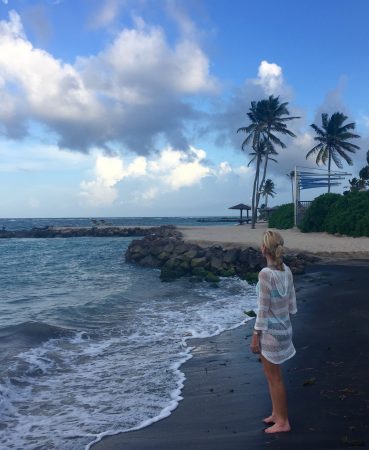 If You Go
Getting to Nevis
Most travelers arrive by air to St. Kitts then connect to Nevis by ferry. Another option is to fly to Antigua and then take a charter plane to Nevis. Direct flights from Puerto Rico to Nevis are also available.
Getting Around Nevis
Rental cars are readily available. Cars drive on the left in Nevis so most rental cars are right-hand drive.
Want to travel like a local? Buses are cheap and easy. Buses are small minivans with names painted on the front. They have green license plates starting with the letters H or HA. You can board a bus anywhere on the main road, just flag it down.
Taxis are another popular way to get around on the island. You can book directly with a taxi company or find one at the airport, at hotels and in Charlestown. Look for bright yellow license plates that start with the letter T or TA.
Where to Stay on Nevis

The island has many plantations which have been restored as boutique inns. I stayed at the Montpelier Plantation, a 60-acre property which sits on the hills overlooking the sea. The cottages are large and very comfortable. Several onsite restaurants serve guests throughout the day. Tip: If you have time, book a spa treatment. Treatments are provided on the grassy knoll overlooking the sea. The treatment area is surrounded by climbing flowers, adding a sweet floral scent to sea breeze.
For more information, see Nevis Tourism