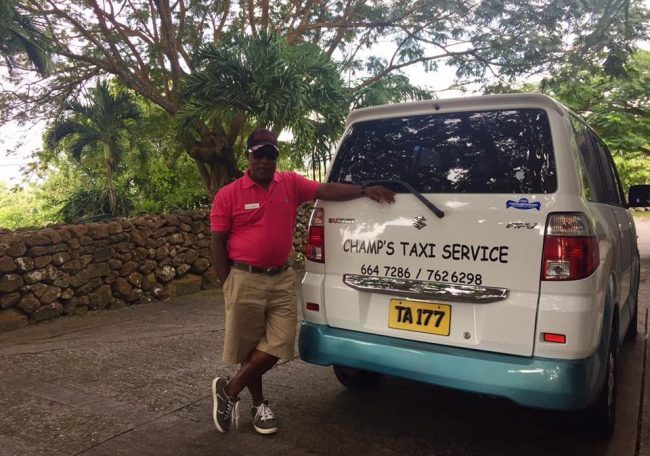 "Visitors always say how relaxed they feel here in Nevis," says Champ, "how they like the flowers, the sea and the nice people. Taking people around I get to see the island through their eyes, and I'm reminded of what we have in Nevis."
Champ has to keep his eyes on the road while he talks because animals roam freely all over the island. We pass wild donkeys and then herds of goats and sheep along the road. One time, we stop and wait patiently as a mama pig and her baby cross the street.
Following island tradition, Champ gives a little welcome honk to everyone he passes. I notice that most streets in Nevis have no street names or house numbers, but that's no problem.
"As long as people can give me a villa name or a landmark, I can get folks where they need to go," he says."
And how does the postman deliver the mail when there are no addresses?
"Oh, that's not a problem," Champ says with a laugh. "The postman knows the names of most of the people who live on his route so he can deliver mail to them."
Ah, the island life.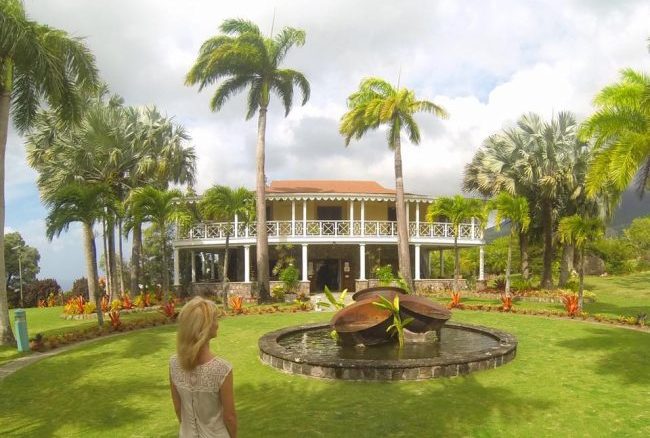 My time on Nevis soon turns into a welcome blend of new experiences and relaxing ways to unwind.
We visit the Nevis Botanical Gardens, a lush oasis created by Philadelphia couple Joseph and Martha Murphy. Their tropical rain conservatory houses tropical plants and Mayan-type sculptures, while the gardens have flora from around the world. My favorite part of the visit is the refreshing purple drink made from Free Butterfly Pea Flowers at their Oasis Restaurant.
Dining in Nevis
Dining in Nevis is a pleasure, I find. Many of the island plantations serve special dinners weekly for locals and guests. One night, we attend a West Indian Pig Roast at Hermitage Plantation.
The buffett at Hermitage Plantation is so large that it barely fits on the huge center table. We sample local delicacies of sweet yams, curried Mahi Mahi, cheesy breadfruit and dishes baked in traditional clay pots.
Meals at beachside eateries like the Oualie Beach Resort and Sunshine's at Pinney's Beach are also just as delicious. Food tastes especially good when it's served up with incredible seaside views. (Tip: Be sure to try Sunshine's Killer Bee Rum Punch, but drink slowly, because it packs a punch!)
Continued on next page