I am honored to meet the Chief Abbot, Ven Sam-Va-Ra, and when the interpreter explains why I am visiting, he smiles and encourages me to write about the clinic and the work they do to help the Burmese people
As we sail along the Ayeyarwady River, I see how simply they live. The shore is dotted with farms and often farmers can be seen in their ox drawn carts moving from field to field. At the water's edge, families wash their clothes and bathe their children. There are no loud noises, no chaotic traffic here in the countryside. When the ship anchors mid-river for the night the silence is serene and the sky blazes with stars in the utter blackness.
At dawn we sail on to Myin Mu, the northern most point for cruising this trip. During the early months of the year the water levels of the Ayeyarwody drop, creating a narrower channel for navigation near Mandalay and necessitating the ship mooring at this riverside town 30 miles south of the city.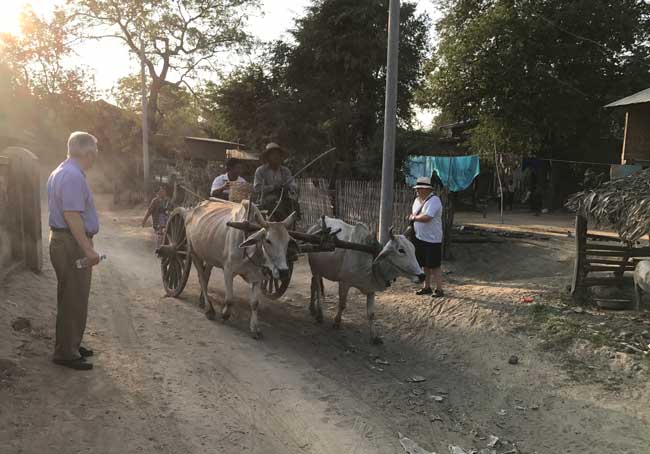 Always on my travels I find seeing the natural life of a country and contact with the local people the highlights of my visits. This is true in my tri-shaw ride around the town visiting markets and families of bamboo weavers, and again in the afternoon, walking through the picturesque farming village of Alacapa, experiencing the warm friendliness of the people and glimpsing a lifestyle unchanged for centuries.
Because of the river level, we must drive into Mandalay. On the way, we are rewarded by being stopped by a parade which consists of a wedding party, a group attending an ear piercing ceremony and families celebrating their sons being inducted into monkhood. It seems a fitting prologue to arriving at Kuthodaw Pagoda, a UNESCO-listed site with 729 stone tablets inscribed with Buddhist scriptures.
The sights of Mandalay are many and varied: streets of the marble quarter where artisans sculpt Buddhas of all sizes; outdoor workshops of bronze casters creating statuesque Buddha images and ceremonial gongs; the famous UBein Bridge, one of Myanmar's most photographed sites and too irresistible not to walk across; Sagaing Hills, the spiritual center and home to hundreds of pagodas, monasteries, nunneries and Buddhist learning centers; and finally, Soon U Ponya Shin Pagoda, its high vantage point offering a spectacular panoramic view of the city.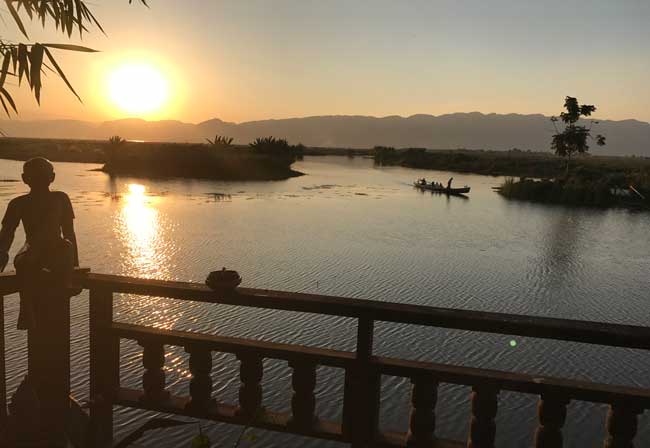 It is fitting to leave my ship in beautiful Mandalay to fly to Inle Lake, which proves to be the most unexpectedly fascinating sites of all my travels.
My plane has no assigned seats – it is everyone for themselves. The flight is short and my transit through the tiny airport at Heho is swift.
Continued on next page