I am honored to meet the Chief Abbot, Ven Sam-Va-Ra, and when the interpreter explains why I am visiting, he smiles and encourages me to write about the clinic and the work they do to help the Burmese people
As we sail along the Ayeyarwady River, I see how simply they live. The shore is dotted with farms and often farmers can be seen in their ox drawn carts moving from field to field. At the water's edge, families wash their clothes and bathe their children. There are no loud noises, no chaotic traffic here in the countryside. When the ship anchors mid-river for the night the silence is serene and the sky blazes with stars in the utter blackness.
At dawn we sail on to Myin Mu, the northern most point for cruising this trip. During the early months of the year the water levels of the Ayeyarwody drop, creating a narrower channel for navigation near Mandalay and necessitating the ship mooring at this riverside town 30 miles south of the city.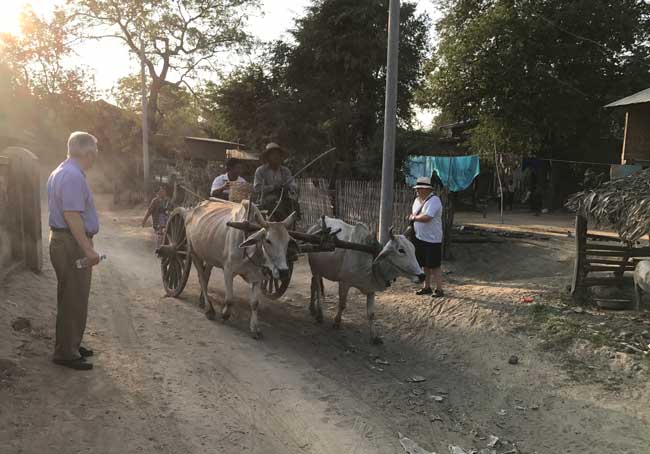 Always on my travels I find seeing the natural life of a country and contact with the local people the highlights of my visits. This is true in my tri-shaw ride around the town visiting markets and families of bamboo weavers, and again in the afternoon, walking through the picturesque farming village of Alacapa, experiencing the warm friendliness of the people and glimpsing a lifestyle unchanged for centuries.
Because of the river level, we must drive into Mandalay. On the way, we are rewarded by being stopped by a parade which consists of a wedding party, a group attending an ear piercing ceremony and families celebrating their sons being inducted into monkhood. It seems a fitting prologue to arriving at Kuthodaw Pagoda, a UNESCO-listed site with 729 stone tablets inscribed with Buddhist scriptures.
The sights of Mandalay are many and varied: streets of the marble quarter where artisans sculpt Buddhas of all sizes; outdoor workshops of bronze casters creating statuesque Buddha images and ceremonial gongs; the famous UBein Bridge, one of Myanmar's most photographed sites and too irresistible not to walk across; Sagaing Hills, the spiritual center and home to hundreds of pagodas, monasteries, nunneries and Buddhist learning centers; and finally, Soon U Ponya Shin Pagoda, its high vantage point offering a spectacular panoramic view of the city.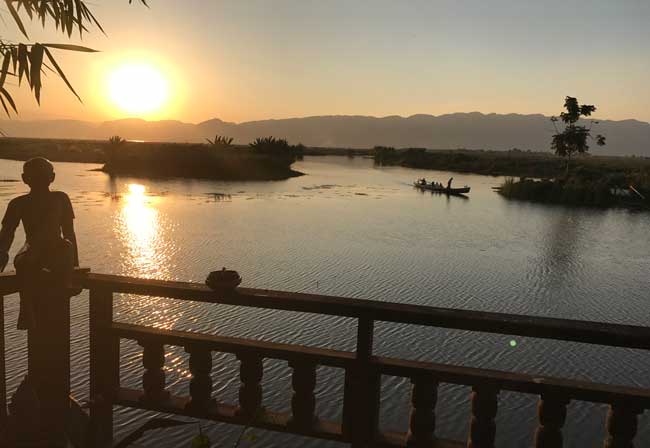 It is fitting to leave my ship in beautiful Mandalay to fly to Inle Lake, which proves to be the most unexpectedly fascinating sites of all my travels.
My plane has no assigned seats – it is everyone for themselves. The flight is short and my transit through the tiny airport at Heho is swift.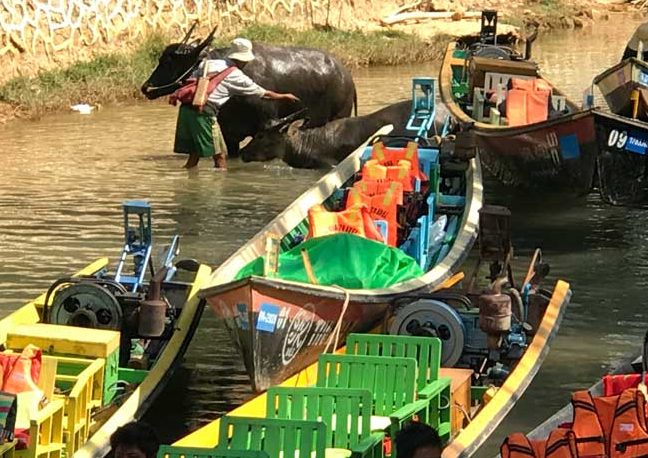 It is an hour's drive to the edge of the lake and the Inle Princess Resort – offering 46 guest chalets crafted by Intha carpenters from bamboo and reclaimed hardwood.
Almost immediately, we board our private open air long tail boat to explore this UNESCO Biosphere Reserve, ASEAN Heritage Site, National Wildlife Sanctuary and a national Wetland Sanctuary.
The Intha people row standing up with one leg wrapped around an oar. Our "leg rower" takes us away from the resort jetty, and we drop him at his home on stilts before our driver fires up the engine for our first day on this vast water world.
Birds soar overhead and the Elephant Head Mountain Range surrounds us in this photographer's dream of calm waters dotted with floating vegetation, fishing canoes, and entire villages built on stilts.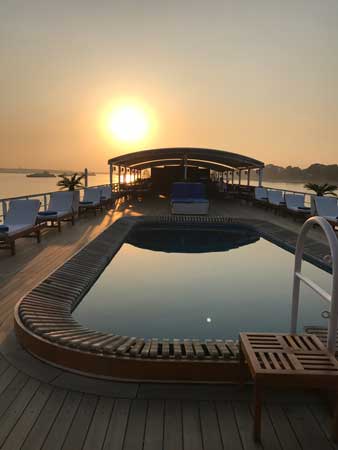 For three glorious days, we explore by boat to visit silk weavers and admire endless floating gardens where fruits and vegetables are grown. We stop at the small market of Indein to visit the Sagar Pagoda complex with dozens of small stupas, which are in very bad condition, but I can still see fascinating Buddha images. There is a traffic jam of local boats as a farmer bathes his two water buffalo in the channel leading into this floating village.
The day we visit the big five-day market in Nanpan is a true insight into the life style of the ethnic Pa-O, Danu and Intha people who come to sell their goods. The market contains everything. Endless stalls are piled high with fish, meat, vegetables, fruit, sweets, pottery, fabric, electronics, iPhones from Korea, plus barbers, a dentist, tailors with treadle Singer sewing machines, and a pharmacy where no prescriptions are needed to purchase drugs from China and India.
This beautiful, unique and fragile world truly enlightens me into the Myanmar culture and touches my heart. I leave you with a few truths and tips for your journey to mysterious magical Myanmar.
The Myanmar people are friendly, helpful and polite
Respect the Myanmar people and their unique traditions.
Don't take any photos that may make people feel embarrassed.
Do smile
Don't point with your foot (In Myanmar the feet convey messages. Pointing with your feet means disrespect)
Wear appropriate clothes when visiting religious sites
Do tuck away your feet (When you sit, your legs should not be stretched out and your feet should never face the Buddha)
Don't touch anyone on the head (The head is the most esteemed part of the body. To be touched on the head is considered aggressive)
Don't kiss in public
Don't disturb people praying or meditating
Calling with your finger up means calling for a challenge
Visitors may experience electricity outages – please understand about the electricity situation in Myanmar
Don't touch the robe of a monk
Do not go where you are advised not to go (Myanmar is slowly opening up and more destinations will be accessible in the future)
Relax and enjoy your holiday!
Author Bio: Sherrill Bodine is an author, fashionista and world traveler. She is the author of more than a dozen romance novels, has co-written a comic book and was a contributing columnist for the Chicago Sun-Times.